Each year, as winter slowly loosens its grip, flower-happy urbanites make their way to the Bronx to witness an explosion of floral artistry. It's time for the annual Orchid Show at the New York Botanical Garden, a utopia of fragrance and color. This year's event features installations by acclaimed Belgian floral artist Daniel Ost, so expect an extra touch of Flemish panache that may have you craving Liege waffles and moules frites.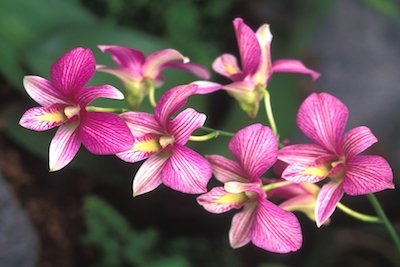 When: March 3 through April 22, 2018
Why: Entering its 16th year, the exhibition showcases thousands of dramatically displayed orchids celebrating the individual beauty of these stunning flowers.
One of the world's leading floral designers, Ost uses flowers as a means of artistic expression. Thousands of live orchids are a true treat.
His large-scale works have been tailored to the unique environment of the garden's Victorian- style Haupt Conservatory, complementing the architecture of the building while creating a spectacle of color, form and texture. Site-specific, they cannot be moved or replicated.
Bamboo, arranged in grids and calling to mind the glass grids of the Conservatory, and clear tubing, meant to both evoke water and connect to the Conservatory's glass, are among the materials employed in his artful installations. Individual orchids are attached to the material so that each flower and form can be seen and appreciated for it's distinct beauty. The use of bamboo pays homage to Ost's training in Japan and ikebana, the Japanese art of flower arranging.
Date Night: Adults over 21 should consider heading to the garden for Orchid Evenings from 6:30–9:30 p.m. on March 17, 24, and 31, April 6, 7, 13, 14, 20, and 21. A cash bar featuring the Dancing Lady, a potent cocktail created by Edible Bronx's head mixologist, adds punch to the festivities.
If the night air is chilly, warm up around fire pits on Conservatory Plaza, then head into the glasshouse to explore the exhibition. Curated music by a live DJ creates the perfect atmosphere.
Get here: B, D or 4 train to Bedford Park Blvd. Station. Walk eight blocks down the hill on Bedford Park Blvd. to the Mosholu Gate entrance. An alternative is Metro-North to Botanical Garden Station.
Photo credit: Courtesy of The New York Botanical Garden
Allison is a native New Yorker, who has lived in Rome, Tuscany, Melbourne, Toronto and Los Angeles. She frequently contributes travel pieces to Family Travel Forum, using her own children as guinea pigs as they travel the globe. She is fluent in Italian and Spanish and laughably adequate in French. Her background as an Early Childhood Educator gives her an added understanding of what it takes to travel with kids in tow. She firmly believes that the most important part of education takes place outside of the classroom, on the road, around the world. She never misses a chance to sample local delicacies, as her love for travel goes hand-in-hand with her love for food and wine. Follow Allison at @gourmetrav.