Spring through summer is the best season to engage in outdoor eating and drinking activities. It's peak time for food festivals and multi-day events. Chefs display their skills by creating exquisite pop-ups and snacks at these festivals.
If you've never attended a food festival and are planning to visit one, you must be ready to get the most out of it. To have a gluttonous, wonderful adventure, make sure you follow the tips below.
1. Knowing What You Eat
If you suffer from food allergies, it is important to do research in advance on traditional foods, particularly baked goods. Click foods that start with P to know about some foods that you might want to research.
You never know when an unexpected item might be in a dish when tasting foods from all over the world at a festival. There could be a communication problem, and your inquiry's meaning could be lost in translation. So, you need to be prepared to keep yourself safe.
Also, consider whether your body can withstand consuming undercooked meat. You would not want to get sick only to indulge in some deliciousness for a little while.
2. Creating a Strategy
Just like with music festivals, you need to get organized for food festivals. The sheer size of these events can be bewildering, and it's normal to spend all of your money at the first few booths you visit.
Before you go, look for a lineup on the festival's website, give them a call, or visit their social media pages. Decide which vendors you wish to visit first. Plan how much you will spend on each shop and prepare your money.
3. Keeping Your Cash Ready
There is nothing more frustrating than approaching your first booth and learning they only accept cash. Plan ahead and account for more money than you anticipate spending. Because you know there could be something new you might want to try. So, give yourself an additional $5 for a beverage.
4. Wearing Comfortable Shoes
Many of the festivities are walk-around, big-scale tastings, with tables decorated by chefs lining the venue's perimeter. For the length of the event, you'll often be walking and waiting and standing in line to sample the chefs' creations at each table. To make sure you do not feel uncomfortable for the time being, wearing comfy shoes will be a good idea. It will help keep your patience, and you won't miss anything.
5. Wearing a Well-Ventilated Outfit
There is a high probability that these locations, where the food festival will be held, will be very crowded regardless of the time of year or location. It can become a hot area when you combine it with all the stovetops or grills for cooking. So, make sure you wear a well-ventilated outfit to keep yourself comfortable up to the end and enjoy it properly.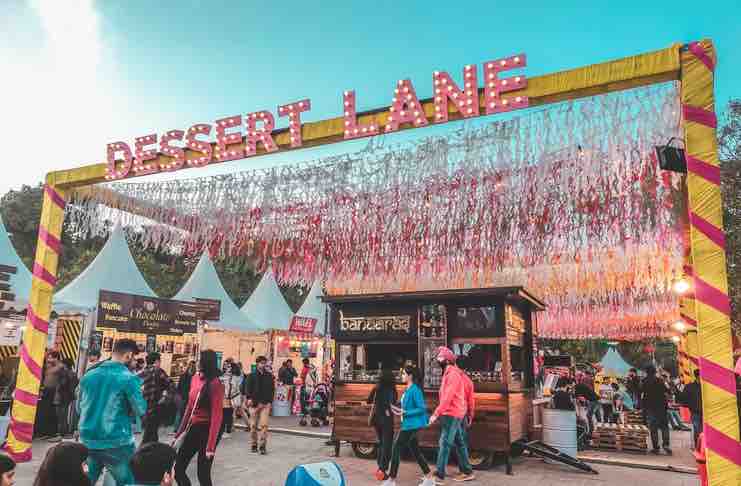 6. Wearing sunscreen
You may not think you will be there for very long, but if you get caught in a queue, you will pay the price later with a painful sunburn. So, you must prepare to be outside in the sun and put on some sunblock.
7. Bringing a Take-Out Bag
Especially during volunteer food festivals, takeout supplies can differ from booth to booth. Most baked items come prepackaged, but not many entrees are suitable for takeout. So, you must bring your own shopping bags, paper lunch bags, and plastic zip-top bags to ensure you can take goods home.
8. Enjoying Everything a Food Festival Offers
Enjoy an entire day at the food fair. Check out the entertainment options and chill. The presence of night performances at culinary festivals will allow you to extend your lunch tasting on to dinner.
Local state food festivals also let a variety of vendors put up booths from which they sell items. You will love watching your food be prepared through the glass windows. Enjoy everything when you are there to make the most of your time at the food festival. Here's a good list of some of the best food festivals in the US.
9. Carrying Your Own Water
Water is undoubtedly the most important survival tool at a food festival. But it might be a tough drink to prioritize when so many wine, beer, and drink options are available. So, you must carry a water bottle of your own. Having a water bottle on hand is necessary to maintain healthy digestion throughout the festival and to fully appreciate the diverse flavors of the meals you taste there.
10. Sharing Samples to Taste More
Most food festivals provide sampling packages. If you are with a companion, try splitting a sampling package with them. It will save you money, and you will not be overstuffed. Sharing samples allows you to try more of the festival food without wasting it.
Final Words
There's a good chance you're attending a food festival to get food you typically don't have. Order two servings of your favorite food and take the second one home with you to eat the next day.
It is easy to get carried away from one line to another, stuffing food into your mouth to discard the small plate and proceed to the next table. Try not to hurry. Take some time to savor the exquisite cuisine given to you by top chefs. Enjoy your surroundings and make your trip a blast.
Best of luck!