Las Vegas is the number one entertainment place in the world. Stunning shows, new restaurants, grand hotels, and exciting attractions are just part of the fun that fans of Las Vegas are attracted to. Plus, changes are always happening, and what's trending this year may not be the next.
Those who've had the pleasure of visiting Vegas know it doesn't disappoint. With such a rich entertainment offer, it's impossible to be bored – you might even find it challenging to fit everything into your schedule.
Here are some ideas about what you can look forward to this and the next year on your trip to Las Vegas.
New and Upcoming in Vegas in 2022
If you want to keep up with the newest entertainment trends, Vegas is your go-to place! Aside from perennial shows and places, there are many you only see once in a lifetime. So, what does 2022 has to offer? From performances to hotels and restaurants with a long-standing reputation, here is what you can visit in Las Vegas now!
The Volcano Show at the Mirage Hotel
If you are looking for a place to stay where you can have a ton of entertainment, the Mirage Hotel is the top choice! The Volcano is the point of attraction every night – the smoke, fire, and life-like sounds, accompanied by extravagant fireworks, cause visitors to stand in awe.
The smokey performance is accompanied by a soundtrack created by Zakir Hussain and Mickey Hart to add a dramatic effect. For those not keen on this show, there is an option to relax by the pool and check out the secret dolphin habitat.
Check out the Volcano Show:
Chilling by a Top-Rated Pool
To feel like you are at the beach, you can visit one of the top-rated pools in Vegas, located at Mandalay Bay. The actual sandy beach and the gigantic and spectacular pool offer a unique adventure. Experience the lazy river or float on the gentle tides in the wave pool. If you are into luxury and relaxation, rent a bungalow and experience Vegas fully.
Cocktails and Chandeliers
The Chandelier lounge is a must-visit place for several reasons. This three-tiered lounge offers an amazing experience you can boast for years. For those with artistic preferences, the Chandelier lounge has an art exhibition that glitters into the night. Delicious food and sensational handcrafted cocktails are waiting for you on the second floor.
And if you are a fan of vaping, you'd be lucky to hear that you can take your vape pen and complete the experience. In fact, vaping is widely acceptable in all of Las Vegas. If you forgot to bring yours, visit an online vape shop and get ready for a rocking experience.

Check out this video to get a glimpse:
The Mountain Art Photo Experience
If you are an addict to landscape photography, then the Seven Magic Mountains desert art is the place for you. The bland desert landscape is enriched with carefully placed painted rocks offering a great photoshoot location. The creator and artist Ugo Rondinone intended the exhibition to be open for a few years, but considering the striking interest, it will be around for more than expected.

Although you can visit it throughout the day, it's best to go at sunrise or sunset, considering the high temperatures. Besides, the low intensity of the sun at these hours provides a perfect glow for taking stunning photos.
Italy in Vegas
Not able to visit Italy? Don't worry – Vegas brings Italy to you! The Grand Canal Shoppes is a fun replica connecting the Palazzo and the Venetian hotels. Hire a Venetian-style gondola and glide down the canals covered with a mural ceiling of a blue-and-white sky, creating the illusion of being outside.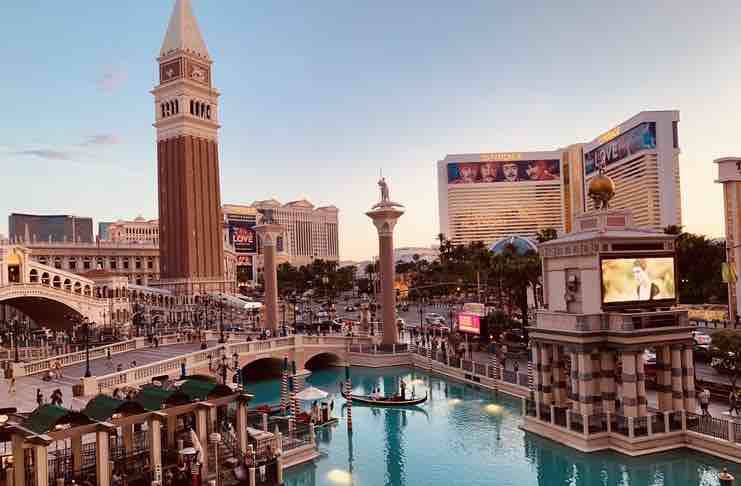 The carefully chosen designer shops offer Vegas luxury and convenience while at the same time making you feel like you are in Italy. To complete the shopping spree, head to TAO or the Spiegelworld Atomic Saloon Show for a fun night.
Princess Dianna Tribute
In August 2022, Las Vegas offers a homage to the late Princess Dianna – easily one of the most cherished public figures. Twelve themed rooms inside the Shops at Crystals will honor the legacy of the princess.
Visitors can see personal items, historical artifacts, and designer fashion pieces collected over 45 years. Other rooms will represent Dianna as a fashion icon, a memorial to a princess that departed early, and some will give a peek into the wedding of the century.
The Boring Company is Not so Boring
Ever wanted to travel underground in a moving vehicle? The Boring Company, owned by Elon Musk, offers this experience and cuts the 15-minute walk to a minute drive. Electric Tesla vehicles travel around 40 miles per hour and navigate through a tunnel loop system. These allow standing or sitting.

Watch this to see how it works:
For now, the journey is available only underneath the Las Vegas Convention Center expansion and connects to Resorts World. A possible extension to the airport and additional stations throughout the Strip are planned in the future.
What Vegas Offers in 2023
Vegas never ceases to amaze, and it always has something new to offer. New hotels, shows, exhibitions, and other amazing attractions are coming in 2023!
The Electric Pickle Sensation
The Bend, a new outdoor dining and shopping complex, has a new offer for sports lovers. If you are familiar with pickleball, you know it's a combination of tennis, ping pon, and badminton.
The Electric Pickle is coming towards the end of 2023 and will have a wide offer of nine pickleball courts, and at the same time, visitors will enjoy playing bocce ball and cornhole. The three acres of land will also include a lawn for live music and a two-story restaurant with a rooftop bar.
The Legendary Formula 1
Las Vegas will not be complete without one of the hottest sports in the world. A four-mile-long track will be opened in November 2023 as the Las Vegas Grand Prix. Fifty laps and speeds of over 212 miles will burn the Strip and nearby streets in a nighttime race.
Vegas has been planning to be a part of the FIA Formula One World Championship for a long time which is why Koval's Ice nightclub is being torn down. New Formula 1 facilities will take their place, securing this sport's long-term presence.
The Futuristic MSG Sphere
Vegas is keeping up with modern technological trends, constantly elevating concerts and shows to a new level. A 360-foot-tall spherical concert arena is expected to open in 2023, making Vegas the hottest place for entertainment. The Strip's massive entertainment venue will offer interior and exterior digital screens, with each spectator beamed with individual sound and internet access.
The Las Vegas Legacy
What happens in Vegas stays in Vegas!
Luckily, that doesn't have to be prescribed to everything. The amazing exhibitions and shows are something you'll surely want to tell your friends. Some will be around longer, while for others, you'll have to be quick to secure a spot.
One thing is for sure, though – Vegas is not afraid to change and provide its visitors with the most sophisticated and trendy entertainment. If you want a distinctive experience, why not try Vegas as your next destination?