Searching for beautiful places to travel to this year? Well, you've reached the right place. Mother Nature is glorious in all her forms and shapes, be it soaring cliffs, snow-laced vistas, or white sandy beaches. Our world is home to breathtaking diversity, and travelers always find themselves spoilt for choice. Choosing one destination for your travel plans can prove overwhelming, and we advise unraveling the inner yearnings of your heart.
What kind of experiences do you crave? Do you wish to feast your eyes on magnificent architecture and delight your tastebuds with delicious cuisines? Or perhaps, you want to connect with the wilderness and venture deep into the wild?
Some travelers gravitate towards cobble-stoned streets and magnificent European architectural splendors. Others prefer basking under the tropical sun and luxurious backstrokes in the ocean. Each traveler is different, and we've prepared an exciting roundup that offers a little something for everyone.
Keep reading to explore our picks for unique destinations to explore in 2021.
Amazing Places To Travel To This Year:
The Great Smoky Mountains, USA
The Great Smoky Mountains are a stellar destination for a well-rounded travel experience. The landscape is beguilingly breathtaking with its snow-laced vistas, cascading waterfalls, and soaring cliffs. But that's not all; the Great Smokies pack up exciting diversity with a vibrant historical and cultural heritage.
The region is sprawling with hundreds of beautiful nature trails that lead you deep into the mountains, enthralling you with stunning views. The Great Smokies are famous for the legendary Appalachian Trail – the most famous and iconic trekking route in the US. The most beautiful and scenic stretch of the trail passes through the Smoky Mountains National Park. We urge adventures to embark on this trail and head up to Clingmans Dome – the highest point in the region.
Families, backpackers, and honeymooners prefer exploring luxurious Gatlinburg cabins to enjoy accessibility to leading attractions. The quaint and centrally located alpine town of Gatlinburg attracts travelers with its old-world charm and modern amenities. Finding accommodations in Gatlinburg is ideal for enjoying accessibility, modern-day comforts, and luxury in the heart of the wilderness.
Travelers must explore the local artisanal scene of Gatlinburg's vibrant community of craftspeople and artisans. The Sinks is another splendidly scenic destination that offers natural crystal pools brimming with river water. The picturesque waterfall adds to the charm of The Sinks, beckoning you to take a dip.
Titanic lovers can head off to the Titanic Museum in Pigeon Forge and enjoy a dramatized experience of fascinating history. Some other leading attractions include Cades Cove, Laurel Falls, and the Roaring Fork Motor Nature Trail.
Chania, Greece
Here's the ultimate destination for serenity-seekers looking to sunbathe on isolated beaches: Chania. It's one of the most beautiful places to travel to if you go to Europe. The Cretan Island of Chania offers a delightful escape from the mainstream Greek experience, beckoning you to take the road less traveled.
The island packs up a rich influence of Greek and Ottoman cultures that reflects its architecture and gastronomic cuisines. For instance, the stunning harbor is constructed in traditional Ottoman style, while the cobble-stoned streets reflect Greek influence.
Food is undoubtedly the most incredible experience to rejoice in Chania. The cuisines are amazingly inventive, and you must sample streetside treats and fine dining experiences. Travelers are strongly advised to head over to the Ginger Concept and feast on their delicious coxinhas. The island is brimming with ambient seaside cafes serving splendid concoctions, such as Tirokafteri, Moussaka, Pastitsio, and Bougatsa.
Alpine adventurers can head off to the mountains to rejoice in soaring vistas and picturesque sceneries. The mountainside retreats offer a unique farm-to-table experience of Cretan cuisines that's truly unforgettable. Beach lovers have much to rejoice in Chania, for the island is sprawling with a stunning candy-floss coastline. The glorious Sfinari beach is a must-have experience to bask in serenity and peace.
Be sure to head into the Old Town to enjoy traditional retail therapy. The streets are lined with 19th-century leather craftspeople, characterful antiques, and classic finds.
Chiapas, Mexico
Chiapas offers an enchanting escape in the Mexican highlands with its verdant mountainous terrain and vibrant Mayan culture. The state of Chiapas is laden with historical wonders and ancient ruins dating back to hundreds of centuries. History buffs and archaeology addicts have much to rejoice in Chiapas.
For instance, you can explore ancient structures of Palenque, erected back in 266 BC, and explore Mayan sites. The town of Palenque offers an otherworldly experience that will have you feeling like you've traveled back in time. Cultural enthusiasts can explore ancient languages and artifacts and sample traditional dishes preserved over the centuries.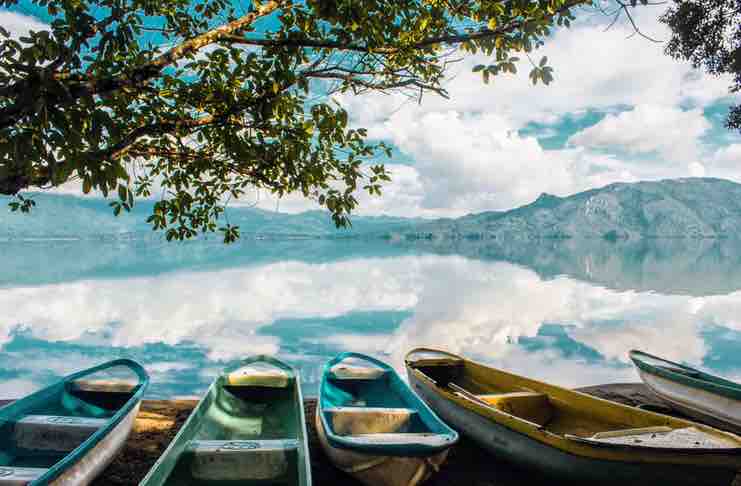 The vibrant town of San Cristóbal de la Casas is a must-have experience to experience indigenous recipes prepared with locally grown ingredients. The city is famous for its drinking ceremonies, held in churches, and open for all residents and travelers. We urge you to sample pox, an ancient liquor that the Mayans consumed to communicate with spirits in the underworld.
Adventure lovers have much to rejoice in the outdoorsy spirit and lush greenery of Chiapas. You can venture deep into the stunning El Triunfo Biosphere Reserve, a stunning cloud forest with exotic flora and fauna. Puerto Madero offers a breathtaking expanse of the Pacific Coast, ideal for water sports lovers and river rafting enthusiasts.
Families and travelers can rent out sprawling and luxurious villas on Airbnb. Chiapas doesn't offer any five-star accommodations, but you can explore boutique hotels at affordable rates.
Cavtat, Croatia
Here's the ultimate European destination for travelers who wish to escape tourists' influx and carve serenity: Cavtat. This Croatian treasure trove is a splendid combination of sunbathing, seaside splendors, cultural vibrancy, and delicious cuisines. Do you dream of dividing your time between natural beauty, beachside relaxation, cultural discoveries, and gastronomic explorations? Cavtat is just the destination you seek.
Cavtat will take you deep into the heart of Konavle, dubbed as Croatia's Tuscany with its golden sunshine and quintessential European charm. The town is endlessly charming with its vibrant architecture, street cafes, and a spectacular coastline. It offers a Saint-Tropez-like experience without breaking the bank.
Time comes to a standstill, as life in Cavtat is quite traditional and slow. Serenity seekers will find Cavtat a truly heart-warming destination with its old-world beauty. The town is magical and perfect to rejoice in a laid-back vacation that allows you to relax and unwind.
Watch this video to get a glimpse:
Pulau Merah, Indonesia
Not much is known about this spectacularly scenic Indonesian destination, tucked in the heart of the Java region. However, Pulau Merah enjoys excellent popularity in surfing circuits. Tucked at a three-hour drive from Plengkung, this remote island is laden with secluded beaches and breathtaking beauty.
Dubbed as the Red Island, Pulau Merah invites you to sprawl out on its auburn-toned sand and swim in its azure waters. Sunsets in Pulau Merah are a genuinely otherworldly experience. Nothing is more enchanting than watching the fierce red rays of the sun playing with the sea waves. Serenity-seekers can carve out seclusion on the deserted stretches of sandy beaches.
Pulau Merah is a hidden gem that allows you to escape crowds of vacationers and enjoy surfing to your heart's content. Beginner surfers have much to rejoice in the soft waves, ideal for a well-rounded learning experience. However, seasoned surfers can also test their mettle with the island's soaring 13ft-high waves.
We urge you to head off to the secluded Pantai Wedi Ireng beach, accessible only through a grueling yet short trek. Soul-searchers must visit the culturally vibrant expanse of the Pura Tawang Alun temple for picturesque views and meditation.
Watch this video of the Red Island:
Florence, Italy
Florence is undoubtedly one of the most astonishing and spellbinding cities in the world. This Italian treasure trove of art, architecture, and gastronomy has influenced the world with its artistic movements. Thinkers, painters, and artists of the Florentine Renaissance continue to inspire modern thought and culture with their groundbreaking innovations.
Here's a splendid opportunity to witness the glorious specimens of the Renaissance with your own eyes. You can set your eyes on the iconic works of Michelangelo, Leonardo da Vinci, Botticelli, and others. Travelers can head off to the Uffizi Gallery and unravel the intricacies of Sandro Botticelli's much-celebrated work, The Birth of Venus. Then, visit the prestigious Galleria dell 'Accademia to admire Michelangelo's magnum opus, David. Art and architecture are the two most enriching and abundant experiences to enjoy in Florence and make it an essential stop for any Italy tour.
Watch this video to look at what you can do in Florence:
Pictures on the internet can never do justice to the exquisite intricacies of the Cathedral of Santa Maria del Fiore and Piazza Duomo. It is a stellar magnum opus that combines the talents of the greatest Renaissance artists, including Michelangelo, Brunelleschi, and Giotto. Walking through the museum, cathedral, and climbing up the bell tower will have you shaking with awe and wonder.
The Florentine food scene offers the best of Italian cuisine with a quirky twist. Food lovers can delight their tastebuds with traditional pizzas, freshly-prepared pasta dishes, and Italian gelatos. Once you've loaded yourself with flavorful treats, head off to the scenic Giardino Bardini to walk off the calories.
Conclusion
We sincerely hope our roundup has helped inspire your imagination, helping you understand your wanderlust yearnings. Finding the right destination is easy; all you have to do is close your eyes and picture your happy place.
It's wise to choose places that connect with your hobbies and interests. For instance, outdoorsy people can travel to national parks, nature reserves, and mountainside destinations. Likewise, water sports lovers and beach bummers can head off to tropical islands and seaside villages. Ultimately, it all translates into finding the perfect destination that allows you to immerse yourself in what you love without restraints.
Want to read more of our latest posts? Check out our itinerary for a 2 weeks trip to Europe.