Photography in NYC
Photography is a fun activity everywhere, but it is a complicated and diverse experience photographing in New York City. From typical opportunities of shooting famous landmarks and historical spots to random colorful buildings, New York City will make your photography dreams come true.
New York City is one of the most photographed cities globally, yet every photograph you shoot still seems different and unique. Perfect night lights, daily street life, fast-moving vehicles, morning activities in Central Park, adventurous activities around the city, and skyscrapers offer you the best perspectives for taking clicks at any time of the day.
Top 10 Ideas for Improving Your NYC Photography
Tips and tricks for conducting photography in NYC differ according to your level of expertise on the subject. However, we will suggest top 10 tips for NYC photography. Read more to learn and add to your photography knowledge and experience.
1. Get Skills Over Your Camera
Do not enter New York City with a freshly purchased DSLR or any other device you are not familiar with. You will end up ruining many of your memorable moments. Get good skills over your camera and understand at least the basic settings. There is no shame in using the AUTO MODE available in all modern cameras if you are new in the field.
2. Take as Many Photos as You Feel, You Don't Know When a Masterpiece is Born
Click whatever attracts you. You will learn a lot from your mistakes while reviewing the photographs in the evening at your hotel. Every step you take in New York brings you a new perspective; therefore, be ready with your camera all the time. You may create a masterpiece at the most unexpected spot in the city. Most of the perfect shots are the candid ones where the subject is unaware of the shooting.
3. Apply Rules of Thirds, Leading Lines, and Exposure Triangle
You must be familiar with the basic photography rules. Applying the rules in perfection may not be possible, but the rules must not be ignored in any shot. Take your time, keep the GRID LINES ON if they do not make you uncomfortable, and make perfect use of the available lights in your surroundings.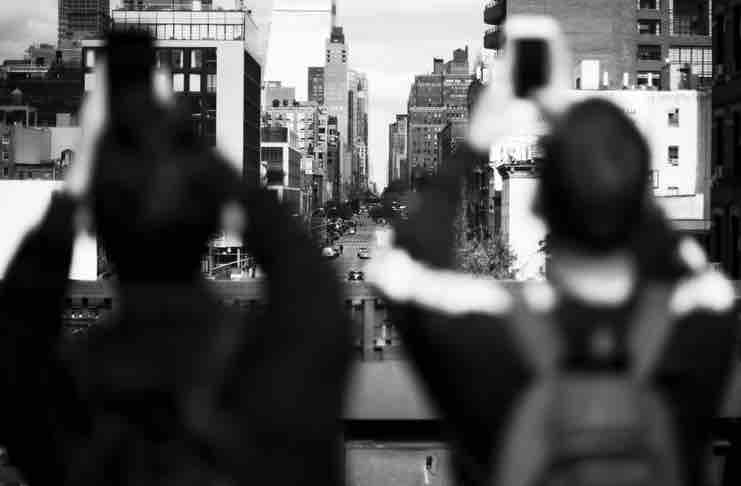 4. Get a Grip on ISO and Exposure as NYC is Vibrant and Full of Reflections
Perfect use of the light, brightness, and shadows will lead to the best photographs of NYC. You must be sound over ISO, Exposure, and the use of shadows to get your perfect landscape or portrait shot.
5. Learn Perspective Adjustment and Management, Including Use of Background
Find the best perspective for your intended photograph. It will differ at every turn and street. Choose a good background, find the perfect time of the day for a pre-planned shoot, use the available vibrant colors of the area, and make your subject pop up in perspective.
6. Always Keep Necessary Accessories Handy, Extra Memory Cards are Most Important
Never leave your room in a hurry. Pack up according to the plans. Forgetting an extra battery and a spare SD card are the most common mistakes that people commit. You never know if you will be able to buy these at your next destination, so it is better not to forget.
7. Learn an Easy and Well-Reviewed Photo Editing Software
Post-editing enhances the perfection of your photograph. You must purchase an economic but all-encompassing photo editing software and learn it through online classes or test its trial version. Get an opinion from experts in your surroundings or the internet while selecting the software. New photographers have limited their post-processing options to Lightroom and Photoshop only. Contrary to that, several competitive and much easier applications are available in the online market to give you a perfect photograph at the end. Some of the most downloaded and liked applications are mentioned below:
GIMP is a user-friendly post-editing tool. Using this software, you can design perfect graphics, manipulate your photographs, and create your artwork.
PhotoPad is another easy-to-use tool that can make your NYC shoot perfect with just a few clicks. Besides basic post-processing tools, you can use regional effects, create collages, add text, put clipart, replace the background, and play with many other unique features.
Offering maximum features like deleting unwanted objects in a snap, healing brush, and clone stamp, PhotoWorks is excellent software. Its Face Sculpting and Portrait Magic modules offer all the necessary options that can make your portraits look perfect. Automatic photo editing, easy-to-use Background Changing tool, perspective and distortion correction tools, and other professional tools including curves adjustment, Tone Mapping, and Noise Reduction make PhotoWorks a perfect software for you. It also offers 180+ 3D LUT presets and photo effects.
8. Understand Uses of Zoom & Prime Lens
Most pros say that 'It is not the camera but the mirror (LENS) you use, that decides the quality of the photograph.' Although some lenses can be used as a prime lens and telephoto lens simultaneously, professionals suggest that you must have a prime lens separately as per your need.
9. Make a habit of Daily Backing up Your Data
Whether in NYC or elsewhere, you must backup your data daily; it will not only save enough memory for the next day but will also ensure that you do not lose any of your loved moments.
10. Explore all Weathers of NYC
New York City enjoys all types of weather, including snowy winters. Therefore, you can visit the city any time of the year for the best photography experience.
CONCLUSION
Photography is not a very complicated subject, but at the same time, it is not an easy one. New York City is one of the most vibrant places on the earth that provides uncountable opportunities to photographers. In addition to the suggested tips in the article, you can walk in the city and capture city life, nightlife, the fast-moving traffic in the town, sunset and sunrise, and hundreds of architectural masterpieces scattered all over NYC. Learning will never stop, and the more you learn, the better photographer you will become. Get good post-processing software and start bringing your masterpieces to life. Happy Photography.