If you're a fan of museums and history, you've surely heard about the American Museum of Natural History (AMNH). Conveniently located in the famous Upper West Side of Manhattan in New York, AMNH is recognized as one of the most popular and largest museums in the world. That's not a surprising fact, knowing that the site offers multiple permanent exhibitions where you could spend an entire day and still find your time not enough to see all the sights. (1)
There's a library inside, a planetarium, and over 33 million items to check out. If you're from NY and you've been here countless times, you know that there's one particular showcase that's constantly been the apple of the eye among visitors and tourists—The Allison and Roberto Mignone Halls of Gems and Minerals. The exhibition dates as early as the 1970s, where you'll surely appreciate a massive and impressive collection of gems and minerals. (2)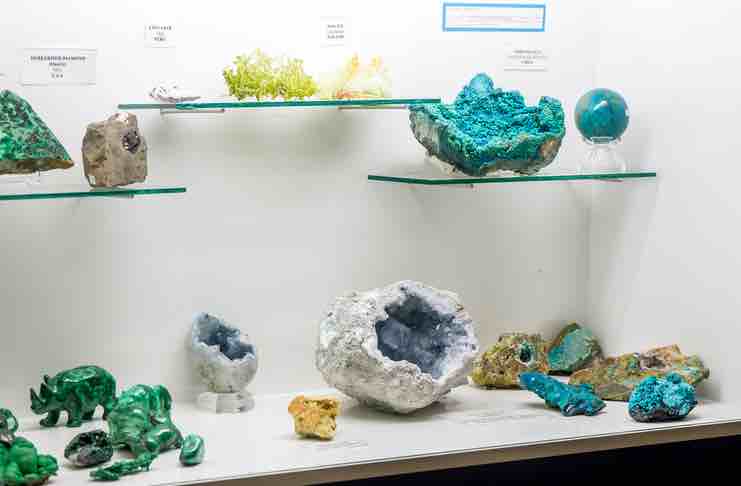 A whole new hall
Four years ago, the attraction closed down for a much-needed renovation. Gems and minerals enthusiasts have been waiting patiently for the exhibit to reopen. Given the scope of the place, it took some serious reinventing before it could finally open its doors once again. Add to that the unexpected turn of events when the pandemic hit the entire world, pushing the reopening a little further than initially planned. Finally, though, in June 2021, the New Hall of Gems and Minerals was unveiled to the public and is ready to boast its latest transformation. (1)
What you need to see in the AMNH
Whether or not you've seen the hall before, it pays to get yourself acquainted with the different attractions and sights you'll find there. Before you hit the road or plan for a weekend full of history and gem-related learnings, you might want to take some time and get to know the Mignone Hall of Gems and Minerals even more.
To help make it easier for you, here's a quick list of what you need to see in the hall as soon as you step inside:
The Singing Stone is a gigantic block of sprightly green malachite and blue azurite from Arizona. Quite a fascinating name for an exhibition, right? The Singing Stone was dubbed as such because of the shrilly and high-pitched sound it makes as the humidity changes each time the season and weather changes as if humming or singing. However, since it's been put in a controlled environment inside the museum, it has stopped making the sound, but the beauty of the stone remains. (3)
The massive rock weighed 7,725 pounds and was first exhibited in Chicago at the World's Fair in 1893. Given its spectacular size and vibrant colors, it's impossible to miss the attraction when going around the museum. So, if you're about to visit the AMNH soon, be sure to give this stone a good glance, and you'll find that it doesn't disappoint if you're hoping to be stunned and fascinated. (3)
Another highlight of the new Hall of Gems and Minerals is the slab of ore from the Sterling Hill Mine in New Jersey. The rock is a giant piece of marble hosting zincite, willemite, and franklinite. Apart from the stunning colors and textures, what's even more amazing about the panel is its mind-bending ability to showcase a display of dazzling lights that change and flicker depending on the overhead light being directed toward it. (2)(3)(5)
The Sterling Fluorescent Rock Panel is considered a centerpiece, especially when it's glowing in splendid shades of green and orange. If you're new to gems and minerals and you're wondering what rocks can make such a spontaneous display of colors when given the right lighting, you can check FossilEra.com for a collection of minerals that you could help point you in the right direction. Online resources can greatly help sustain your curiosity when it comes to gems and minerals that you can buy or collect. (2)(5)
The Star of India Sapphire
Gems and minerals enthusiasts have another world-class display to marvel at the new and improved hall—the legendary Star of India. By far the largest blue star sapphire in the world, this 563-carat gem literally has the size of a golf ball. And it's not only the size that makes this star a legend since it's believed to have been formed about a billion years ago. Another thing that makes it intriguingly popular is that it's been stolen before from the American Museum of Natural History, sometime in 1964, but was thankfully recovered in 1965. (2)(4)
If the brilliance and allure of the Star of India aren't enough to satisfy your craving for more sapphires yet, don't worry because the museum has many more to offer. Multiple gems and minerals glow in vibrant hues, clarity, and setting because of their chemical formation and composition. (4)
The Okavango Blue Diamond
Diamonds may be an ordinary sight these days, particularly in jewels and other accentuated accessories. However, you're in for a surprise if you're looking for something more spectacular than the usual brilliance of diamond you get to see on normal days. The Okavango Blue Diamond features a presentation like no other. This, thanks to its fancy deep blue color, is one of the rarest and most beautiful colors you can find in natural diamonds. (6)
Beyond its attractive color and glitter, the rock from Botswana is also appraised as nearly flawless. You can find this jaw-dropping gem at the Melissa and Keith Meister Gallery inside the new Hall of Gems and Minerals. The Okavango is currently on loan from the company and was put on exhibit in the hopes of drawing more interest in the ethical and sustainable mining industry of Botswana. (6)(7)
Conclusion: Everything is worth seeing
Regardless of whether it's your first time or not being in New York City, don't miss the opportunity to see the AMNH and everything it has to offer, notably the Mignone Hall of Gems and Minerals. There's truly no shortage of dazzle and sparkle when you decide to pay the site a visit. You can spend a day, a month, or even a year gaping at its displays and still find you don't have enough time to learn and appreciate everything. Now that it's back to serving the public, don't miss the chance to be stunned and educated.
References
"American Museum of Natural History Unveils Shining New Halls of Gems and Minerals As Visitors Continue to Return", Source:

h

ttps://www.travelandleisure.com/attractions/museums-galleries/american-museum-of-natural-history-unveils-new-halls-of-gems-and-minerals

"An Exclusive First Look Inside the American Museum of Natural History's New Halls of Gems and Minerals", Source:

h

ttps://www.townandcountrymag.com/leisure/arts-and-culture/a34921427/american-museum-natural-history-new-hall-minerals-gems/

"A first look at the dazzling new Halls of Gems and Minerals at AMNH", Source:

h

ttps://www.timeout.com/newyork/news/a-first-look-at-the-dazzling-new-halls-of-gems-and-minerals-at-amnh-060321

"See the 'Star of India,' decades after it was nabbed in a heist", Source:

h

ttps://www.livescience.com/amazing-gems-and-minerals.html

"Get a sneak peek of the American Museum of Natural History's new Halls of Gems and Minerals before they open this weekend", Source:

h

ttps://www.archpaper.com/2021/06/sneak-peek-american-museum-of-natural-historys-new-halls-of-gems-and-minerals/

"Okavango Blue Diamond", Source:

h

ttps://www.amnh.org/exhibitions/okavango-blue-diamond
"Almost Flawless": Okavango Blue Diamond And Botswana Mining Exhibit Comes To The AMNH", Source: https://gothamist.com/arts-entertainment/almost-flawless-okavango-blue-diamond-and-botswana-mining-exhibit-comes-amnh
Karen works for a big hedge fund, she's awesome with numbers and loves what she does, but above all – she loves traveling. Whenever she's on the road, she tries to get into the gritty tiny details of every location she explores.