For us New Yorkers, no matter how cold it gets in winter – we want action. The coldest months of the year are January and February, and the winter itself can last until the end of March. What do we do during these ice-cold months in the Big Apple? Well, we don't sit at home all day, that's for sure. There are plenty of cool things to do in the city, even when it's freezing outside. NYC is one of the most vibrant and energetic cities on the planet. It offers unrivaled experiences and activities that can suit anyone. In this post – we'll discuss a few of our favorite and fun indoor winter activities in NYC, which we definitely recommend you try!
Fun Indoor Winter Activities in NYC You Should Try This Year:
1. PINGPOD: Futuristic Table-Tennis-On-Demand Club
PingPod is probably one of the hottest places in town right now. This futuristic Table-Tennis-On-Demand center just opened its first location in January 2020 on the Lower East Side. Two years passed and they already have a 2nd branch in Midtown West (37th Street), and they plan to open another two branches in the next few months (one in Williamsburg and one in Astoria). There's even one coming to Philadelphia this spring!
PingPod is definitely one of the rare COVID success stories. It already has more than 10,000 registered players, and new customer sign-ups are averaging at 750 per month (!). They get more than 1500 reservations every single month.
How does the concept work? Well, it's high-tech based, meaning – PingPod has no employees onsite. You reserve your table online, show up to play, have fun, and when you're done – walk out. One of PingPod's biggest innovations is their unique security system (plenty of cameras monitoring every angle of the club) that ensures all players follow the guidelines, which keeps the place safe. This also means the place is open 24/7.
However, this high-tech approach is not only for security purposes. If you make an awesome shot during your Ping Pong game, you can click the "Replay Button" on your table and you'll get that video immediately sent to your email. Isn't that awesome? Well, it doesn't end there. The best video shots are compiled every month into a reel of instant replay highlights!
Want to improve your game? You can opt for a professional coach or find a playing partner through the PingPod online community. Want to compete against others? Join the monthly social tournament series called 'Whiff Whaff Wednesdays,' where players compete for prizes and have tons of fun. There's no doubt, PingPod is a perfect activity for casual players, professionals, and even beginners who're looking for a fun date night that will burn some calories.
So how do you reserve your PingPong table? First, sign up on their app online. You'll need a credit card to reserve your table. When you arrive at the branch, the entrance is autonomous (and very techy) – and requires only your phone. Inside, you'll find an automated kiosk that will check your vaccine status. Lastly, at your table, you'll be welcomed by a full basket of high-quality ping pong balls and free paddles. So go have a blast!
2. Go Rock Climbing, Indoors
We love indoor rock climbing, for several reasons. First and foremost, it's lots of fun. But more importantly, it's a physical and mental challenge, which is incredibly social. If you go rock climbing, it's usually as a small group, as one person always has to control the rope.
The others will cheer you as you climb up, offer advice, or tease you when you don't make it up to the top. There's a special ambiance of teamwork and courage in rock climbing, which you don't get in a lot of other indoor activities.
And when you do make it up to the top, there's that magnificent sense of accomplishment. This kind of sport, with its special moments, can create unique and powerful experiences, forging new friendships or strengthening old ones into those that last a lifetime.
We love indoor rock climbing for a few other reasons as well. It's a relatively cheap way to enjoy adventure sports, and you can climb all year long, as there are plenty of indoor climbing centers in NYC. For example, there's Central Rock Gym in Midtown, where even kids aged 4-8 can climb. Steep Rock Bouldering in Harlem is a unique climbing center that's dedicated to bouldering – where ropes and harnesses are not used. Use Google to find the right place for you, and you won't regret going (and climbing).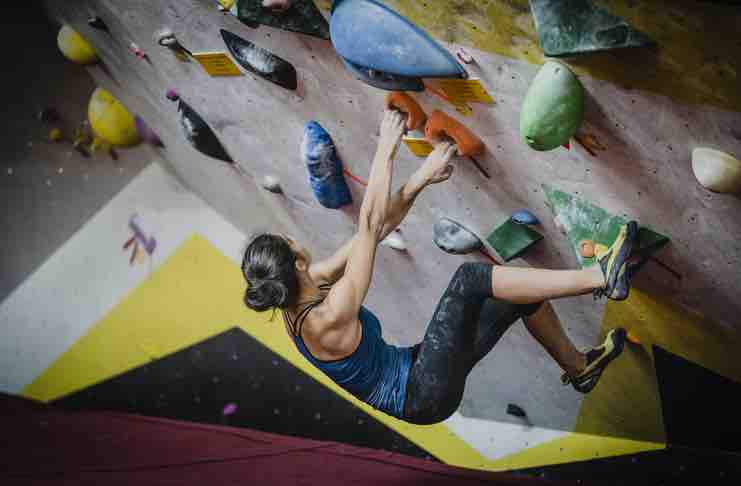 3. Escape the Cold, in an Escape Room
Another super social activity (although less physical) that has become one of the popular indoor winter activities in NYC – is Escape Rooms. Almost every Escape Room I tried was fun. Some may be less intriguing than others, but if you come with the right sort of friends (or family) – then there's no chance in the world that you won't have fun.
Never been to an Escape Room? Well, it's a smart combination of a theater, gameplay with critical thinking and a bit of a physical adventure. There's always a unique storyline, combined with an array of puzzles and riddles that you and your team have to solve in order to escape the room.
Why do we love Escape rooms? With a time limit for every task, the game is always very engaging and promotes task persistence. It creates that fun sense of urgency and (a bit of) risk. Similar to Rock Climbing, Escape rooms are also a great way to get to know your friends and build stronger bonds. Some storylines I experienced in Escape rooms were so good and captivating, that they made me and my friends so curious and determined to solve the task – no matter the cost 🙂 Here's a list of some good Escape rooms in NYC.
4. Learn a Little More About The Big Apple
If you're tired of all these physical indoor winter activities in NYC, then visiting the Museum of the City of New York might be the right place to spend a day. No matter if you're visiting NYC for the first time, 5th time, or if you've been living here your entire life – discovering the narrative of NYC is a must-do activity, and it's best done in the cold winter.
This beautiful museum tells the story of NYC from its beginning as a small Dutch trading post and until its iconic status today as one of the most important cities on the planet. The permanent collection has more than three million items (!), including costumes, paintings and statues, prints and old photographs, decorative arts, theater and even toys.
What are my top favorite artifacts? First, the 'Then and Now Photos of New York City". It's absolutely amazing to watch and see how NYC looked in its early days. Then, there's the Breakfast at Tiffany's Chandelier, the Tiffany & Co. Shovel and first Subway ticket (!), apparel worn at George Washington's inaugural ball, and many more.
5. Spend a few hours (or more) in a Coffee Shop
This is the last on my list of fun winter activities in NYC, and I usually combine this "activity" with one of the above. However, occasionally on very cold and dark winter days – I can spend a whole day in a nice Coffee shop, with my laptop, iPhone, and airpods. I love taking some jigsaw puzzles with me or play a game of Solitaire.
Check out this list of great Coffee shops in NYC, and our favorite cozy cafes in Brooklyn.
If you're more of a Hot Chocolate fan, you should definitely visit Serendipity 3 on the Upper East Side, and try their world-famous "frozen hot chocolate". This delicacy is served with a big scoop of whipped cream and chocolate shavings, but you'll probably need to book your table way ahead of time…
Hope you'll try one of these fun winter activities in NYC, and if you do – share with us your experience!
Karen works for a big hedge fund, she's awesome with numbers and loves what she does, but above all – she loves traveling. Whenever she's on the road, she tries to get into the gritty tiny details of every location she explores.