After a day of traveling, checking in to your accommodations and getting situated, the first question is: "Where to eat?" Indulging in fare that is unique to a new destination is one of the most delicious parts of any vacation's itinerary. This fall, reward hard work and a commitment to keeping your carbon footprint light by savoring an eco culinary getaway at one of these eight fall food festivals near NYC—be it outdoors in the Hudson Valley, on a farm in the Finger Lakes, in the streets of downtown D.C., or a historic mansion in Newport, Rhode Island.
Annual Charlottesville Vegan Roots Festival | Booker T. Washington Park
When: September 29
Cost: Free
A Forkful: Munch on something healthy, humane and best of all, free, as the Charlottesville Vegan Roots Festival returns. In addition to live, local bands, free samples of tasty vegan treats and "fun-raising" activities for children, pet adoptions are also present at the festival, leaving visitors with a new outlook on eating, and a new furry friend. Head down to Virginia, and dig into some compassionate food for thought at one of the longest-running vegetarian festivals in the country.
How to get there: Take Amtrak Northeast Regional line to Charlottesville, Virginia
Taste of DC | Historic Pennsylvania Ave., NW, between 9th and 14th Streets
When: October 5-6
Cost: Prices will be released closer to the festival
A Forkful: For two days, Pennsylvania Avenue becomes such a delicious, tent-filled mecca, you'd almost forget the infamous building that the street is known for. Relax in a biergarten, watch exhibitions of DC's up-and-coming chefs on the culinary stage and sample cuisine based in the Capitol at over 80 of the city's best restaurants. With the scents of the city's finest eateries wafting in the air, it may be hard for the city's famous family to resist stopping in for a bite.
How to get there: Take Amtrak Northeast Regional line to Washington D.C. Union Station. For more recommendations, use our NYC to D.C. Transportation Guide.
Harvest on the Harbor | Ocean Gateway
When: October 16-21
Cost: $65 -$95 for individual events.
A Forkful: Maine's most talented chefs craft locally-sourced creations specially made for hungry stomachs at the annual Harvest on the Harbor. Portland's community of artists is on display, with local musicians, vendors, farm owners, restaurateurs and more in attendance and keeping visitors entertained. Stop by the lobster lunch for tastes from chef's across Maine and then vote for People's Choice Lobster Chef of the year. Pair your tastings with Maine's local brews, wine, ales and spirits.
How to get there: Take Amtrak Northeast Regional line to Boston South Station. Self transfer to the Downeaster and ride until Portland. Follow our transportation guide here.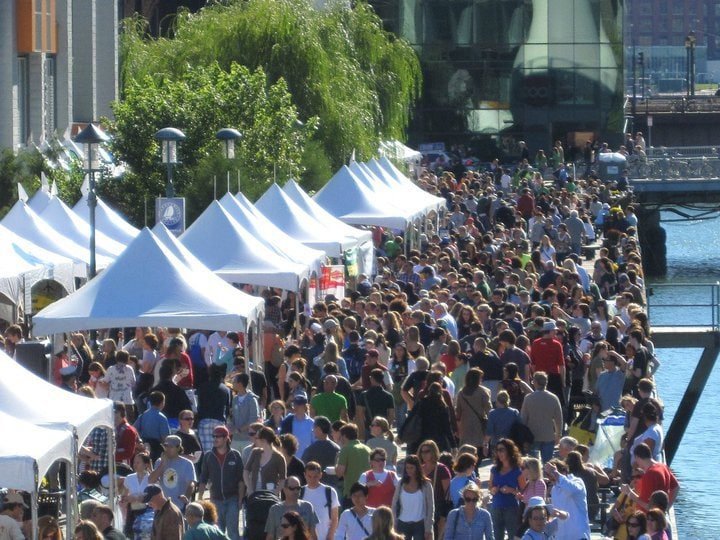 Boston Local Food Festival | Boston Waterfront in Fort Point Channel
When: September 16
Cost: Free admissio
A Forkful: This festival comes back in the name of all things green, local and delicious. Boasting free entry, a zero waste policy, and dishes priced around $5, sampling a local brew and munching on some produce is too affordable to resist. Grab a tomato or two from your own garden and participate in the festival's Crop Share, with the food distributed to families in need at the end of the festival. Support local farms, local families and everything Boston at the annual Boston Local Food Festival.
How to get there: Take Megabus to Boston South Station.
Hudson Valley Wine and Food Fest | Dutchess County Fairgrounds
When: September 8 and 9
Cost: General admission is from $13, or $40 including wine tasting
A Forkful: Support Hudson Valley farmers and chefs and celebrate this local festival. From food and wine pairing seminars to a taco tasting to local restaurant samples for as low as $1 a meal, the Dutchess County Fairgrounds in Rhinebeck will house a feast and a half for hungry visitors. 
How to get there: Take the Metro-North or Amtrak to Rhinebeck and then hop into a quick taxi to the grounds. 
The 6th Annual Newport Mansions Wine and Food Festival | Rosecliff & Marble House
When: September 21
Cost: Begins at $75 for the After Dark Ticket
A forkful: Set in the historic Rosecliff & Marble House, the Newport Mansions Wine and Food Festival overwhelms the senses with the exquisite sights, sounds and tastes of the picturesque Newport Cliff Walk and the stately properties it parallels. On Friday night, slip into some cocktail attire; the Rosecliff will be hosting a festival of over 100 of the world's top vintners. A leisurely jazz brunch is on the agenda for Sunday with a feast to remind you how fitting the expression "Lazy Sunday" really is.
How to get there: Take Amtrak Northeast Regional Line to Kingston. Walk to the Kingstown Railroad Station. Catch the 64 bus to Second Near Side Poplar.
Photo: Laurin Stoler for Boston Local Food Festival, NY Wine & Food Festival