From the Catskills to Maine, and a budget-friendly B&B to a luxurious Connecticut resort, consider booking one of these eight fall foliage getaways near NYC all easily accessible without a car.
Fall Foliage Getaway to Maine
Where: Spruce Point Inn | Boothbay Harbor | Maine
Why: This gracious resort is a coastal sanctuary located in a quintessential Maine fishing village. If you are dreaming of a massive porch lined with comfy chairs offering panoramic views of the sun-dappled shoreline with windjammers sailing by, get here before they close for the season in mid-October. When you feel like getting off your rocker, kayaking, a refreshing salt-water pool and bicycles are available for your pleasure. The resort has a private boat launch that will bring you into town in minutes. The property's 57- acres of lush woodland trails allow you to fully appreciate nature's color-palette. Dining on-premise is a treat, especially if you choose lazy man's lobster, where your crustacean is presented ready-to-eat, leaving you with all taste and no cumbersome cracking. Spruce Point Inn is pet friendly, so pack the pooch.
The rate: From $185-395
How to get there: Jet Blue flies to Portland's Jetport from JFK in one hour, and a taxi can bring you at the Spruce Point Inn in an additional hour. Or get to Boston's South Station and catch the Concord Coach to Wiscasset, a 15-minute taxi ride from the property. Book a taxi in advance with Maine Limousine Service 800.646.0068 or VIP Tour & Charter 207.772.4457.
Fall Foliage Getaway to Vermont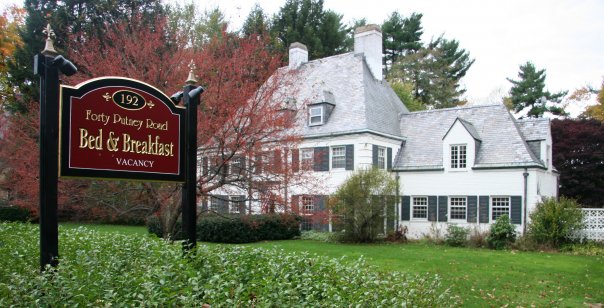 Where: The Inn on Putney Road B&B | Brattleboro | Vermont
Why: Nothing says fall like Vermont, and what better way to enjoy its splendor then while staying at a quaint B&B? Each of the six rooms come complete with an in-room fridge, loaded with complimentary gourmet snacks that will satiate hunger pangs after your leaf peeping. Picturesque hiking trails and a wildlife sanctuary are accessible from the garden. A hot tub will soothe tired muscles if you aim to do some serious hiking and 30 craft beers at the on-site pub will cool you down.
The rate: Rooms start at $170 per night.
How to get there: Amtrak's Vermonter to Brattleboro in under five hours.
Fall Foliage Getaways in New York State
Where: Meadowood Inn | Arkville | New York
Why: This antique-filled Victorian B&B features six rooms and lots of attention from the delightful owner, Tanya. The wraparound porch and sprawling lawns are just the place to decompress and catch a few rays of late-season sun. If you crave physical exertion, you are in the middle of the Catskill Mountains Forest preserve, providing you with a multitude of hikes, from relaxed to strenuous. If biking is to your liking, Joe's Coffee Shop is up the street and rents bikes for bargain rates. Breakfast is an elegant and ample affair, served in the guest dining room. Several of the rooms are spacious suites with sitting areas and Jacuzzi tubs.
The rate: Rates range from $70-$175 per night per couple, including breakfast and round-the-clock hot beverages.
How to get there: The Trailways bus stops at the corner in Arkville. The ride from Port Authority takes three hours.
Where: New Paltz Hostel | New Paltz | NY
Why: You don't need to break the bank to get back to nature.  This serviceable hostel is in the center of town, but only minutes away from the 7,000- acre Mohonk Preserve, a crown jewel of natural beauty that is bursting with streams, forests and mountain ridges. The Shawangunk Ridge is revered for its world-class technical rock climbing, but hiking, horseback riding and biking are all popular pastimes. Rent a mountain bike at the Bicycle Depot on Main Street and pedal over to the Wallkill Valley Rail Trail to spend the day in these serene surroundings.
The rate: Three private rooms with bath are offered at $70-90 per couple. Dorm-style accommodations are $40 per person. Keep in mind that if you choose the dorm, you will need to abide by a 10 p.m. curfew. There is a self-service kitchen, Internet access, garden and porch.
How to get there: Pinehill Trailways stops at the bus station on Main Street, next door to the hostel. The trip clocks in at a few minutes less than two hours from Port Authority.
Fall Foliage Getaway in Massachusetts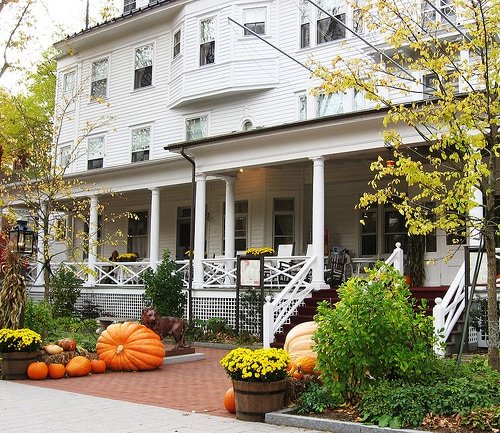 Where: The Red Lion Inn | Stockbridge | Massachusetts
Why: The natural beauty of the Berkshires is never more photogenic then in autumn. Nestled in the Appalachian Mountains, pedestrian-friendly Stockbridge is the region's cultural heart, blessed with a thriving art, music and culinary scene. The Red Lion Inn is in the center of this all -American town, with 108 rooms that effortlessly blend casual comforts with the history that this 200 plus year-old hotel exudes. The elegant main dining room is the perfect spot to enjoy a candlelight dinner, featuring New England fare. For more breathtaking outdoor adventures, the Inn's eager staff will happily point outdoor enthusiasts in the direction of panoramic spots to best view the gently transitioning landscape. The Berkshire Botanical Garden is a camera-worthy treat, open daily until mid-October.
The rate: The Inn's hallways and guest rooms boast a noteworthy collection of Norman Rockwell prints. For those who wish to further steep themselves in Rockwellian imagery, the Rockwell Retreat package offers admission at the Norman Rockwell Museum and overnight accommodations with a dining credit. This package is available from $220 per room, including all taxes and meal gratuity. Visit the site for more great packages, like The Berkshire Brew or An Apple a Day.
How to get there: Peter Pan Bus Lines from Port Authority to Stockbridge in 3.5 hours.
Fall Foliage Getaway in New Jersey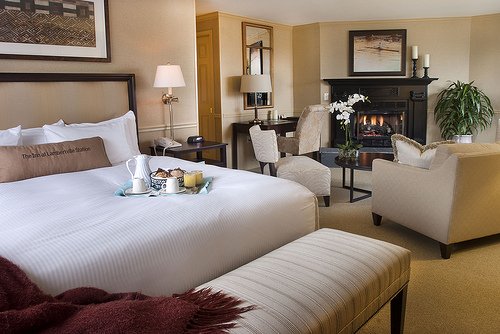 Where: Inn at Lambertville Station | Lambertville | New Jersey
Why: Each of the 45 newly- restyled rooms in this waterfront hotel provide inspiring views of the Delaware River and the lush canopy of trees that dominate its banks. Historic Lambertville's leafy streets are brimming with antique shops, restaurants and galleries. The Delaware-Raritan Canal towpath offers scenic vistas and serenity for runners, cyclers and walkers. Rafting is another popular diversion in these parts, and gives you a great perspective to marvel at all this beauty. The Inn's Station Restaurant is situated in a restored 19th-century train station. The etched glass and polished oak are the perfect backdrop for the regionally-inspired cuisine. If you never got over your childhood obsession with Thomas the Tank Engine, stroll across the river to New Hope, PA. Here you will find the old-fashioned New Hope and Ivyland Railroad. On October weekends, the Fall Foliage Trains are running, offering a 75 minute, 14-mile opportunity to contemplate the beautiful Bucks County fall colors.
The rate: The Sunday Getaway includes accommodations, in-room continental breakfast and a $50 voucher for dinner at the restaurant, starting at $184 per couple.
How to get there: Trans-Bridge Bus Lines from Port Authority to Lambertville in two hours.
Fall Foliage Getaways in Connecticut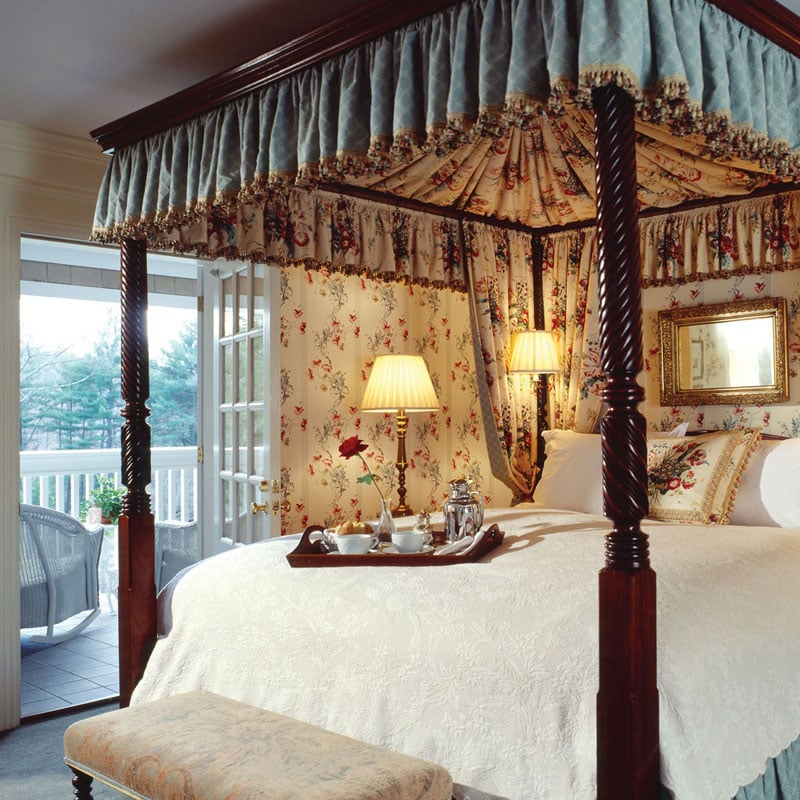 Where: Mayflower Grace | Washington | Connecticut
Why: The rolling Litchfield Hills rural character remains well preserved, despite its proximity to NYC. In this bucolic setting sits the splurge-worthy Mayflower Grace, where you will be provided with every imaginable comfort. The tree-lined grounds are breathtaking, and offer the perfect setting to gently meditate the changing leaves. If you crave more of Mother Earth's scenery, go for an hour horseback ride ($40) with Lee's Riding Stable or visit the nearby vast Steep Rock Nature Preserve, providing glimpses of gorgeous blazes of color. 30 luxury-laden rooms, a top-notch Spa and gourmet dining round out the picture.
The rate: From Sunday-Thursday, the Mid-week offer includes accommodation and $150 resort credit, for $850 per night, per couple.
How to get there: Metro-North Harlem Line to Brewster Southeast Station. For a fee, the hotel will schedule transportation for the 45- minute ride to the Mayflower.
Where: Tidewater Inn | Madison | Connecticut
Why: This gracious Inn offers guests personalized service within walking distance from town and Long Island Sound beaches. Several of the nine guest rooms have fireplaces, perfect if the autumn air is a touch nippy. You won't have to leave the grounds to enjoy a colorful carpet of leaves, as a serene, tree-laced English Garden is on the premises. Breakfast is a treat, and service starts at a civilized 8:30a.m.
The rate: Mid-week rates start at a reasonable $144, weekends at $179, double occupancy.
How to get there: Metro-North to New Haven, where you will switch to the Shore Line East to Madison. The Madison station is 15-minute walk from the Tidewater Inn, bringing the total travel time to just over two hours.
Photos: Timothy Valentine, banspy, The West End, CarbonNYC,  Timothy Valentine, and respective properties

Allison is a native New Yorker, who has lived in Rome, Tuscany, Melbourne, Toronto and Los Angeles. She frequently contributes travel pieces to Family Travel Forum, using her own children as guinea pigs as they travel the globe. She is fluent in Italian and Spanish and laughably adequate in French. Her background as an Early Childhood Educator gives her an added understanding of what it takes to travel with kids in tow. She firmly believes that the most important part of education takes place outside of the classroom, on the road, around the world. She never misses a chance to sample local delicacies, as her love for travel goes hand-in-hand with her love for food and wine. Follow Allison at @gourmetrav.