People visit New York City for all kinds of reasons, perhaps more so than any other city on the planet. Among tourists of all kinds though, one of the main draws tends to be the dining scene. From corner pizzerias and trendy burger joints to unending selections of international cuisine to fine dining havens and celebrity chef spots, New York City is overflowing with incredible food tourism options. But unfortunately, this is one aspect of New York tourism that has been affected arguably more than any other by the COVID-19 pandemic.

There's nothing particularly complicated about the problem: COVID-19 has necessitated heavy restrictions on social and in-person activities, and as a result, restaurant activity in the city has slowed to a crawl. In this post we'll take a somewhat more in-depth look at city food tourism in the time of COVID-19. Here are a few notes on what tourists are experiencing now, and what they can expect as we progress toward (hopefully) the end of the pandemic.
NYC Food Tourism: What Can We Expect?
1. Off-and-On Dining Shutdowns

The primary issue that is affecting New York City's food tourism right now is that it's simply not always reliable that a given establishment will be open at a given time. Many in the city have been outspoken in their desire to help local restaurants. Everyone wants to preserve the food scene, and ultimately allow establishments to remain open.
However, restrictions have come and gone in response to coronavirus ebbs and flows. And it appears that there's really nothing that can be done about the uncertainty this causes.

Just toward the end of 2020 for example, New York shut down all indoor dining, which served as the latest in a series of blows for the city's vaunted food scene. In addition to raising questions about whether or not many restaurants will survive, this sort of precaution makes food tourism all but impossible.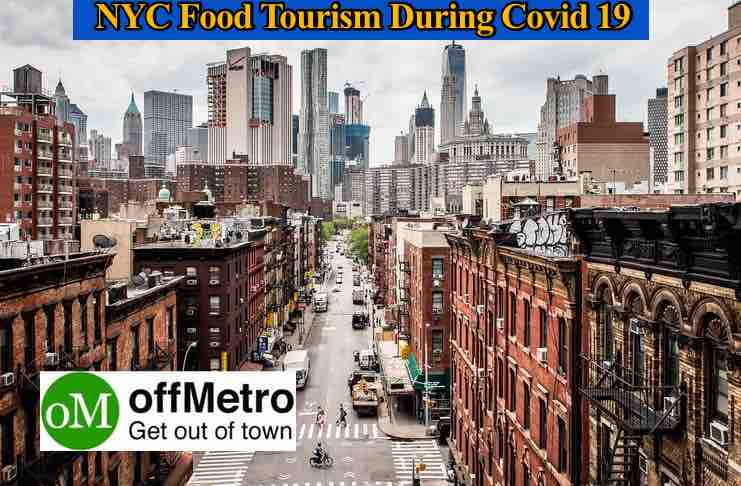 Takeout misses the point of food being a tourist experience, and one simply can't plan on enjoying a restaurant in the city with any degree of certainty.

The only good news with regard to these specific issues is that the worst may be behind us. As vaccinations are distributed and we ease out of the winter season, cases should stop spiking dramatically.
That, combined with more government relief for individuals and businesses alike in the coming months, could make indoor dining more reliable (and save a whole bunch of restaurants in the meantime).

2. Closed Restaurants

We don't have to dwell on this point, because it's closely related to everything just mentioned with regard to shutdowns. Unfortunately, though, it is worth noting that some NYC restaurant closures have already occurred.
In neighborhoods all over the city, popular establishments have already fallen prey to the pandemic. This will certainly alter the New York City food scene. From a tourist's perspective, this may not be immediately noticeable.
The city has virtually innumerable restaurants, and even dozens of lost restaurants won't necessarily be easy to notice. But it is a horrible shame that some of these establishments are no longer on the list for visitors to enjoy.
3. Options Beyond the City

Because of the issues just discussed, it's conceivable that foodie tourists to the area may focus some of their attention on restaurants outside of the city more often than usual. Some of the dining restrictions we've seen have at times been statewide. However, NYC is naturally more prone to outbreaks and may face a longer road toward fully normal dining situations.

As a result, restaurants in the Hudson Valley, on Long Island, or even in New Jersey could begin to get more attention from people visiting New York City. In the past, visiting the city and leaving it specifically for a meal would have seemed just about inconceivable.
But now, tourists may well see some appeal in getting away from the crowds. They may potentially enjoy some more ordinary dining experiences at any of a number of fine restaurants beyond NYC limits.
4. New Names, Structures, & Management
New York City is slowly easing back toward normal activity. One subtle change some tourists may (or may not) notice is that some established restaurants may have new names, structures, and management.
Part of this is due to the natural turnover that we'd expect following such a devastating economic year. There will be countless instances of new owners or managers swooping in to take over restaurants that may not otherwise have made it.

We may also see restaurants restructure somewhat like a business strategy as well. As an example, you might begin to see some establishments rebrand themselves as LLCs (which stands for limited liability company). While this isn't a designation we typically associate with restaurants, it's actually not all that uncommon.
More to the point, a write-up on New York LLCs makes it clear that businesses adhering to this structure have certain protections — most notably shielding owners from business losses or legal difficulties. This won't have any bearing on menus or food quality.
However, don't be surprised if you see some restaurants listed as LLCs (which may just look a little weird). It's one of many new protections ownership groups may consider guarding against future catastrophes in the aftermath of the COVID-19 experience.
5. A Little Bit Less Buzz — But a Slow Return to Normal

In much more general terms, tourists should also expect a little bit less "buzz" when they are able to return to New York City restaurants. That doesn't mean we expect light crowds. Many New Yorkers are ready to return to restaurants, and tourists will be eager to do the same.
However, at least in the early going we expect to see some restrictions on seating and reservations. This will inevitably detract a little bit from the energy and excitement that enhances the restaurant scene for locals and tourists alike.

Fortunately though, in this regard as with the NYC food scene in general, there should be a gradual return to normal.