Growing up in the Hudson River Valley, I was always trying various ways to remove myself from it. My schemes varied between those that were academic (applying to study abroad in Moscow as a junior in high school) and shamelessly truant (skipping Friday classes to go see bands in the East Village).
Enamored of the bright lights and bustling sidewalks in more metropolitan settings, I didn't value the bucolic scenery just outside my window or the soothing stillness of a hike through the woods. I didn't care about the phenomenal produce being grown at nearby farms or inspired menus at casual waterfront restaurants because I was obsessed with glamorous, white-linen dining experiences that only existed, it seemed, somewhere else far away.
In short, I was young and stupid.
Now, after living in New York City for the past 10 years, I often find myself daydreaming about weekend getaways to the very place I once tried to escape. I plan pilgrimages around activities like eating cider doughnuts and scoping fall foliage. I swoon over any Hudson Valley cheeses, teas or whole-grain flours that make their way down to Brooklyn larders and I have a running list of river-local eateries that are so good they make me want to toss the proverbial Big Apple.
Here are five of my favorite places in the Hudson Valley, plus something to do after stuffing your face.
1. Poughkeepsie
Where to Eat: Brasserie – A Parisian-style bistro complete with mirrored walls, black and white tiles, cozy leather banquettes and towers of oysters, this restaurant has the added pedigree of being run by a Bobby Flay protégé in proprietor and manager Chris Crocco. While Chris takes care of the front of the house, his brother Chef Daniel Crocco reinterprets French comfort foods like Steak Frites, Garganelli and Bouillabaisse, using locally sourced products—some from his own on-premises garden. If you don't get the Milk Chocolate Pot De Crème with Salted Caramel at the end of the meal, there's really nothing left for us to talk about.
While You're There, Hit: Walkway Over The Hudson – The largest pedestrian bridge in the world exists two hours away from Manhattan. This stepsister to the High Line is absolutely magnificent…and long enough to work off those rich sauces.
How To Get There: Take a train out of Grand Central Terminal on Metro North on the Hudson River line all the way to the last stop. Once you arrive, you can either hail a cab or embark on a healthy walk over to Main Street where the restaurant is.
2. Hyde Park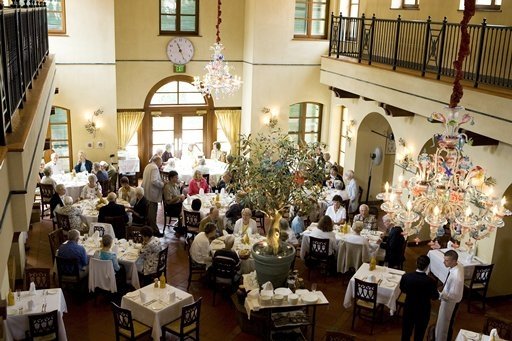 Where to Eat: CIA – If you've never been to the Harvard of culinary schools, shame on you. Besides the fact that the major structure on campus is a former Jesuit Monastery—meaning stained-glass windows, ornate hand-carved pews, chandeliers and other esoteric religious elements that make it feel like a modern-day Hogwarts—there are multiple restaurants here staffed by the future star chefs of America. My perennial picks are American Bounty or Escoffier. But if you can't get in to those, I also recommend reservation-free breakfast and lunch at The Apple Pie Bakery, which offers a flawless collection of pastries, chocolate, and savories such as Duck x Four (Foie Gras Mousse, Duck Confit, Crispy Duck Skin, Brie Cheese on Focaccia brushed with Duck Fat!), to enjoy without slipping into formal wear.
While You're There, Hit: Hyde Park Drive-In – If you're going to spend the money on a rental car, make the most of it and experience a double feature ($8/adults, $4/kids) under a star-filled sky at one of the 367 drive-ins that still exist in this country. Plus, it's so inexpensive you feel like you're getting away with grand larceny. Season lasts April through late September.
How To Get There: Consult offMetro's guide to renting a hybrid in NYC.
3. Millerton
Where To Eat: Oakhurst Diner – Many locals still refer to this place by its previous title, Millerton Diner. But a meal here by any other name would still taste as sweet—as long as it's being prepared by chef John Panzer. Panzer and his partner Paul Harney took everything one loves about greasy plates then amplified them with better ingredients, heightened flavors and more progressive pairings. Consider the Venison Chili Cheese Fries for one progressive gut bomb. The Curried Chicken on a Roll is another. If you have room afterward, and that might not be possible, try to squeeze in the apple pie.
While You're There, Hit: Harlem Valley Rail Trail – Fifteen miles of abandoned rail beds through rural Dutchess County landscapes are waiting for you to explore.
How To Get There: For fit cyclists and adventurous types, take Metro-North to the end of the Harlem line at Wassaic, then bike the beautiful rail trail 21 miles to Millerton.
4. Rhinebeck
Where to Eat: Gigi Trattoria – Chef Laura Pensiero makes many things well at her seasonal, self-described "Hudson Valley Mediterranean" restaurant. But tops on my list are her flatbread pizza with Coach Farm goat cheese, fig jam, pear, arugula and truffle oil; her sweet potato dumplings and the sautéed broccoli rabe. In good weather, you can sit on the front patio and admire all of the reformed hippies walking around the village.
While You're There, Hit: The Clintons didn't choose this tiny town for Chelsea's wedding for nothing. Take time to explore local shops selling everything from antiques to zen meditation pillows and all of the trendy designer jeans you could want in between.
How To Get There: Hop on an Amtrak train out of Penn Station and get off at the Rhinecliff stop. You will have to hail a cab at the station for the 10-minute ride into town. But once there, everything is within walking distance. New at Gigi, Agriturismo Dinners.

5. Hudson
Where To Eat: Swoon Kitchenbar – I love everything about this place from the husband-and-wife team that learned how to make sheep's milk cheese together to the easygoing yet upscale décor. From the Pine Island Oyster Stew, with surprise hits of confit lamb belly, to the oh-so sinful Braised Beef Short Rib over potato gratin. But I love it all that much more when I'm sipping one of their Dark & Stormy cocktails using Cruzan Black Strap Rum.
While You're There, Hit: Hudson offers many architectural diversions. But particularly striking is the Basilica Hudson. Owner Melissa Auf Der Maur (former bassist for Hole, Smashing Pumpkins) and her filmmaker husband have renovated this cavernous 19th century factory (think exposed beams, distressed brick and majestic views of the waterfront) to put on art exhibits, readings, food festivals and musical performances by artists large (Patti Smith) and small.
How To Get There: Once again, hop on an Amtrak train out of Penn Station. This time, get off at Hudson. Main Street is within walking distance of the station—hurrah! For more ideas on where to eat in Hudson, read Retr(eats): Fish & Game Opens in Hudson, NY

Photo: wangjs, Nick Harris1
About the author: Joanna Prisco is a food and travel writer living in Park Slope, Brooklyn. She has previously written for Food Republic, Flaunt, The New York Post and Parade, among others. You can follow her work at joannaprisco.com

View Top Five Best Hudson Valley Restaurants in a larger map