Searching for a few unforgettable hidden gems of NYC? You've reached the right place. New York City is one of the most popular traveling destinations in the world. People visit the Big Apple to see all of its famous sites and attractions. The Brooklyn Bridge, the Statue of Liberty, Central Park, and Times Square all attract millions of visitors every year.
However, what many people don't realize is that there is a lot more to this beautiful city than meets the eye. From museums, art galleries, and gardens to libraries and restaurants — NYC is full of hidden gems no tourist should miss out on. Read on to find out what they are.
7 Hidden Gems of NYC You Should Visit:
1. The Grand Central Whispering Gallery
Situated in the Grand Central Terminal in New York, the Whispering Gallery is one of the most popular hidden gems the city has to offer. Its name stems from its unusual architecture. It is a circular enclosure underneath a dome, in which the acoustics allow you to hear whispers from the other side of the room. Beautiful, elaborate murals cover the walls, giving the vast space an old-school artsy vibe.
Apart from being an interesting landmark to visit, this gallery is also one of the most romantic date destinations in the city. Couples love trying out the whispering gallery and confessing their feelings to each other from across the room.
2. The Museum of Ice Cream
NYC is famous for its museums. However, even some of the biggest museum fans haven't heard of or visited the tastiest museum the city has to offer. It is a special kind of museum: it opens in different spots every summer in the form of a pop-up shop. The museum offers an interactive and tasty experience to all its visitors.
You can spend the afternoon wandering through an ice cream wonderland, sampling every flavor and topping they have to offer. Additionally, you can mix things up and come up with your own combos or try something you've never had before.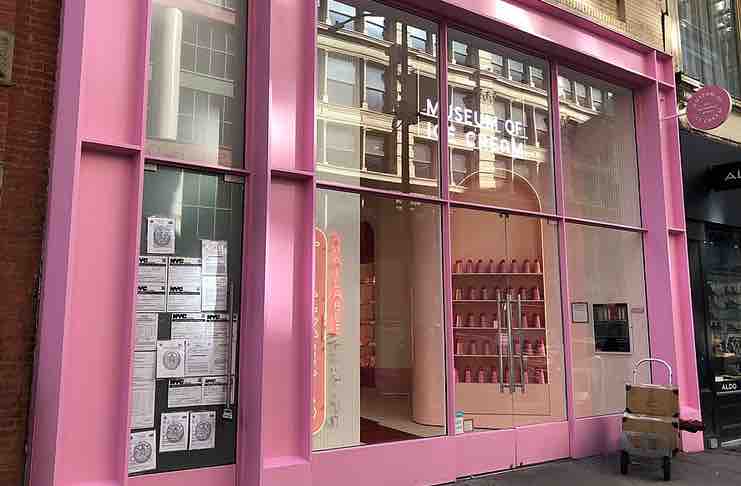 3. Please Don't Tell Secret Bar
This place definitely has the coolest name on our list of hidden gems of NYC. Though the prohibition era is long behind us, hidden bars still have a certain amount of appeal, especially for tourists. Between Avenue A and 1st Avenue, the entrance to this bar goes completely unnoticed by those not in the know.
Those who are in the know step into a little phone box, pick up the phone, and buzz once. After that, a door in the wall opens, letting them into the bar.
The place is intimate and cozy, and the drinks are amazing. You can spend a lovely evening sipping on cocktails and snacking on delicious food, completely hidden away from any prying eyes. It is the perfect secret spot for dates or fun nights out with friends.
4. Brooklyn Grange Rooftop Farm
Those who want to move to Brooklyn often overlook how much this part of NYC can offer when it comes to nature. The Brooklyn Grange Rooftop Farm is a perfect peaceful getaway for anyone who wishes to escape the busy streets and city lights.
The Grange is a company that owns three big rooftop farms in Brooklyn, and they grow all sorts of fruits and vegetables. Visitors can do rooftop yoga, relax and read on the many benches, or simply wander among all the plants. They offer both open-house hours and private tours, so you can pick whichever option you prefer.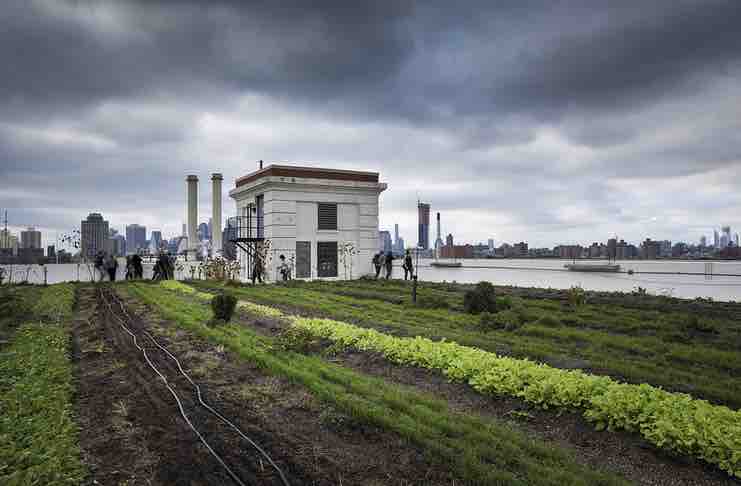 5. Berlin In New York City
If you think you have to go to Germany to see what's left of the Berlin Wall, you are mistaken. When the wall was demolished in 1989, sections decorated with elaborate artwork were preserved and brought to five places in New York City.
Since these places are pretty far apart from each other, visiting all of them in one day could offer you a true taste of New York and all its parts. Combining art, history, and a walking tour makes for a fun and relaxing day you will surely enjoy.
6. The Sunset Park
This is my personal favorite on our list of 7 hidden gems of NYC. Most people think that they need to go to the Empire State Building to catch a glimpse of the beauty that is New York during sunset. While the view from the top is quite impressive, there are other spots that make it even more magical. One of them is the aptly named Sunset Park.
Situated in the Brooklyn neighborhood of the same name, the Sunset Park sits atop a leafy hill and offers a magnificent view of the Statue of Liberty. Beyond the statue, the sky and the city stretch endlessly, and the view is even more striking during sunset. If you want to take that perfect sunset pic or just enjoy the colors, this park is perfect for you.
7. Cilantro: A Mexican Food Heaven
If you love Mexican food, look no further. This small restaurant on the Upper West Side is the place where all your culinary dreams will come true. It is known for its friendly and cozy atmosphere, great music, and, most importantly, mouth-watering food.
Since this place is pretty unknown, you won't find many tourists there. It is a great spot for a quiet and delicious getaway from your busy schedule. It is also quite affordable and has an old-school feel to it that you just won't be able to resist.
Final Thoughts
As you have read, New York City has a lot more to offer than its most famous monuments and locations. If you want to get to know the real side of this city, our list of hidden gems of NYC is the perfect starting point. Hopefully, visiting the places above inspires you to look even further, as there is still so much you can explore.
Author bio
Nancy Zafrani is the general manager of Oz Moving & Storage in NYC. A day-one employee of Oz, she has 25 years of experience in the moving industry. As a New Yorker, Nancy also has lots of travel experience in and around the big apple.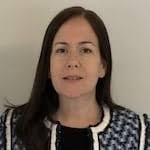 Nancy Zafrani is the general manager of Oz Moving & Storage in NYC. A day-one employee of Oz, she has 25 years of experience in the moving industry. As a New Yorker, Nancy also has lots of travel experience in and around the big apple.