"TRAVELING – IT LEAVES YOU SPEECHLESS, THEN TURNS YOU INTO A STORYTELLER."

– IBN BATTUTA
We do our utmost on offMetro to tell great travel stories, but the real pros and icons in doing so are the authors and publications behind the best travel guide books on the planet. We're talking about the guides that make you jump out of your sofa, pack a small bag and head out the door.
Being the travel addicts that we are, we never stop reading and exploring new (and old) resources. In this post, we'll delve into our favorite practical travel guide books.
It wasn't an easy task to make a shortlist of only five. There are so many good travel guide books out there. However, we set our criteria, did our research, and narrowed it down from over twenty to this golden list of five.
Looking to visit neighboring Canada for a couple days? Make sure to have your passport or passport card handy.
Here's our Shortlist of Best Travel Guide Books for North America:
1. Wildsam Field Guides: New England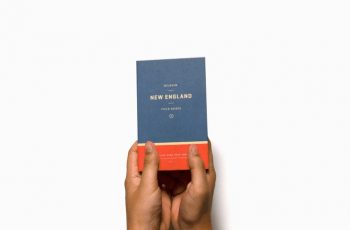 Wildsam Field Guides are at the top of our best travel guide books list – for several reasons. First, we love their sleek design, their unique insider tone, and vivid, literary style. Widsam's guides manage to get and expose the true feeling of every destination. They show you how to really understand a place and enjoy traveling through it. And that is exactly what millennials are searching for these days. Authentic experiences.
For this post, we reviewed Widlsam's 'New England" travel guide book. This guide will take you, among others, to where Thoreau and Emerson found peace at Walden Pond, where Emily Dickinson secreted away her poems in Amherst, where Melville chased the white whale, where P.T. Barnum proclaimed the view from Mount Washington "the second greatest show on Earth.", and many more.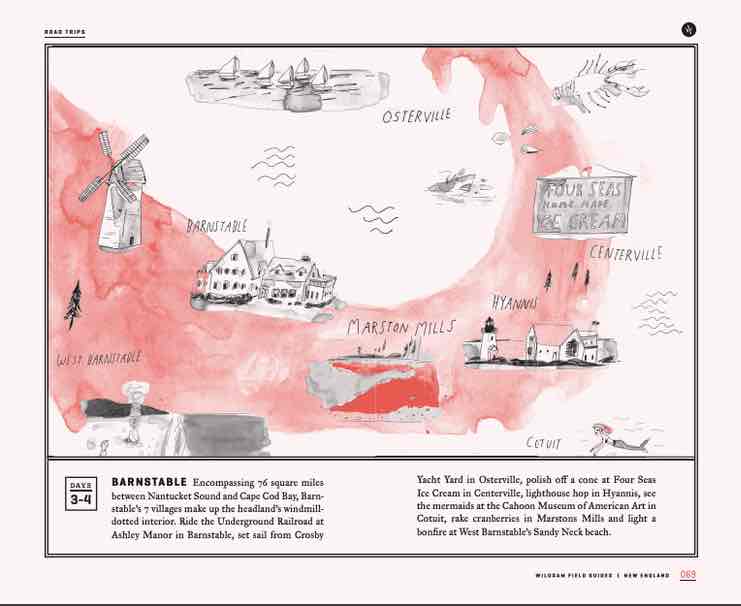 It's definitely one of the most inventive and unique, yet still practical and informative travel guides that we've read about New England. It consists of local stories, travel intel and modern lore, including:
Twenty-four hours to see iconic Boston

The five best lobster shacks in Maine

How to catch the first sunrise in America

An interview with a L.L. Bean bootmaker

Our favorite country inn for winter escape

Alpine huts in the White Mountains of New Hampshire

Trout fishing secrets from an Orvis guide

An illustrated map to summer on Cape Cod

Three days seeing fall color in Vermont's North Country

Words from Louisa May Alcott and Henry David Thoreau
You can get Wildsam's New England Field Guide by clicking here.
2. Rough Guides to the USA
If you're not familiar with Rough Guides, these guys are perfect for taking a step off the beaten track. Their style is a bit similar to LP (Lonely Planet), leaning towards the adventurous side of travel.
We added Rough Guide to our list of best travel guide books for North America because they have a wonderful understanding of responsible travel. They showcase the small hidden towns between big cities, which we love to explore on our road trips.
The Rough Guide to the USA covers much more than North America, but we still think it's a great tool to have on any journey to the north. It is a practical and powerful guide to have on the road. It'll do the job whether you're planning a 6-month coast-to-coast road-trip, a short adventurous tour in New England, or a history tour of NYC.
This travel guide book is packed with expert reviews of top destinations, hotels, restaurants, not to mention the colour maps, itineraries and great route suggestions.
You can get the Rough Guide to the USA here on Amazon.
3. Moon Maine
Author Hilary Nangle started writing Moon Maine after getting tired of her parents nagging her to get a real job. Instead, she explored the spruce-studded mountains, the classic shoreline villages, and the rugged character of Maine. And then she wrote this travel guide book.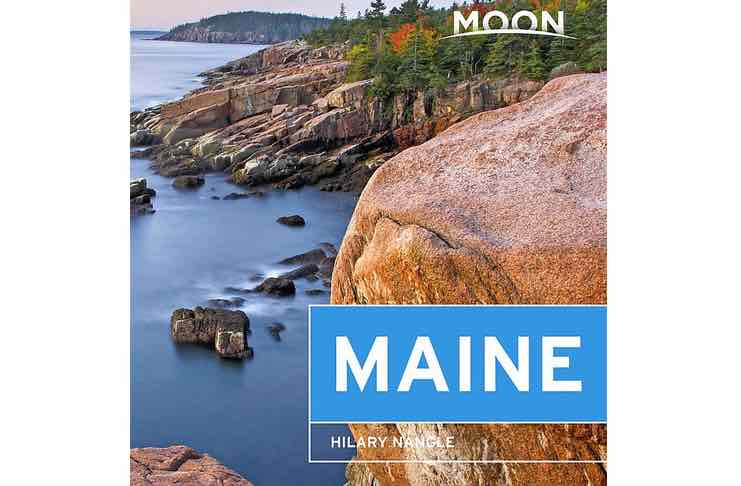 Why do we like this travel guide book? Because it provides practical tips and authentic local insight, as well as useful itineraries ranging from a week-long exploration of the coast, up to an 11-day road trip covering the whole state.
We naturally love the outdoor adventure tips this travel guide book provides. These include hiking up the majestic timberland forests, reaching the final stretch of the Appalachian Trail, whitewater rafting, canoeing down the Allagash, kayaking along the serpentine coastline, and much more.
Moon Maine provides honest tips and advice from born-and-raised Maine local, Hilary Nangle, alongside with full-color photos and detailed maps.
You can get Moon Maine here on Amazon.
4. Frommer's Maine Coast
For those of you who don't know Arthur Frommer, he began publishing travel guide books for American GIs who returned to Europe after WWII, back in the '50s. Frommer became the leading travel guide book writer for that generation and for the ones who came afterward in the '60s and '70s.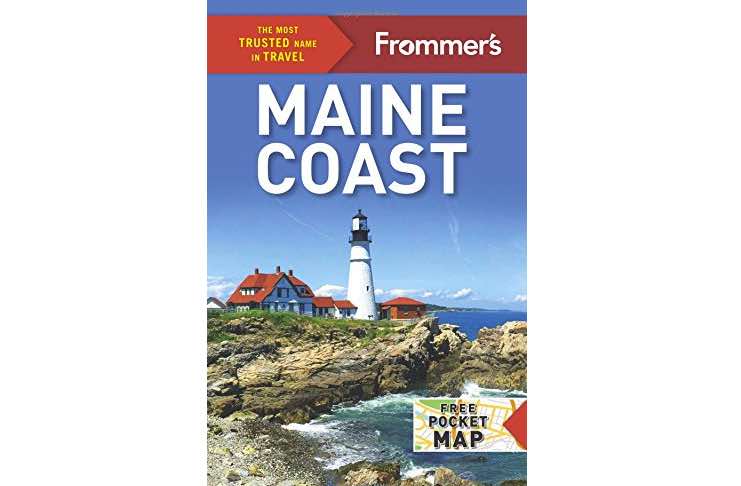 What was so unique about Frommer's guide books that made them such a success? Well, he ranked the sights he covered in order of importance to the traveler. This might seem trivial today, but back then it was a big innovation. He also included budget travel tips, as well as the reader's recommendations for cheap places to sleep and eat.
Frommer's Maine Coast, written by Brian Kevin, travels you through all of the region's spotlights, from the beautiful beaches, hiking up the scenic mountains, and down to the best kayaking and sailing places.
This Frommer's travel guide book includes very detailed pricing for every venue and activity, a pullout map, as well as reviews of hotels, attractions, restaurants and more.
You can get Frommer's Maine Coast here on Amazon.
5. 1,000 Places to See in the United States and Canada Before You Die
We weren't sure at first if to add Patricia Schultz's book on our Best Travel Guide Books list. However, after a short vote among our editorial team, this masterpiece easily made it to our shortlist.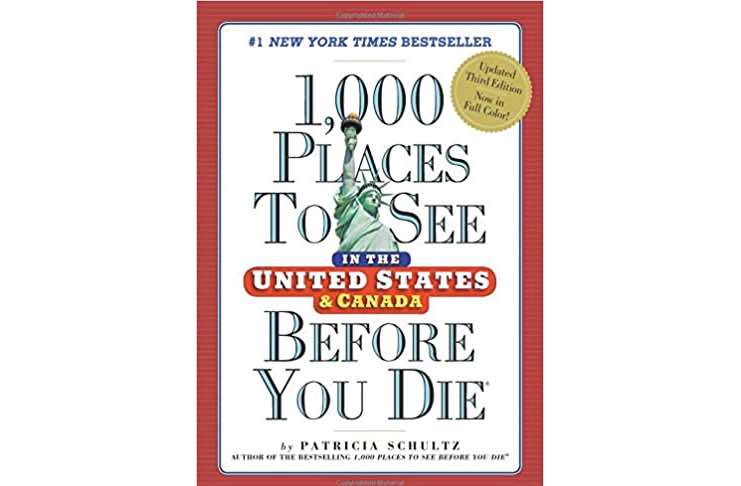 Why? Well, here's what the New York Daily News wrote – "Don't even think about packing your bag and sightseeing without it". It's a great overall resource for discovering new destinations to explore, some for short weekend getaways, while others for longer road trips.
"1,000 Places to See in the United States and Canada Before You Die" covers these two countries like never before. It does it all with stunning full-color images. Patricia Schultz takes you in her book to offbeat, unforgettable destinations, be it salmon-rich rivers, pristine beaches, lush gardens, vineyards, scenic mountains, and so much more. 1,000 is a big number, and so is this travel guide book.
You can get this travel guide here on Amazon.
We love travel guide books. We breathe their words and tips every single day of our blogging career. In our view, a great journey starts with the rush of euphoria when choosing a magical destination leaping off the pages of a really good travel guide book.