What to do in Wildwood? The very well-preserved Doo Wop style of this shore town makes for endless photo-ops. Words By Carly Pifer. Photos by Morgan Light.
If you've never heard of the Doo Wop architectural movement, it's easy to conjure: think mid-century modern Palm Springs married with the tacky but lovable neon of retro Vegas. Conveniently just down the coast, Wildwood, New Jersey, has the largest concentration of Doo Wop in the country.
The town was a massively popular resort destination in the 1950s-60s. While it remains a summer vacation spot, it has lost much of its original splendor, but carefully preserved its charm.
The Wildwoods is arguably better for its wear—the Doo Wop style remains wild, wonderful, and pretty much begging to be photographed. Go there, and bring some fun film with you.
What to do in Wildwood
EXPLORE on two wheels—a bike is the best way to navigate the Wildwoods. Zippy's Bikes rents them for $25 a day. Cruise up and down the boardwalk, and zip around the beachside motels. You'll find a wealth of wacky storefronts and cool signs, some still attached to motels, and some stand alone, thankfully left behind.
You can kill hours just riding around and taking pictures. And the hop on/hop off feature of a bicycle is great for impromptu photoshoots.
Make sure to cruise to the Doo Wop Preservation Society—you can't miss it, as it's on the main drag with a ton of neon signs out front. Inside, you'll find a wealth of original furniture rescued from Wildwood motels in their heyday. Unfortunately, nothing is for sale, so you'll leave empty-handed, but full of inspiration.
Wildwoods is probably best known for its roller coasters and water parks dotting the beach area and boardwalk, but you can also keep things more chill and hit up Starlux Mini Golf, featuring three fun courses.
Where to Eat in Wildwood
REFUEL at a number of spots that could have appeared on Diners, Drive-Ins and Dives, but are peacefully devoid of Guy Fieri.
Key West Cafe serves a long list of classic American breakfasts in a tiki-themed environment that skews more local than touristy. The Vegas Diner delivers everything you want from a Jersey staple with a retro-classic vibe—the waitresses are no nonsense, and the prices are right.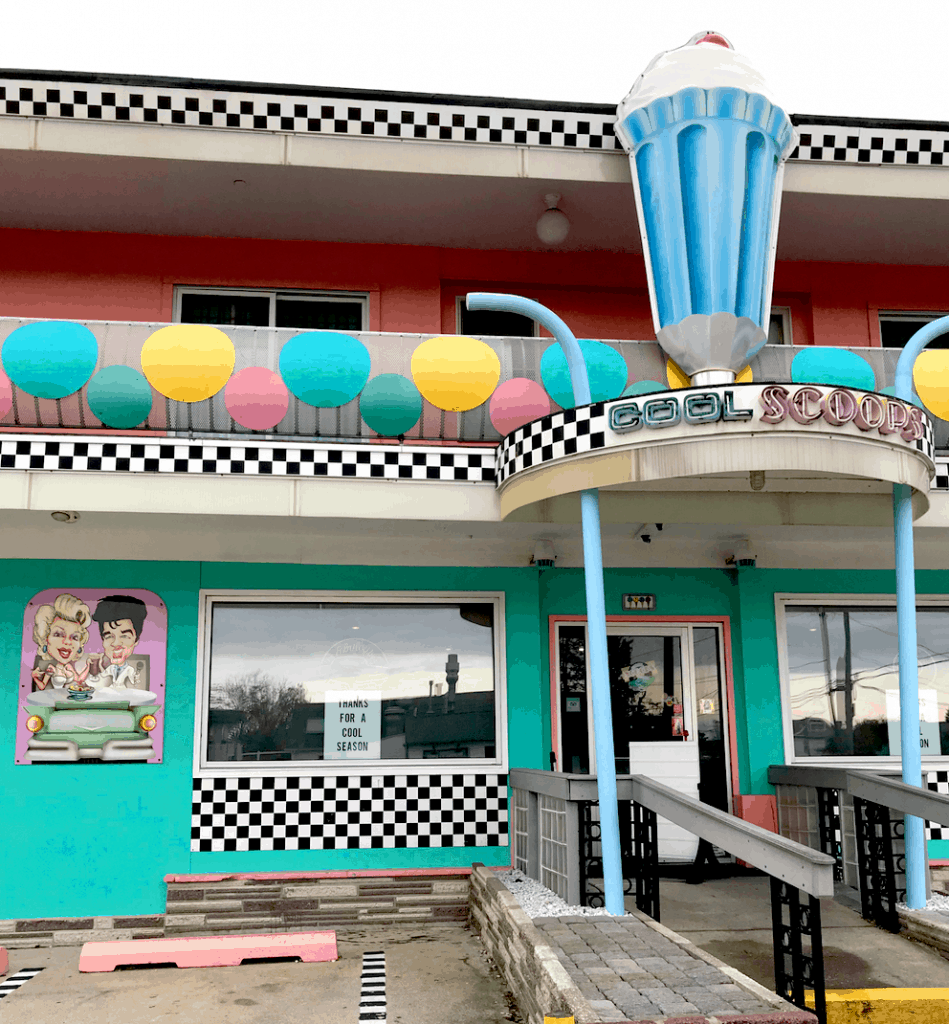 Like a lot of things in this town, Cool Scoops is 50s themed, and super fun. They have a jukebox, themed snacks, and booths made of classic cars. Order the Dusty Road Sundae (the dusty ingredient is malt powder) and schedule a nap on the beach immediately following.
Stay in Wildwood
OVERNIGHT at a sturdy standby or a new take on the Wildwood style.
You'll know you're in a special place the moment you set your eyes on The Caribbean, an architectural marvel inspired by the futuristic space-age buzz of the late 50s and a tropical yearning for destinations further afield than the Jersey Shore. It's been lovingly restored, earning its name as both a state and national historic landmark, and the first motel ever listed with Historic Hotels of America.
The rooms are simple yet funky, but the real draw is the pool and party area. The hotel regularly hosts events and people often rent out the whole place with a group of friends. Their Retro Tiki Weekend is coming up in September.
For all the charm in a bit more fresh and modern environment, book a room at the Skylark Boutique Hotel. Rooms are outfitted with lava lamps and tiki decor, and all overlook a swimming pool and lounge area. The staff is kind and accommodating, and you can borrow their bikes and skip the rentals, just reserve in advance.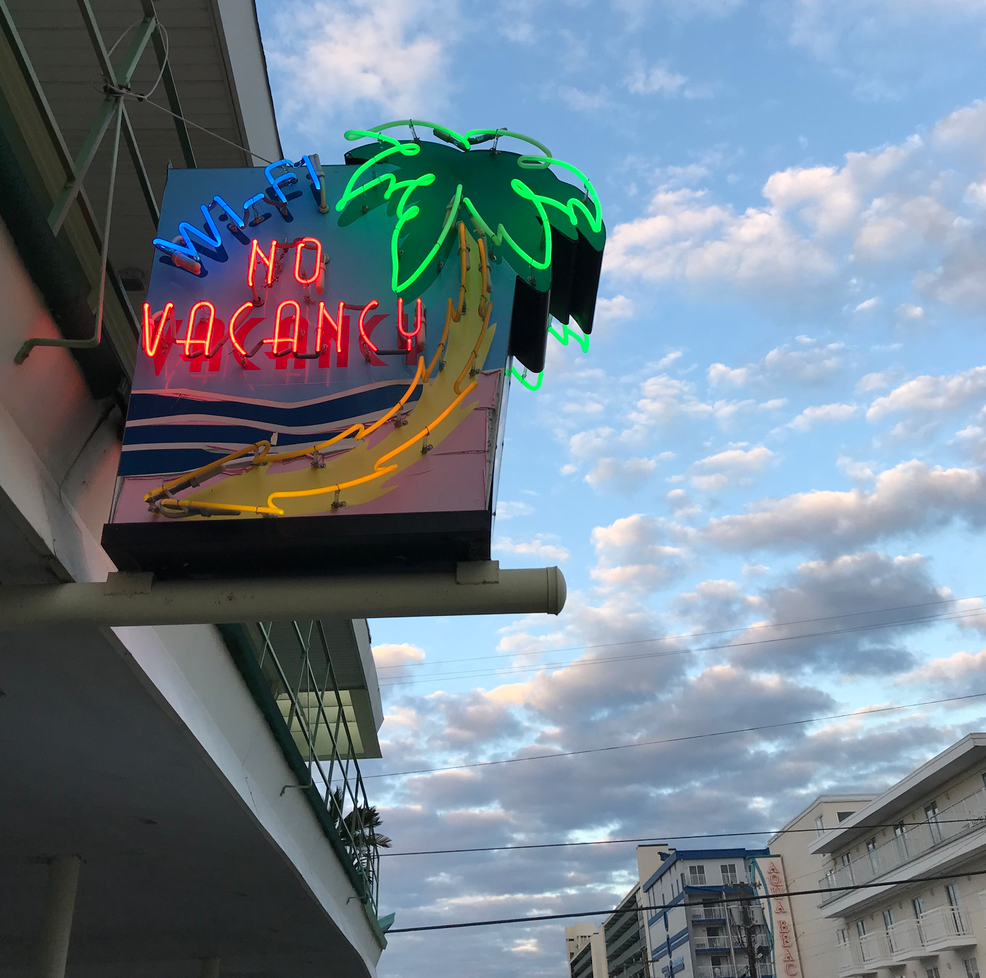 INSIDER TIP We recommend going a bit later in the season to dodge the crowds. September is still warm, but sleepier.
Get to Wildwood from NYC:
Travel to Wildwood, New Jersey via NJ Transit bus from Port Authority. The ride is about 5 hours.
You don't need a car to get around town, walking or bikes will suffice.
Carly Pifer is a freelance writer who has been known to follow whims inspired by romantic movie scenes or colorful street style shots to India, Japan, Tunisia and Argentina. After stints living in Seoul, Boston, Paris and Los Angeles, writing and searching for something intangible, she landed somewhat steadily in Brooklyn and has begun to find inspiration in her more immediate surroundings (and also the permanence of her bookshelf). She writes about fashion for Refinery29 and has been known to pack an outfit per day on backpacking trips. Please visit her website to read her travel diaries and other writing on the web at www.carlypifer.com or follow her on instagram .