As avid travelers, we're always on the lookout for the perfect weekender bag for travel —one that's rugged but chic, lightweight but roomy, and super comfortable.
What Exactly is a Weekender Bag?
A weekender bag is a functional, all-around piece of luggage designed for short getaways. It's easy to carry around and comes in endless styles, colors, and materials to suit anyone's needs.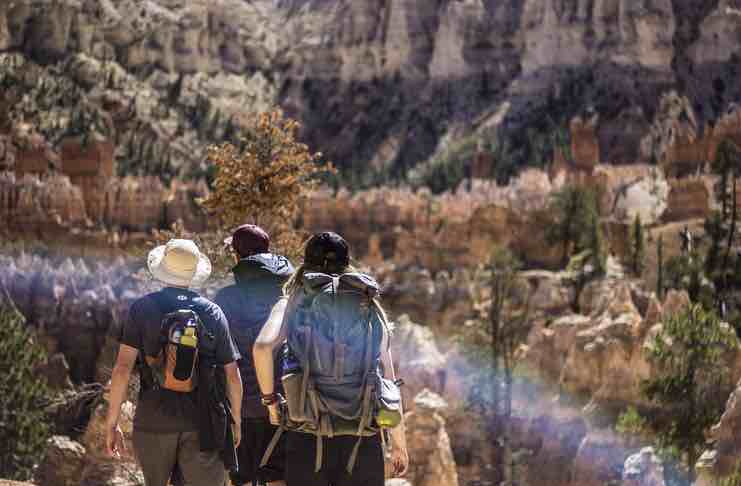 The weekender bag or a duffel bag as it's called by some – is the overlooked workhorse of every traveler's luggage portfolio. Your duffel bag for travel cannot be too small (otherwise you won't be able to fit that extra jacket or your smart accessories) or too big (or it won't be easy taking the train with it).
Your weekender bag has to be rugged enough so it doesn't fall apart after two or three trips, and stylish enough so you feel good dragging it around on your weekend getaways.
In this little travel duffel bags project of ours, we selected the best weekender bags that you can get on Amazon. Why Amazon? Because everyone buys there, and because it gives us a methodical way to evaluate a duffel bag according to real customer reviews. So here we go, find your favorite duffel bag…
offMetro's 7 Best Weekender Bags for Travel Getaways
I admit we did not personally test all the duffel bags below (only two: one is owned by myself while the other is used by another offMetro writer). However, we did perform extensive research on weekender bags, which included digging into hundreds of real reviews. We reached our selections based on good reviews (bags had to have least 150 reviews of 4-stars and above), as well as the bags' features, design, size, weight, and of course – price. So go ahead and check our selections – and let us know in the comments what you think…
1. Cenzo Duffle Bag
This is the perfect 1-3 night weekender bag for travel. The Cenzo Duffle Bag is made in Italy, from Italian calfskin leather. It includes a brass zipper, smart contrast stitching, durable 8 oz cotton duck canvas lining, and brass hardware. Some claim that vegetable tanned leather looks better as it ages (we haven't tested this).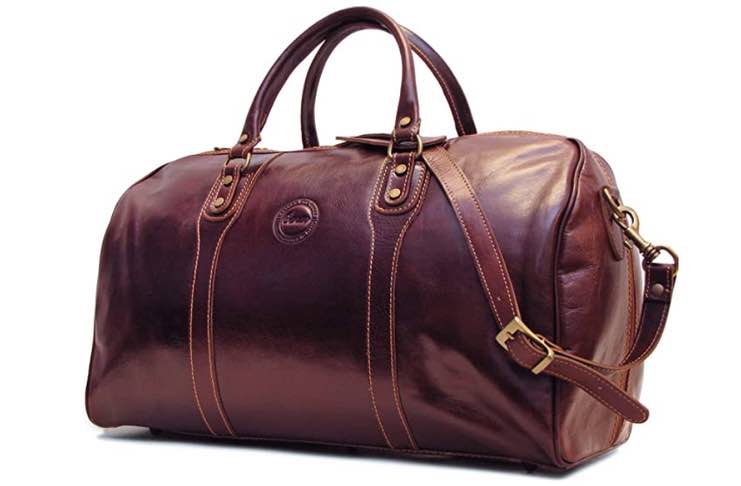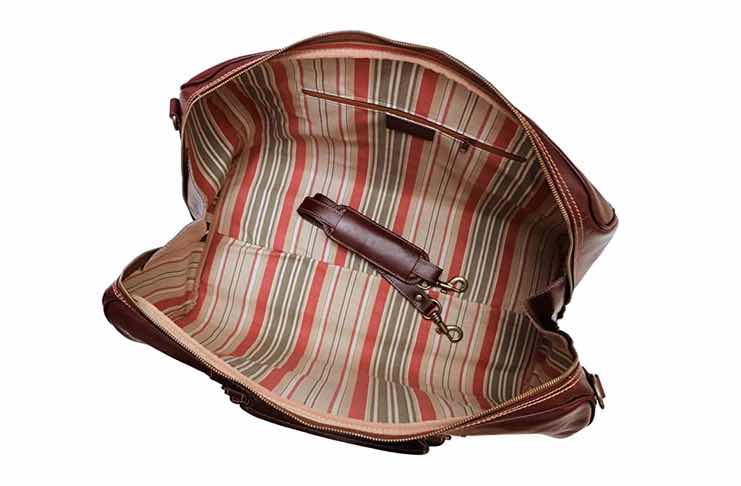 Highlights:
It has a very easy pack floor-to-floor brass zipper closure.

It's made with beautiful full-grain calfskin leather that has deep color tones (and may look better as it ages). The vegetable tanned base creates the rich red and brown colors while the semi-gloss finish helps prevent stains. After a few months, the leather will soften and develop a beautiful patina.

The 8 oz cotton duck canvas lining is made in South Carolina and is extremely durable. The combination of Italian leather and the strong U.S. made canvas lining makes this weekender bag a great addition to our travel luggage portfolio.

The bag has a Brass Zipper and Hardware

Detachable Shoulder Strap – adjustable 40/46″

Contrast Stitching

Size: 11″ h x 10″ w x 21″

Weight of this duffel bag is 4.5 pounds

2. BEBE Valentina Carry-on Duffel Bag with Wheels
Want to travel in style with a duffel bag on wheels? This weekender bag is really compact in size, has a useful storage space, a telescoping handle and smooth-rolling wheels. The Bebe Valentina is ideal for any of your overnight or weekend getaways. It's spacious enough to hold enough clothes for a weekend, shoes, toiletries, and more.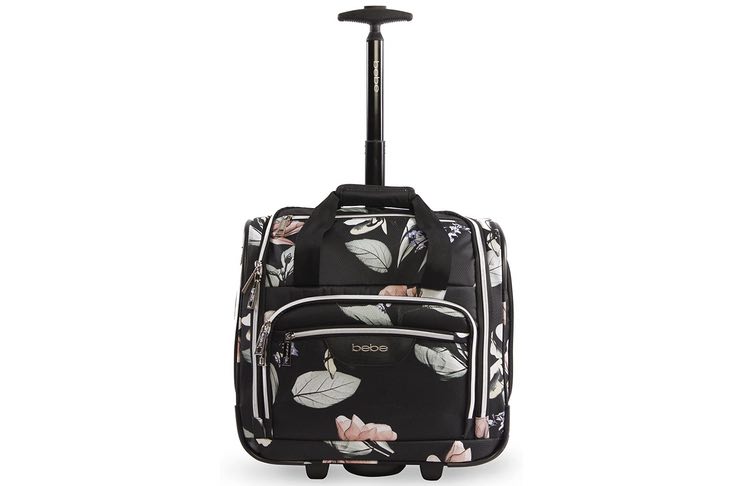 What else does this Bebe Duffel Bag include?
We love useful storage space, and this weekender bag for travel comes with multiple zippered pockets that are easily accessible and great for storing our travel essentials. It has nice and secure side pockets as well as a front organizer pocket for tucking that book you want to read on the way.
This cute duffel bag also has a cool add-a-bag feature, allowing you to securely attach it to the telescoping handle of any other larger luggage for easier transportation. We really love this feature!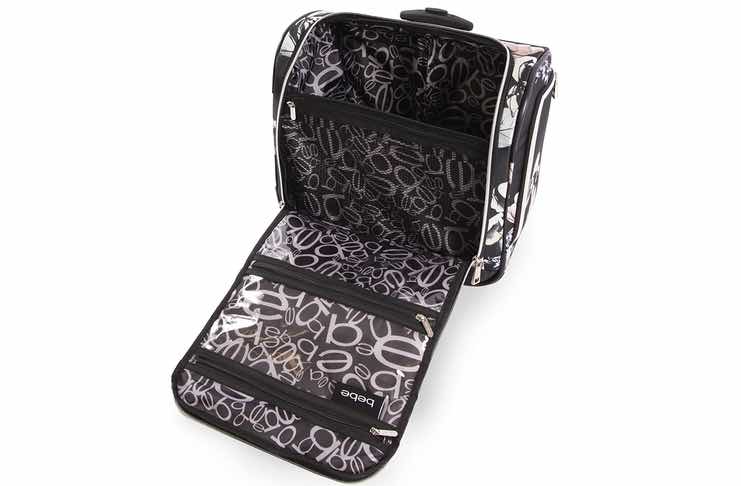 Highlights:
This duffel bag has a spacious main compartment

In-line skate wheel system

It has accessible multiple compartments

Push-button internal handle

It fits under the seat of most airlines

Size L-15 X W-8 X H-16

Weight: 4.92 pounds

3. Polare Cowhide Leather Duffle Bag
This is definitely one of my favorite weekender bags for travel. Maybe because I own one. It's a beautiful and durable US-made piece of luggage, which you can't go wrong with. Polare is a leather goods brand that tries to balance between modern innovation and traditional durability and craftsmanship. They do a pretty good job at it. Their weekender bags come with a one-year quality warranty and lifetime customer support.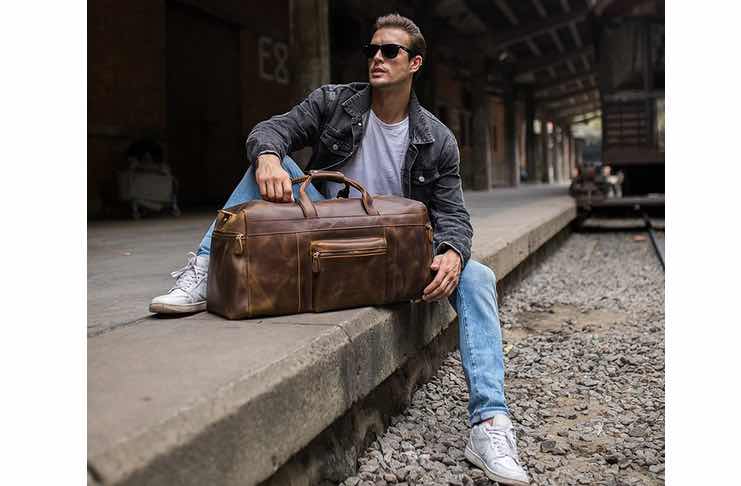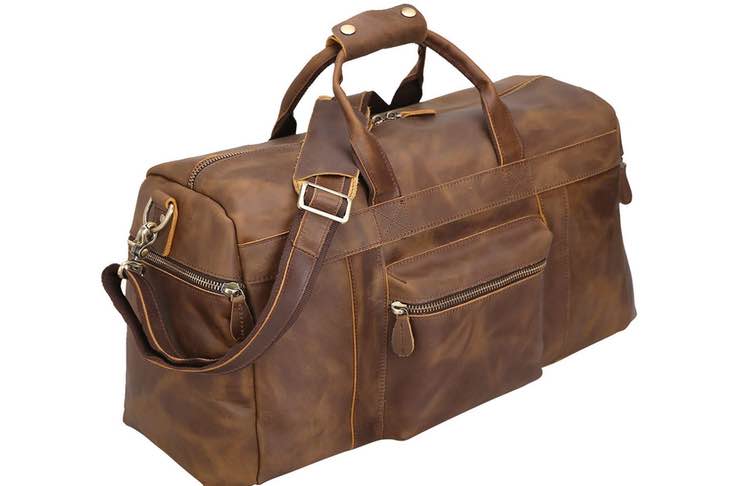 Highlights:
This duffel bag for travel is made of natural thick American cowhide genuine leather. It is definitely made of good stuff that will stand up to any adventure you'll throw it to…

The bags' interior lining is made of durable cotton cloth which is softer to touch.

They also upgraded to using only premium YKK zippers.

The stitching on the strap and handle provide superior comfort and durability.

Dimensions: With a weight of only 4.85lbs you get a pretty spacious weekender bag (yet TSA friendly) with this size of storage: 25.5"L x 10" W x 12.2" H.

Antique Bronze Hardware: The bags' handcrafted quality hardware is riveted to thick top grain leather and finished with solid stitching. Some additional rivets at stress points ensure this duffel bag will stay with you for many years to come.

4. AmazonBasics Ripstop Rolling Wheeled Duffel Bag
This weekender bag is both solid and reasonably priced. It's a little bigger than the bags above and can be a good choice for weekend getaways as well as international travel (depending on how heavy you like to travel).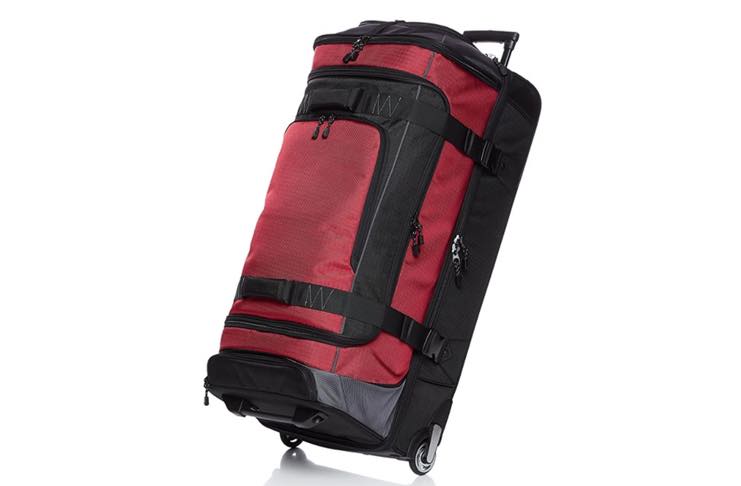 The AmazonBasics Ripstop is definitely a good alternative to rolling backpacks and hand-carried luggage. This duffel bag offers a relatively compact size yet provides a large load (interior capacity = 137 liters). The bag also has a nice design, and actually comes in three different sizes: 28 inches long, 32 inches long, and 37 inches long.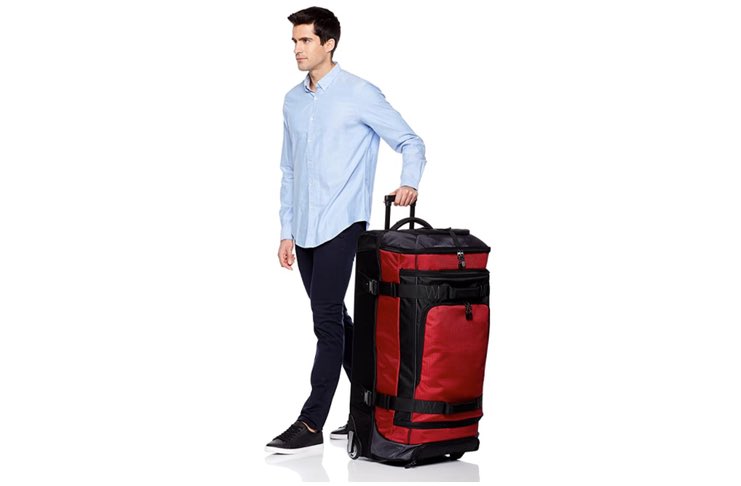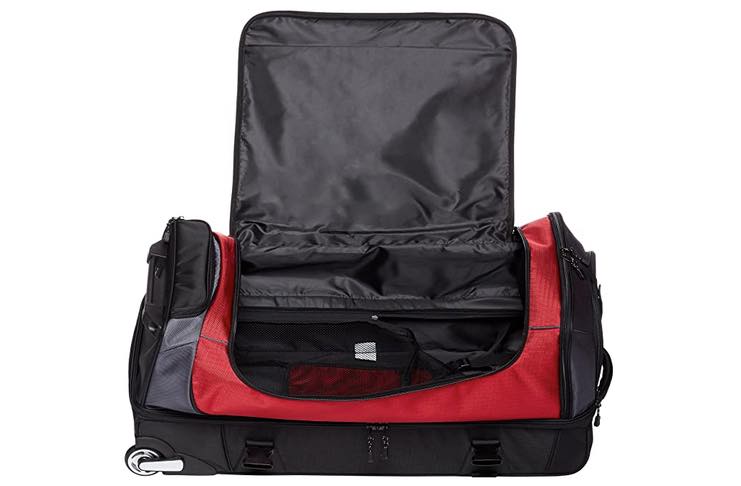 Highlights:
Durable

: This well-built duffel bag has a 100% polyester top, while its sides and base are made of 1680D ripstop and 210D lining. It features reinforced woven ripstop fabric that resists tearing and ripping.

Multiple Compartments:

The AmazonBasics Ripstop wheeled duffel bag has multiple zippered front and main compartments, which are nicely organized and easy to find.

Removable Shoulder Strap:

This weekender bag comes with a removable shoulder strap, allowing over-the-shoulder or diagonal-across-the-body transport. This is a great feature that helps in lighter loads or for carrying the bag over uneven terrain. If you're not using it, you can completely detach the shoulder strap and tuck it in one of the pockets.

Telescopic Handle with Rolling Wheels:

This duffel bag has in-line wheels with an upright, telescopic handle. All you need to do is tip the bag onto its back wheels, pull the handle, and start rolling the bag with practically weightless comfort. You'll be able to easily maneuver with it in trains, hotels, airports, or over bumpy, unpaved roads.

Dimensions

:

37.5 x 18.2 x 16 inches; Interior dimensions: 34.5 x 18.2 x 5.5 inches

Weight

: 12.1 lbs.

5. Steve Madden Weekender Bag For Travel
This Steve Madden duffel bag is very lightweight and compact, yet equipped with all the features of a bigger suitcase. That's exactly what travelers love in a weekender bag. Aside from the compact size and features, carrying this designer bag is easy and fun, as it rolls exactly like any other (and much) bigger suitcase. On top of that, it's equipped with a backstrap that lets you stack the bag on your carry-on (very important!).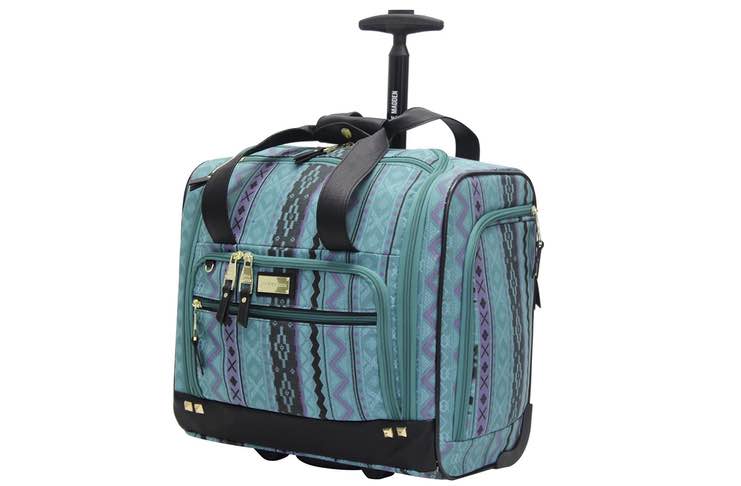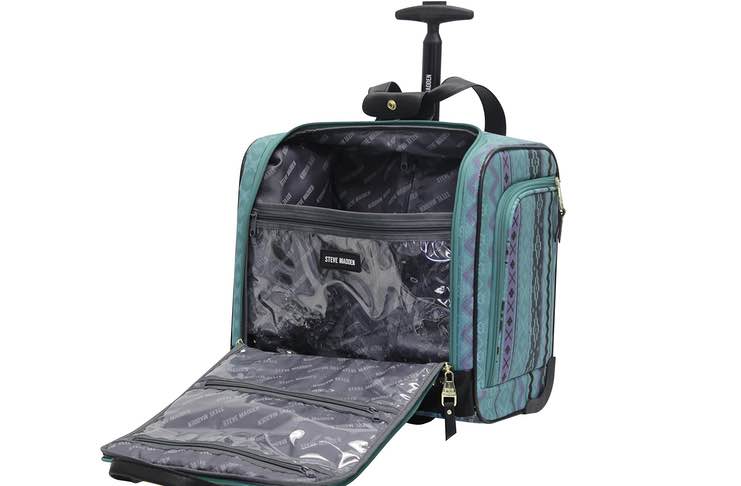 Highlights:
Easily accessible: The Steve Madden weekender has a U-shaped zipper that provides you with full access to the main compartment. Inside – there's a beautifully designed built-in panel of toiletry compartments. These are lined in clear plastic and are zippered.
Many Pockets

: The front of the bag has a large zippered compartment with extra pockets inside. And on the sides of the bag, you also have zippered pockets that are good for a water bottle or umbrella. There's one more small zippered pocket on the bag, which is perfect for plane tickets or tissues.

COMFORT AND CONVENIENCE:

With its ergonomic handle – it's easy to drag this duffel bag anywhere, without any pressure to your arms or hands. Its telescopic push system provides a comfortable grip and also relieves pressure from the hands.

Warranty

: This duffel bag comes with a limited 5-year manufacturer's warranty, which is better than what most bag companies provide – but not the best warranty on our list (read till the end). It covers the cost of repair (or replacement) for damage to any manufacturer defects.

Bag Dimensions: 15 x 9 x 14 inches

Weight: 5.29 pounds

6. AmazonBasics Wheeled Travel Duffel
Here's another rugged AmazonBasics bag that was worthy enough to join our list of best weekender bags for travel. This robust, soft-sided suitcase features unique style and functionality. It's designed for those of us who prefer to travel light but appreciate a strong efficient structure.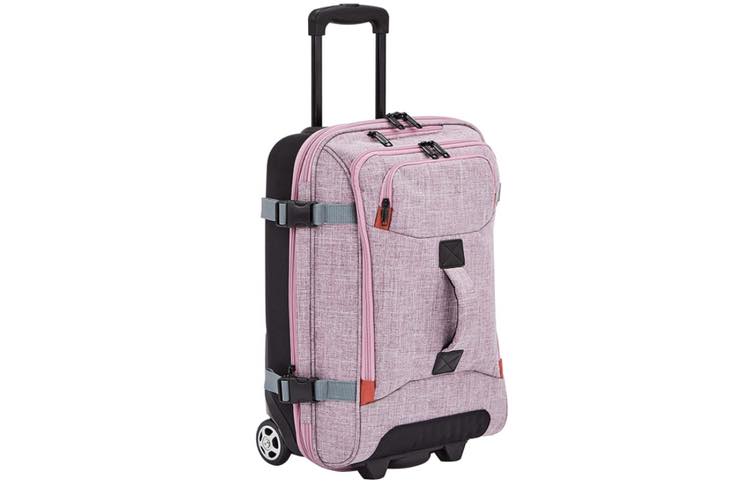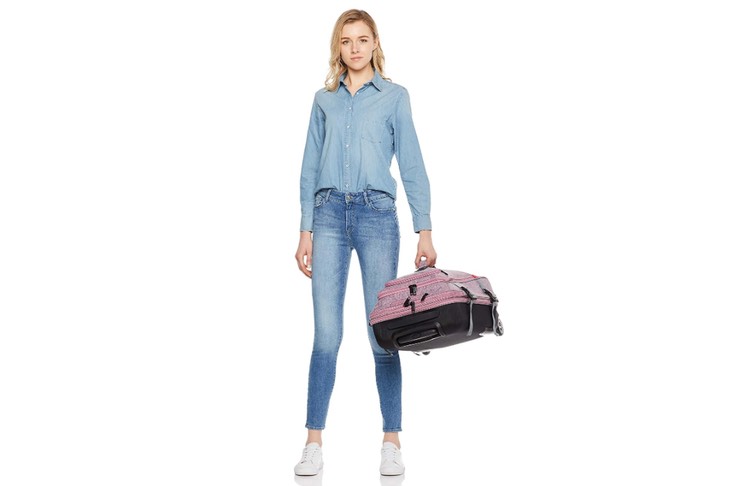 Highlights:
Expandable:

This AmazonBasics weekender bag has zippered sides that provide a significant expansion of the bag's storage capacity – when you need it.

Easy to Maneuver:

It has built-in wheels that help navigate anywhere you need it to go. It also has a Telescopic locking handle, as well as a front-mounted duffel hand-grip, guaranteeing dynamic ease of use.

Durable

: With its rugged twisted polyester – this duffel bag will most probably withstand any typical wear and tear you encounter on your weekend getaways. It has a durable lined interior with tie-down straps and multiple zippered compartments that protect your stuff from floating loose.

Wheeled duffel bag for easy, lightweight travel.

The soft-sided design provides more flexibility when you travel.

7. eBags TLS Mother Lode Weekender Convertible Junior
This Mother Lode Weekender Convertible Junior could be your one bag travel solution for your short getaways. The bags' main packing compartment is spacious, but even if you find yourself needing more – it's expandable. With external compression straps, you just buckle and cinch to create a smaller, more compressed bag.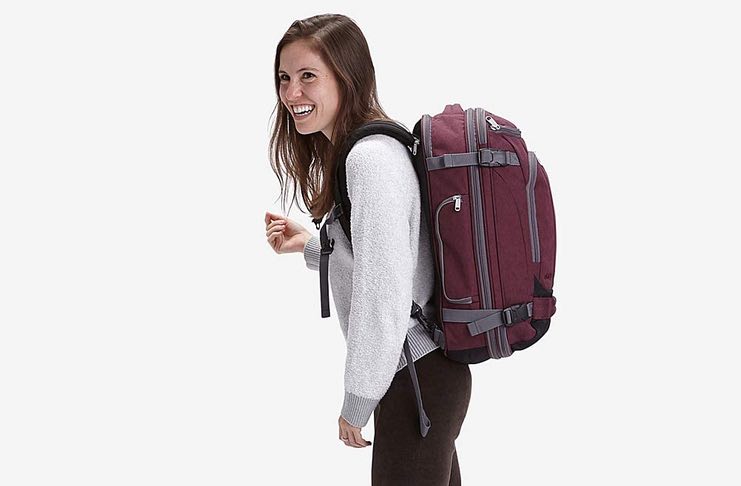 Highlights:
Solid Organization:

Easy access to the front zip compartment with several interior pockets and a key leash, interior zip-around mesh panel pocket, and large main compartment with compression straps & fold-down shelf.

Light and Compact:

This weekender bag comes equipped with stowable backpack straps, 4 exterior compression straps, zip expansion for an extra 1.5″ and top, bottom and side carry handles.

CONVERTIBLE:

You can wear this bag as a backpack for hands-free travel, carry as a brief-case style or throw the bag over one shoulder with a convenient duffel strap.

eBags LIFETIME WARRANTY:

The eBags Brand provides a unique Lifetime Warranty* against defects in materials and workmanship.

Bag Dimensions: 19.5″ x 14″ x 9″; Linear Inches: 42.5″.

Weight: 3 lbs, 5 oz; Capacity: 2538 cu. in.

Conclusion
If you're looking for a tough, versatile weekender bag with a cool design, affordable price and good reviews – one of the above will do the job. If you do decide to get one (or more) of the above – do share with us your thoughts about it.
And if you didn't read our piece about the 7 Must-Have Travel Gear for Your Essential Travel Essentials – you can check it out here.
Travel wise and stay safe!
Disclaimer: Each product we feature has been independently selected by our editorial team. I admit that we could not test each one of these weekender bags, but we did quite a bit of research to reach our selections (I'll explain below). You should know that if you make a purchase using the Amazon links included, we may earn a commission.
Lukas Herbert has been taking his bicycle on Metro-North Railroad ever since he was old enough to leave the house on his own. He has taken his love for train-friendly cycling and used to create Gotham Bicycle Tours, the only fully transit-accessible bicycle touring company in the U.S. Lukas has also created two informational websites to help people plan their own cycling adventures: www.bikehudsonvalley.com and www.bikelongisland.com