Whether you're shopping for a serious cyclist or just think biking is cool, this gift guide will make spirits bright for those in a two-wheeled state of mind. Each of these high quality, highly stylish items are proudly designed and made in the USA. And given that the majority of bikes are produced in Asia, supporting a small American-bred business that celebrates all things cycling is a great way to go green and do good this holiday season.
1. Stand out on the road (for your own safety and for the pleasure of turning heads) with coastal Californian Voler's Soleil Women's LS Race Jersey (voler.com, $89). Perfect for the Northeast's tricky inclement seasons, this long-sleeved jersey is perfect for the 45-60 degree range and comes in a variety of softly ombréd colors. Voler has been producing equipment for serious cyclers since 1986 and works hard to be ecofriendly, recycling 200 tons of paper and generating 45,000 kw through its factory's solar panels every year. Those hoping to gift something extra-special can also create a semi-custom jersey with no order minimum (voler.com, $69+).
2. Don't let foul weather ruin your ride. A good pair of leg warmers can slip right under your bike shorts while protecting your skin from chafing and preserving precious body heat. Ornot's set (ornot.com, $60) are made out of warm fleece material that will keep you toasty even in low temperatures. The leg warmers stay tight at the ankles but remove easily thanks to twin zippers, and the minimal, no-logo design will please even the pickiest of riders.
3. A good man is hard to find. A good bike bag is even harder to find, but we discovered three alternatives to themore masculine Timbuk2 messenger bag look that can carry all the urban cyclist essentials (laptop, makeup, extra layers of clothing, water bottle, book, heels) without sacrificing comfort and style. Made of sailcloth and boasting reflective strips, removable laptop sleeve, easy access pockets and comfortable seatbelt shoulder straps, SF-based Rickshaw's Medium Velo-Edition Backpack (rickshawbags.com, $149) is a great lightweight, casual option for the two-wheeled gal about town.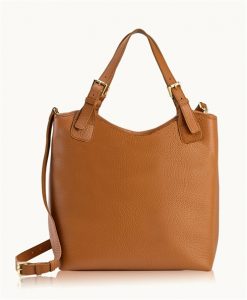 4. Rebecca Rose of online shop Threadbeat (etsy.com, $225) sews beautiful bike-friendly bags out of her home in Savannah, Georgia. Made using things like vegan leather straps, antiqued brass, Italian tweed, and Herringbone wool, Rebecca's durable rucksack will show up at your door like a lovingly made work of art and can be worn in a variety of ways.
5. For a more professional look, Gigi New York's Saddle Olivia Shopper (giginewyork.com, $550) is a stunning bag that can be worn snug under your arm or on your back with the detachable cross-body strap (just make sure to adjust the length that suits you best for biking). While you might prefer to keep the natural pebbled leather (hand-worked in a Long Island factory) close to you, the Olivia Shopper does sit perfectly in the Citi Bike basket.
6. Those who pedal on through winter know the importance of a good pair of socks. And the Wooleator High Top from DeFeet in Hildebran, North Carolina, does not disappoint. Made using high-altitude grown Merino wool and available in several fun styles for men and women, these socks are comfortable, breathable, and dependable. DeFeet is a socially conscious organization that's been in business for over 20 years; you can trust their products will warm the toes and the soul. (defeet.com, $10.99+)
7. Dress up your desk with the Split Bicycle Metal Art Bookends by Knob Creek Metal Arts. Made in Brooks, Kentucky, these sleek steel pieces are solid odes to cycling. (etsy.com/KnobCreekMetalArts, $64.99, plus free shipping and a 10% Facebook discount)
---
8. The Shak City Roller jacket's warm and breathable merino wool will keep you toasty on your next commute. It can be worn as an outer layer on cool days and a midlayer when the temperature drops further. A convenient cellphone pocket on the chest gives you easy access and a reflective arm stripe helps keep you visible at night. (ibex.com, $185)
9. A long sleeve jersey is great for training rides, and can be used late into the season with the proper base layers. Twin Six's the Standard (LS) is a stylish jersey made with an airy fleeced thermal fabric and comes with three deep back pockets for storage. (twinsix.com, $95.00)
10. Made in San Francisco, Inkwell's hand painted helmets offer a fun way to protect your head. With designs ranging from the solo jazz cup to a cranium, the options seem almost endless. Plus, Danielle, the founder, can custom paint any design you'd like if you're looking for an extra special gift (inkwellhelmets.com, $105.00+)
11. In cooler weather, a cap is essential for blocking the wind and keeping warm air in. These handmade Walz Caps are known for their fit and styling. Their selection is not limited to the caps that are seen on their website—Walz will custom make caps for your club or bike team withyour own design. (walzcaps.com, $19.99)
12. See DeFeet's Wooleator High Top in #6 above
13. Whether you're putting in a lot of miles or just picking up goods at the greenmarket, you can now forget taking that silly bike purse along for the ride. The spandex-crafted CardNinja hugs the back of any Android, iPhone, or Blackberry and can securely hold cash and up to eight credit or ID cards. While it is easily removable, CardNinja also makes your life a whole lot easier (and lighter), and we don't see anything wrong with that. (cardninja.com, $19.95)