Nowadays, Brooklyn is loaded with trendy stores, restaurants and coffee shops galore. Arguably it's coolest neighborhood, Williamsburg, is now the home to a new street art exhibit called Beyond the Streets. Yes, it's worth all the hype.
Beyond the Streets didn't randomly choose this spot, Brooklyn has long been an epicenter for graffiti. The comprehensive show features the works of over 150 artists from around the world and aims to defy normal conventions. Sprawling over two floors, the show is located in Twenty Five Kent, a new creative office building with impressive floor-to-ceiling windows facing the East River with eye-candy views of the city skyline. The show is curated by graffiti historian and urban anthropologist, Roger Gastman, whose mission is "to examine the fundamental need for public self-expression". From a special Beastie Boys installation featuring artifacts from the band's 4-decade history, to works from art world giants such as Jenny Holzer and Takashi Murakami, and even a fully recreated train car set which features replicas of graffiti art, this show is truly epic.
Beyond the Streets is vast and we recommend making a full day out of it or even taking a few trips to fully experience and absorb all the works on display. But for those of who don't have the luxury to visit multiple times, below are some of our highlights we recommend checking out.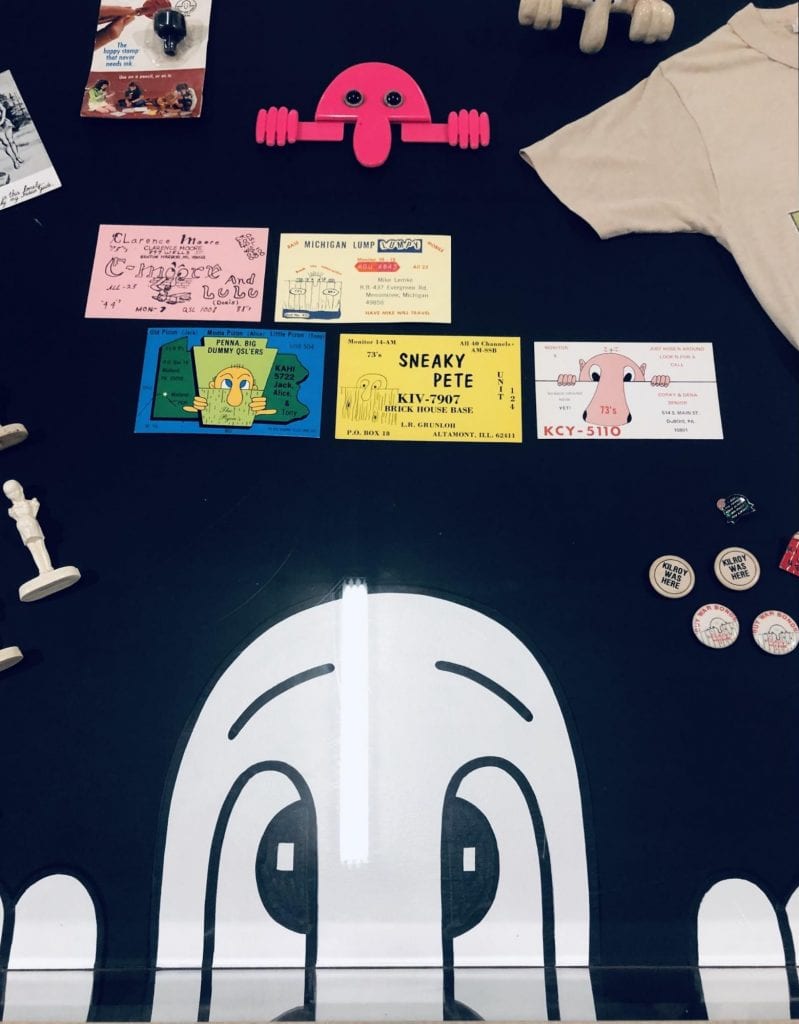 Kilroy Was Here
The show starts with Kilroy Was Here. This now iconic image, first seen in the 1940s is a man peeking over a barrier with an accompanying text "Kilroy was here". This image, along with its caption, was a mainstay on the sides of ships and walls during WWII. At the height of its popularity, the moniker symbolized victory and was a morale builder for WWII soldiers abroad. The image is attributed to James J. Kilroy, a shipyard inspector who began leaving the mark on ships to ensure quality control. Kilroy Was Here has since found its way all over the world and is exhibited on various toys, pins, t-shirts and other items of paraphernalia. Kilroy Was Here can still be seen all across the world. It's now colloquially considered to be the original "meme" so it's no surprise it's that this is one of the first things visitors see when they enter the exhibit. From the very beginning, we're being asked to stretch our imaginations and expectations of what graffiti and street art looks like within a larger context.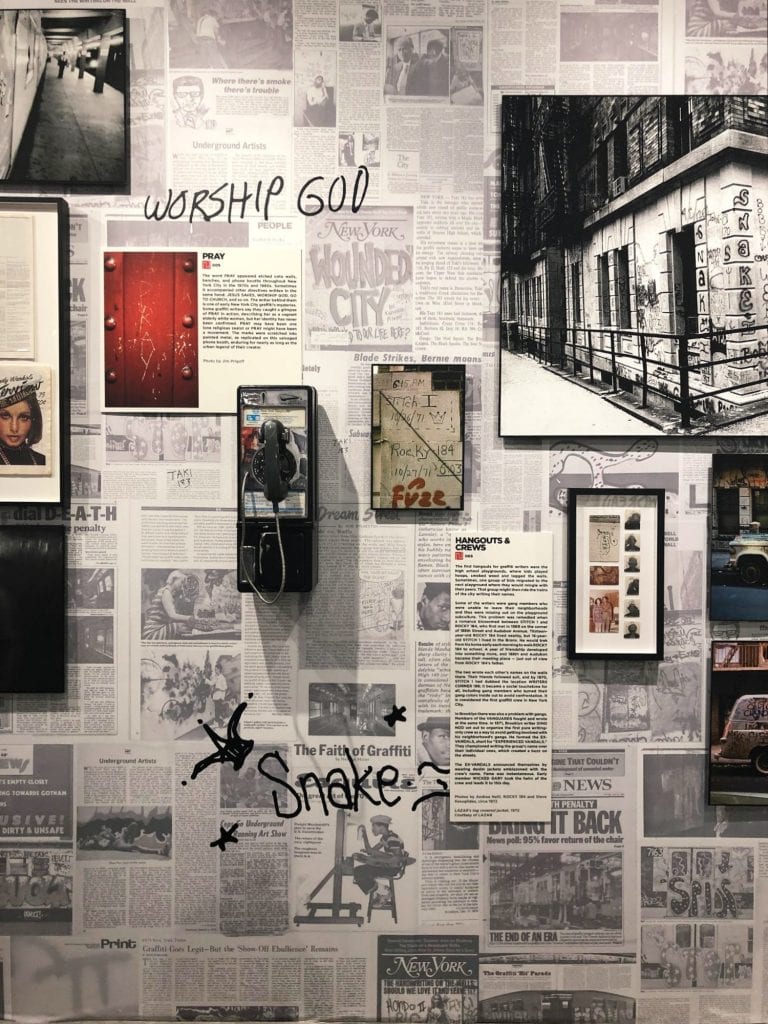 Playground Hangouts
Within the same room as Kilroy Was Here, is a textbook introduction to 1960s street art. Focusing on graffiti hot spots such as New York, Philadelphia, Brooklyn, and the Bronx, the show captures the first stylized tags as defined by various hangouts and crews in high school playgrounds, the breeding ground for graffiti writers in the late 1960s and early 1970s. Learn about the first stylized tags, easy to read block letter tags championed by STAY HIGH 149 who started writing in 1971 and dubbed the now universally known stick figure icon, "The Smoker". Learn about the love story of STITCH 1 and ROCKY 184, two anonymous writers whose romance blossomed after meeting on the corner of 188th and Audobon. Since STITCH 1 lived in the Bronx they would meet at their original meeting place, just out of reach of ROCKY 184's father. For over a year, they started writing each other's names all over the city and sparked CORNER 188, a social touchstone within the gang culture. Each section is dedicated to various crews in Philadelphia, Brooklyn, and the Bronx and the relationships writers had with each other and to their communities.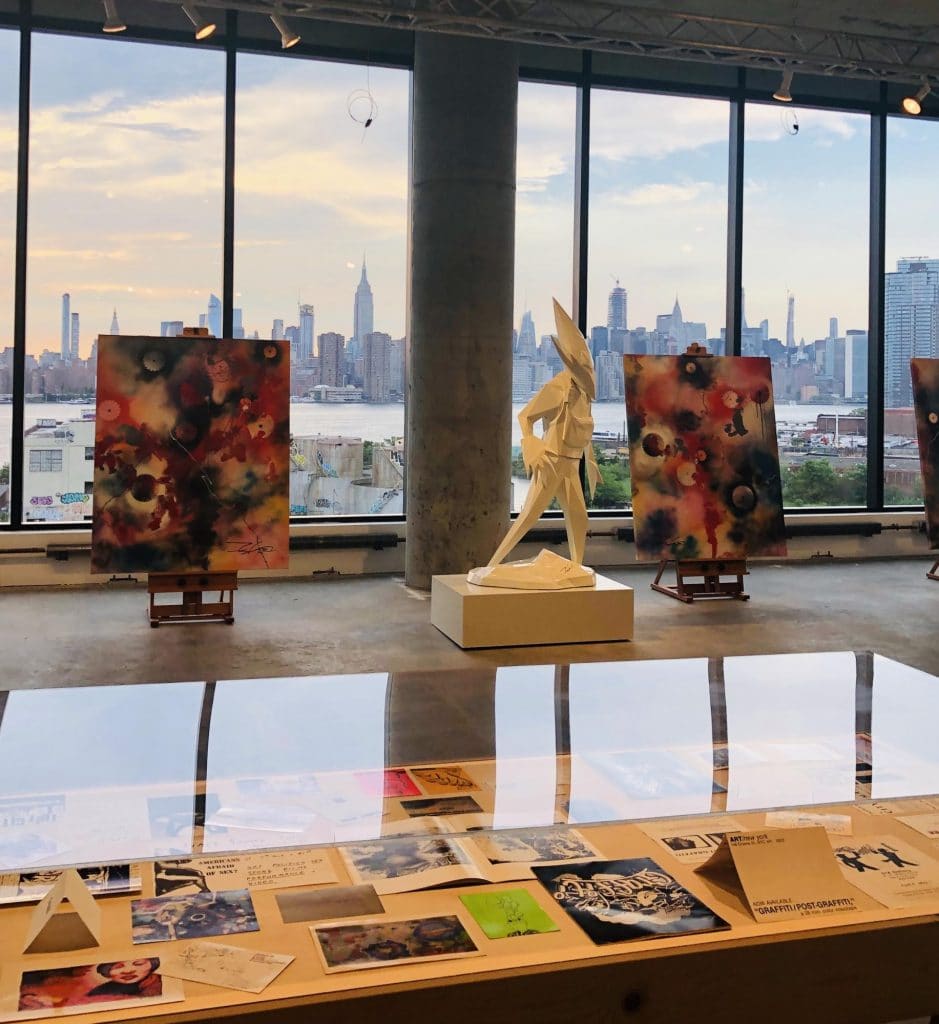 Henry Chalfant
Henry Chalfant's sculptures look like something out of a sci-fi comic book, which is not surprising seeing as he's best known for his PBS documentary, Style Wars and his book, Subway Art which he co-authored with Martha Cooper. He's considered one of the leading experts on graffiti art culture. In this exhibit, his sculptures are prominently featured against the backdrop of the Manhattan skyline. It's a stunning and appropriate setting to see these works. This room also features some heavyweight graffiti artists such as Rammellzee, Futura, and Daze which feature a handful of oil paintings and mixed pieces, a perfect blend of street art meets studio art.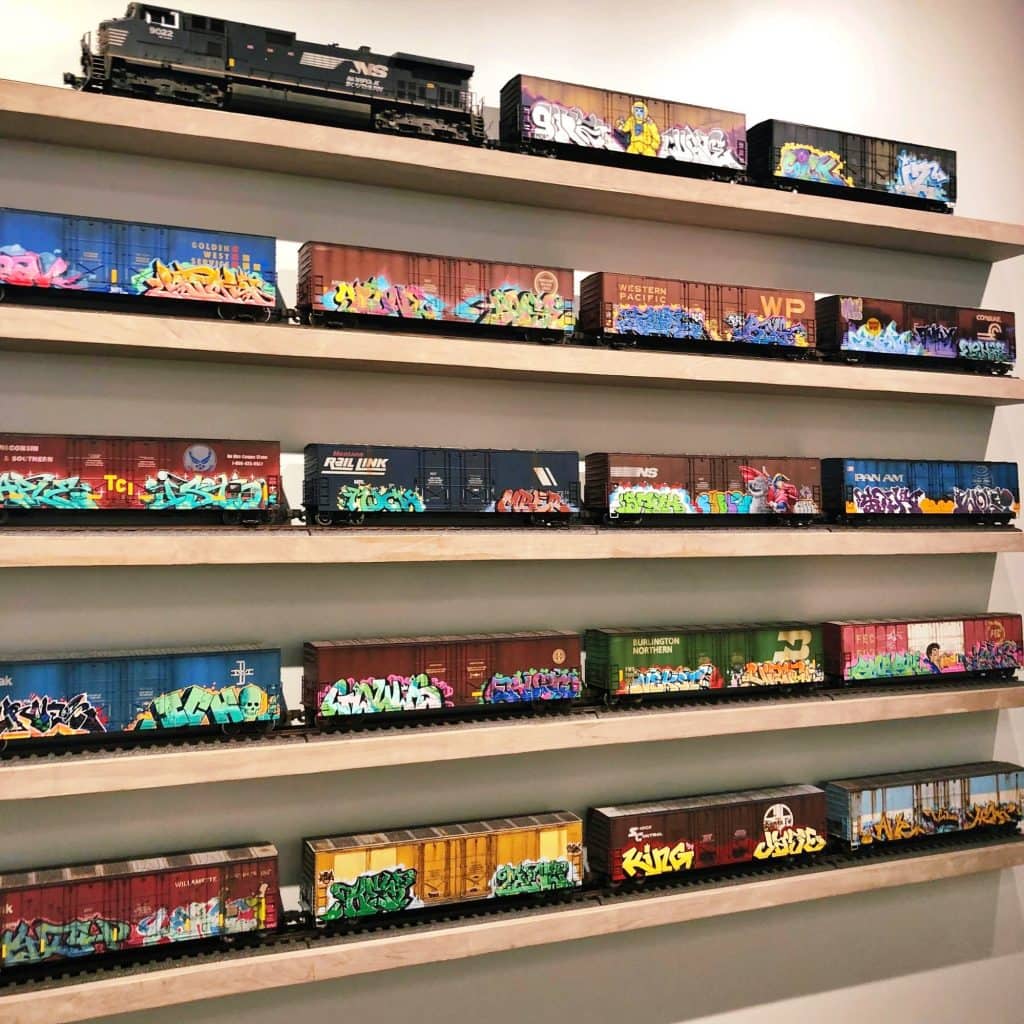 Freight Train Graffiti Exhibit
If you grew up anywhere where there were freight trains and train tracks, you most likely saw graffiti on the sides of those train cars. Apparently, freight train graffiti artists can spend years making their presence known through this medium. With over 2 million freight trains in North America, painting freight trains and making "a mark" is a huge undertaking. In this exhibit, g-scale model trains have been painted by some of the most famous freight train painters, many of whom have painted over a thousand cars. The model trains were weathered for an authentic look by experts in the model train world. The level of detail at such a small scale is impressive. If you're into miniatures this is definitely a must see.
Guerrilla Girl
The upper floor is dedicated to the more avant garde of the graffiti world. One of the most notable of this exhibit is the Guerilla Girls, a collective of female artists responding to sexism within the art world by using subversive and overt street art references. It's a timely and particularly inspiring showing of a female collective making waves within the art industry.
Sam Friedman
Sam Friedman's work looks like something out of a fine art museum so at first glance it may seem a little odd that a piece like this would be shown in a graffiti exhibit. However, Friedman is known for his use of bright colors in collage, color sticks and paint, techniques that are commonly used for graffiti paintings. His subject material focuses on abstractions of location and landscape. The bold pop of color not only stands out on its own but strangely makes for a perfect fit in the exhibit.
So Brooklyn now has a truly worthwhile destination that extends beyond the usual suspects of brunch spots, coffee shops, and graffiti tours. Beyond the Streets has created a world class exhibition with renowned artists that captures the evolving culture and vast landscape of graffiti art. They challenge the notion of art by portraying street art as its own art form worthy of a two floor exhibit. Yes, it's epic and it really is worth a visit. Take the L train to the Bedford stop (yes, it's still running) and make sure to visit before it goes away for good. The exhibit is open until August 2019. For more information on tickets and hours of operation visit: BEYONDTHESTREETS.COM
Header photo by Martha Cooper (via Beyond the Streets).
Angelica Olstad is a musician, yogi, writer, speaker, and wellness expert. She is the founder of Pop Up Yoga NYC, a yoga company that takes yoga into urban spaces with unique events in addition to providing affordable yoga classes for the NYC community.