This month, the sixth annual Taste of Bushwick was held at the Brooklyn Cider House on Flushing Avenue to highlight the best restaurants in Bushwick. The cidery was transformed into a mini Bushwick, with vendors from the neighborhood's local restaurants and businesses representing their fare. At one point, I was juggling a few food trays and had to pull over into a nook to both keep said trays upright and to savor every flavor.

Coupled with a live band and cozy lighting, the atmosphere was vibrant and paired nicely with a glass of bubbly Kinda Dry cider or BKE Kombucha. With everything from curry noodles to specialty chowder to apple cider donuts, the evening fully celebrated Bushwick's diverse culinary scene. A sample of everything brought its uniqueness home; and though I left physically full, I remained hungry for more trips to the neighborhood.

Sea Wolf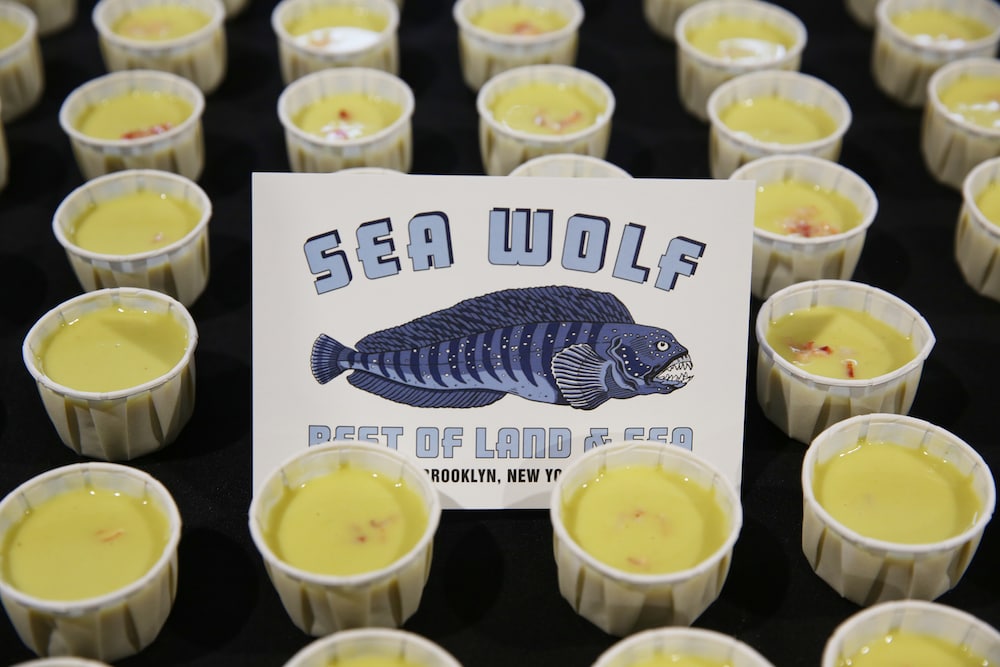 Summer in New York is a blessed affair because of our access to renowned seafood. Enter Sea Wolf with their chilled corn soup with lobster, a light and luscious salute to the carefree summer days ahead. I've never had the pleasure of eating purposely cold soup before, and was deliciously transported to the beach without leaving the table. The restaurateurs focus on fresh, high-quality ingredients, and rotate their menu seasonally. You can try anything from classic fish and chips and prawns to lobster tacos and lobster corn dogs. Are you seeing a pattern?

Archie's
When pizza is involved, my eyes glaze over and I stop in my tracks to take in its aroma and stare at the cheesy masterpiece. At Archie's Bar & Pizza table, I was encouraged by the vendor's representative to eat every slice. Give me about an hour to digest and I could have succeeded. I grabbed a corner slice of cheese and melted into bliss. Like life, a slice of pizza from Archie's is inherently joyous and sad: joyous because every bite feels like a wonder, and sad because eventually it will be gone.

Brooklyn Cider House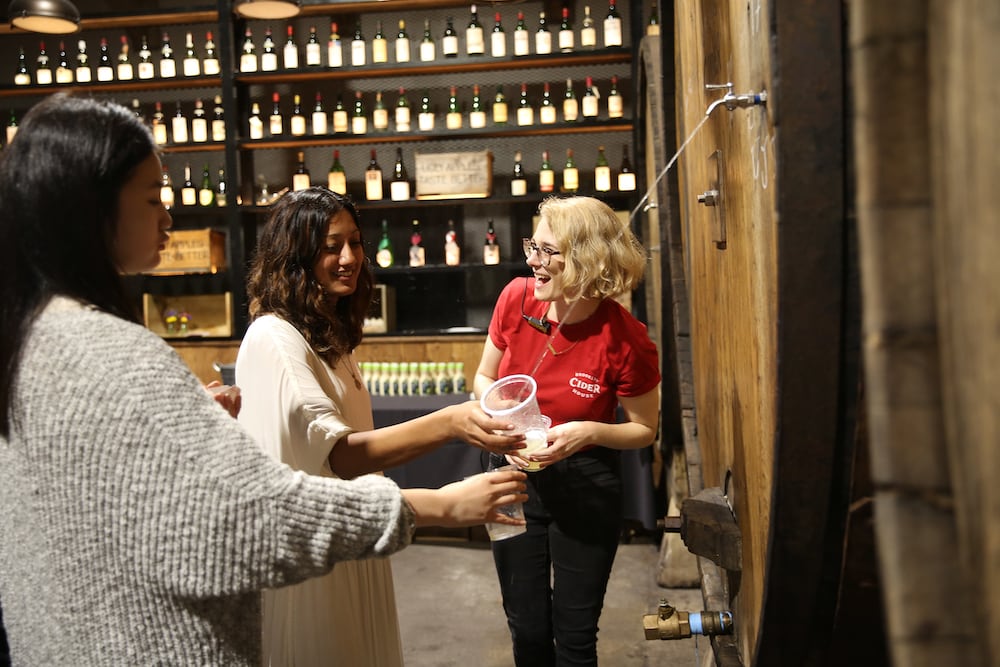 As the borough's first cidery, Brooklyn Cider House is doing well for itself. Their m.o. is Basque country rustic food and cider catching, where guests can have their drinks poured from the tap of cider barrels. They presented this technique, and served a few of their crisp ciders at the bar: Kinda Dry, Bone Dry, and Raw. Pairing nicely were their homemade Korean chicken wings and, for a fitting dessert, apple cider donuts coated in cinnamon sugar. Those visiting New Paltz, can swing by their Hudson Valley outpost for cider and wood fire pizza.

Fine and Raw
Served with a side of savory, Fine and Raw's chocolate hazelnut butter kicked the beloved flavor combination up a notch. Their treats are plant-based and sweetened with coconut sugar for a wholesome treat. Take a pretzel to the smooth, rich river of spread and add this to your repertoire of the beloved chocolate hazelnut combo. They also sell massive bars, truffle collections, and bites, all that reinvent the taste of chocolate and the notion that it can't be decent for you. My happiness levels spiked on impact, and isn't that what makes all the difference? Visit them at their factory and cafe for extra goodies, like chocolate brownie ice cream sandwiches.

VSpot Restaurant
If avocado fries sound like heaven, you're correct: and when plated with kale quinoa and a dollop of creamy chipotle sauce, you've stepped beyond the pearly gates. VSpot Restaurant is an incredible Latin, vegan and kosher dining experience playing with flavors that create taste-splosions in your mouth. Opt for the aforementioned sides to start, then work your way into a quesadilla supreme with chipotle refried beans and sweet plantains.

Guadalupe Inn
I was over the moon to find the Guadalupe Inn and their bite-size Tacos de Cochinita Pibil. Chef Ivan Garcia pays homage to his heritage with a variety of high-quality ingredients local to Mexico and whipping up some of the city's most authentic Mexican cuisine. Think: cactus, octopus, plenty of veggies, and spice. Equally as enticing are their nightly live performances, best enjoyed with a mezcal pineapple or grapefruit margarita.

Dock Asian Eatery
The chefs of Dock Asian Eatery have combined their talents in Japanese and Thai cuisine and ramen in this singular, exquisite restaurant. I will return again and again for the rich curry broth of the Chiang Mai Noodle I sampled. Their menu is extensive, giving you the chance to eat sushi, pad thai, and miso ramen all in one sitting.

Seitan's Helper
An ideal place for anyone hankering for a seitan BLT is at Seitan's Helper, a vegan deli pop-up that sells its vegan cheese in various shops around the city. I am not vegan and I also could not taste much of a difference in the quality of the ingredients; there was even a smoky flavor to the seitan that balanced nicely with the sandwich. Check their website for updates on where this restaurant is popping up in Bushwick next!
Tony's Pizzeria & Restaurant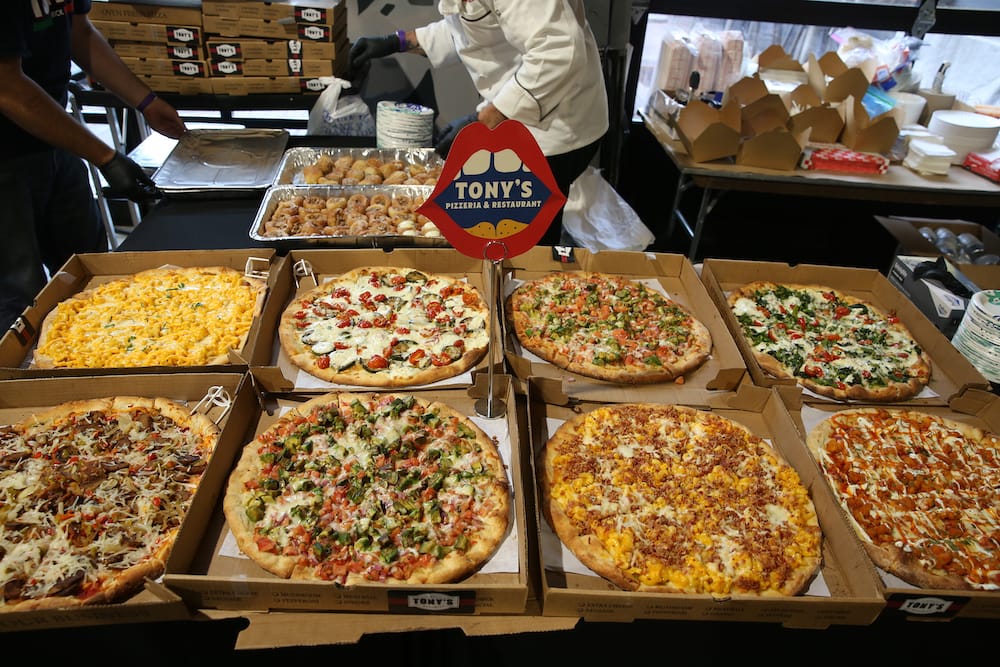 When life hands you more pizza, you take the buffalo chicken kind from Tony's Pizzeria & Restaurant. Along with delicious pizza pies, you'll find favorite desserts like zeppoles (airy and stuffed with cannoli cream) and Italian rainbow cookies (chewy and subtly sweet). Classic is sometimes just the thing you need, and Tony's is the place to go for tasty staples.
Syndicated
Among the tea lights and quiet oasis in one of the brewery's back rooms, I passed a table of pulled pork sliders. I was instantly transported back to a trip to Memphis, remembering sweet and tender bites from one of its birthplaces. Yet here at Syndicated in Brooklyn, every bite came with a crunch of cucumber, the brightness of arugula, and it was sandwiched into a Hawaiian roll. I was ready to kiss my fingers and shout, "Beautiful!" Food on its own is an experience; and food when paired with another experience ups the ante. The restaurant, serving American fare, triples as a movie theater and bar, an ideal place to escape the heat with a frosé and bar bites.

Photos by Francisco Bravo

Lindsay is a new New Yorker, having grown up in Boston and lived in Dublin for a bit. Her soul is half mountain, half skyscraper, and she is moved by the breathless wonder of cultures and landscapes that make up the mosaic of our planet. Writing has been her passion since she was a little girl, and she still has dreams of becoming a ballerina someday. She loves cycling, donuts, art museums, and toting her camera everywhere. Find her blogging at ontherogueagain.com.