Looking for a cheap day trip that includes both history and the outdoors? Fort Tilden in Queens is an abandoned military site that's easy to get to, free to access, and surrounded by places to walk, bike and swim. While many are usually surprised to hear there is federally protected land tucked within the density of New York City, Fort Tilden (and the other forts of New York City) is part of a legacy of military land that's been decommissioned and turned into public parks.
The History of Fort Tilden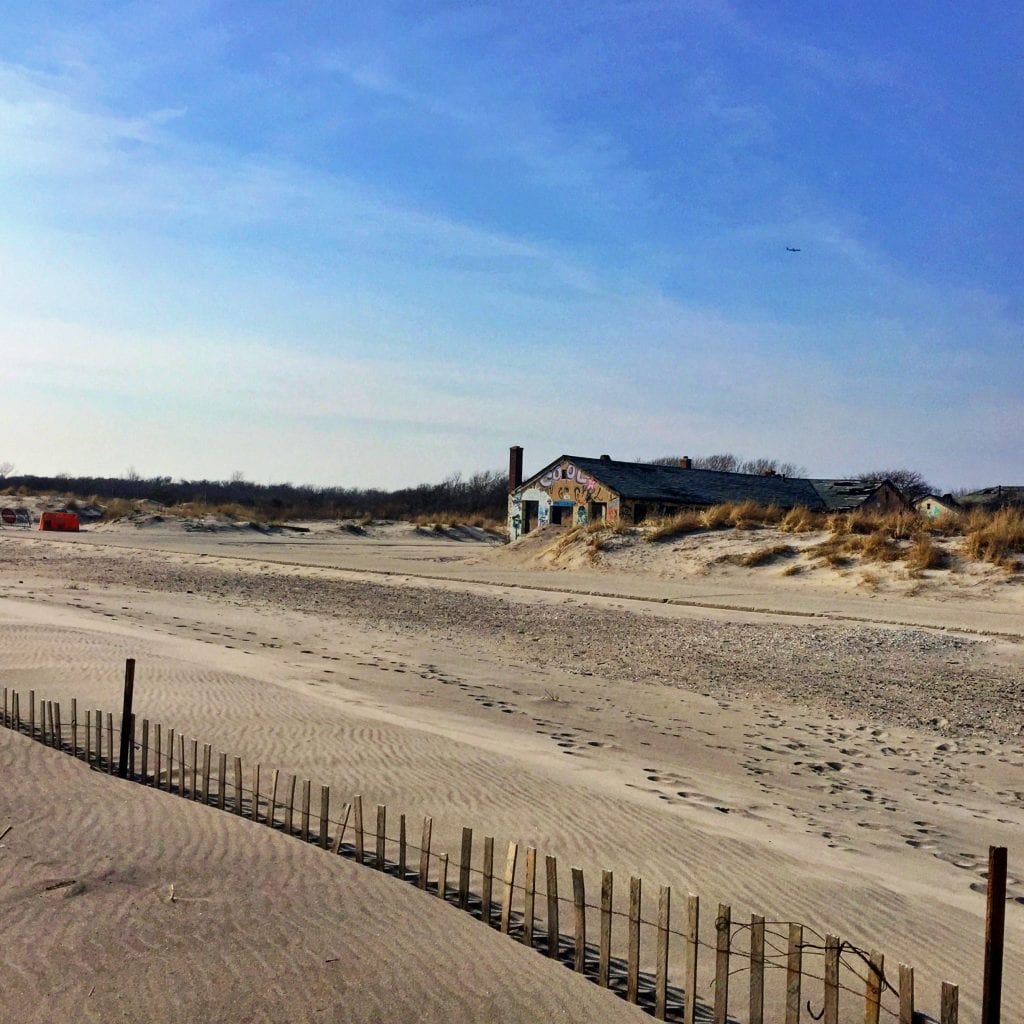 The area's use for harbor defense dates back to the early 19th century, when permanent structures were built as part of a WWI effort to protect NYC's coastline. While military use was initially bolstered by the building of additional instructure during WWII and throughout the Cold War, the site was eventually decommissioned in the 1970s.
Wander through Fort Tilden to find echoes of this past, the most notable being Battery Harris. This installation stands covered in years of graffiti and the slow creep of nature. Walk up the stairs of the abandoned building for one of the best views of the area.
Nature in New York City
The relatively limited buildings and infrastructure (read: no easy access to bathrooms) mean that Fort Tilden is quiet and more wild then much of the Rockaway Peninsula. Humans will enjoy 317 acres of dunes and grasslands perfect for quiet walks, biking along the mostly flat trails, and with a permit, fishing on the beach. Birds also flock to the area, and Fort Tilden is not only known as a spot to see warblers, hawks, and egrets, but as a nesting area for the endangered Piping Plover.
Art on the Beach
Along with nature and history, the area is also home to rotating installations and exhibitions. This summer, visitors can enjoy a performance of Newsies by the Rockaway Theatre Company. If you're interested in visual art head to the Rockaway Artists Alliance's galleries. Notably, both organizations are heavily invested in education of the local Rockaway community, with a focus on empowering young artists.
How to Get There
There are options to get to Fort Tilden for every budget.
Bike (free)
While not the most direct route, you can connect a number of protected bike lanes to get a mostly car-free experience all the way from Prospect Park. We recommend connecting the Brooklyn Greenway to the Jamaica Bay Greenway (through a short street section in Southern Brooklyn). From there, walk your bike over the Gil Hodges Memorial Bridge, and you'll find yourself at the entrance of Fort Tilden.
Ferry ($2.75/one way)
Hop on the NYC Ferry in Lower Manhattan or in Sunset Park and take it to the Rockaway Ferry Terminal at Beach 108th Street. From there, take the free shuttle to Beach 169th Street (weekdays) or Jacob Riis Park (weekends).
Take the Bus ($2.75-$19.95)
The Q35 runs from Brooklyn to Riis Park, which neighbors Fort Tilden and is a short walk away. There are also bathrooms at Riis so it's a great place to start the day. For a more direct bus trip, take the OvRide Beach Bus which picks up in the Lower East Side, Williamsburg and Bushwick before jetting over to the beach.
Header photo by Valerie S. from OutdoorFest
Sarah Knapp is a Brooklyn -based entrepreneur whose love for the outdoors and community building led her to the October 2013 creation of OutdoorFest. She has a BA in History, is a Wilderness First Responder and a NY state hiking, camp and boating guide. Her proudest achievement to date is reading the Aeneid in Latin.