With the weeks blurring together into one mess of rush-hour commutes to and from Manhattan daily, followed by weekends on the couch with the occasional family outing to the museum or zoo, you have finally come to the realization that it is time to get out of the city for a weekend. But after repeated months spent in the concrete jungle, you are unsure of where to take the family for a weekend of fun. Luckily, with the help of Travelwits.com – a new website that helps create fun itineraries based on location, price range, preferred method of travel, and dates – we have compiled a list of a few convenient family-friendly destinations – no car required! Check out the most up-to-date deals for family getaways from NYC on TravelWits.com's Family Page.
Hit the Beach: Wildwood, NJ
With its two-mile boardwalk, abundance of amusement parks and restaurants, lively nightlife, and pristine sand beaches, it's no wonder Wildwood is one of the most popular beach areas on the Jersey coast. While there are local cab companies that can be used for getting around, the fresh sea air can be enjoyable while freely cruising around on a bicycle. Surf Bike Rental offers bicycle and surray rentals (perfect for the family) and is conveniently located a half-block from the boardwalk. Don't forget to cool down with a scoop at Sea Shell Ice Cream.
Get there: From NYC use the oM Transportation Guide to Atlantic City. Once at the Atlantic City bus terminal, take bus number 552 to Wildwood.
Head for the Hills: North Conway, NH
Slightly less popular than other northeast mountain towns such as Stowe, North Conway is a great year-round destination for those looking to forget about the city and enjoy the Northeast's rugged terrain and vast forests. During the winter, take the family to ski the diverse terrain of Attitash and Wildcat mountains, or try out a guided rock climbing trip with the locals from International Mountain Climbing School during the warmer months. Before a long day in the hills, make sure to fuel up with a cup of coffee and breakfast sandwich at Frontside Coffee Roasters.
Get there: Consult offMetro.com's article, Active Adventures in North Conway.
Explore Coastal New England: Mount Desert Island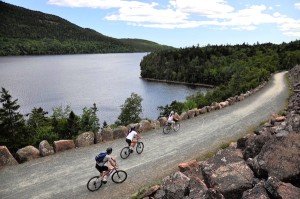 Thanks to an extensive bus network throughout the Northeast corridor, getting to Maine's quaint New England fishing towns is not as unattainable as one might think. With the small, but bustling tourist town of Bar Harbor located just outside of the limits of Acadia National Park, there is no shortage of things to do on the island. After a delicious breakfast at Cafe This Way, head into the park to explore the sites along the park loop road, while the more brave may want to go for a hike on the Precipice Trail (not for those with a fear of heights!).
Get there: Consult offMetro.com's article, Adventures on Mount Desert Island, Maine.
Visit Amish Country: Lancaster, PA
Less than a three-hour train ride from the city by public transportation will take you back in time, to a world unfamiliar to most in an internet-connected and technology-dependent society. Horse-drawn carriages pull local Amish families down winding roads through beautiful farmland, while furniture builders display and sell their hand-built furniture to travelers visiting for a weekend. This simple way of life is a stark contrast from the big city, and reminds us to slow down and enjoy the more basic means of living. Learn a bit about Lancaster's heritage with a bus tour, or visit the Landis Valley Village and Farm Museum.
Get there: Amtrak's Keystone Line will transport you from Penn Station to Lancaster. Once in Lancaster, hop on one of the the Red Rose Transit buses for easy access to all parts of the city (free for those under 5 and over 65).
Go on a Weekend Getaway in the Poconos: Jim Thorpe, PA
Commonly known as "America's Little Switzerland", the quaint, yet scenic Jim Thorpe is often overlooked as a mountain-town destination of the east. Nestled in the heart of the Poconos, families will find plenty of outdoor adventure along with some of the most scenic areas in Northeast Pennsylvania. If visiting during the winter months, Jim Thorpe is centrally located close to many of the Pocono's popular ski areas. Learn about the area's rich history at one of many historical sites and museums, or go for a hike to the nearby Glen Onoko Falls.
Get there: Check susquehannabus.com for schedules (route 11 will get you there in under 3 hours) and information on the round-trip bus routes from NYC. The Jim Thorpe stop is one block away from the Inn at Jim Thorpe.
To find the best pricing for family getaways from New York City, head to TravelWits and choose "Family" for up-to-date deals and steals.
Photos by: Jim the Photographer, Abigail Bachelder, Acadia Bike, Lehigh Valley, Camelback Mountain
Josh Laskin is a freelance travel writer and photographer based in the White Mountains of New Hampshire. When he is not at work or on the road, you can find him in the mountains snowboarding, climbing, hiking, fly fishing, mountain biking, and eating bagel bites.