Named after the coveted Olympic athlete, the town of Jim Thorpe or "America's Little Switzerland," was a location considered famous for many things at the turn of the last century: the site of the country's first roller coaster and railroad, and the birthplace of the Industrial Revolution, for instance.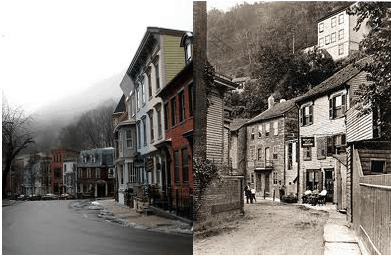 One of history's hidden gems, the scenic mountainside town of Jim Thorpe has kept its antiquated charm and country comforts. Pair this guide with our Poconos Winter Mini Guide for the perfect weekend ski getaway.
Through the Looking Glass
111 Broadway | ttlgrestaurant.com
For your pre-ski calorie fuel-up en route to Blue Mountain, this restaurant named after Alice in Wonderland is the place. The banana walnut pancakes are lightly sweetened and splattered with the perfect number of bananas and walnuts both in and on top of the stack. The French toast has the perfect consistency, with a nice, crispy outside. Orange juice is $1.85 for a good-sized glass plus free refills, and the $2 bacon strips are reason enough to visit. In case you're not one for small talk, or need help finding a suitable subject matter, between the legs of each small glass-topped table lies a stack of magazines and books to browse while waiting for the meal. Pro tip: order a to-go sandwich to eat slopeside.
Country Cottage
37 Race Street
We went for the pickles and left with much more. A local favorite shop full of handcrafted goods, expect to find shelves carrying varying shapes, sizes, and flavors of pickles, homemade strawberry and banana jams, and the latest jalapeño salsa.
The Parsonage Bed & Breakfast
61 West Broadway
For a comfortable and affordable B&B, The Parsonage is ideal. Housed in an historic building from 1844, the B&B is decorated to the brim with paintings, miniatures and other oddities it is both cozy and interesting. The rooms are nicely sized, clean, and include free Wifi. Expect farm fresh and free range food for breakfast in their communal dining room. Room rates start at $110 per room/night on weekdays. The B&B does not allow anyone under 18.
How To Get There: Check susquehannabus.com for schedules and information on the round-trip bus routes from NYC. The Jim Thorpe stop is one block away from the Inn at Jim Thorpe.
Header photo by Chris Connelly.