While the Midwest is revered for their five great lakes, the East Coast also has great options for affordable and luxurious lakeside enjoyment, from the Finger Lakes of upstate New York to New Hampshire's Lake Winnipesaukee. This year, book one of these eight lake getaways easily accessible without a car from New York City.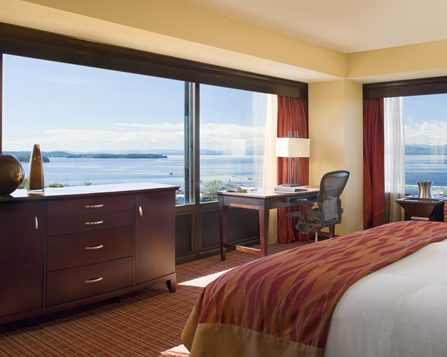 1. Hilton Burlington | Lake Champlain, VT
Stretching from Vermont to New York, Lake Champlain is over 120 miles of pristine waters, bordered by humbling views of the Green Mountains and Adirondacks. For a trip that is equal parts nature and nurture, access the pristine lake from Burlington, Vermont.
Explore the beautiful backcountry on cross-country skis or row the lake by day, with convenient rentals from Burlington's harbor, and stroll Church Street at night for some savory, sustainable cuisine and live music.
Stay the night at the convenient and comfortable Hilton Burlington, which underwent a major renovation in 2014 to include bike-friendly parking, an outdoor patio with fire pit, and a stunning new lobby. Offering multiple packages to receive the most for your money, the Hilton Burlington is a convenient, less than five minute walk to the shore or to nearby shopping. Rates: From $139
How to get there: Take Amtrak to Essex Junction, VT. From there take a Chittenden County Transportation Authority (CCTA) bus 15 minutes to the hotel.
Find Hotels near Lake Champlain:
Mirror Lake Inn provides luxurious accommodations, deemed worthy of accolades from national travel magazines like Travel + Leisure.
Curl up with a good book in a comfortable chair on the Inn's private dock, eat some tasty pub grub at the The Cottage, and go shopping in town just a 10 minute walk or bike ride down the road.
Rates: Rooms start at $250 a night.
How to get there: Take the Amtrak Adirondack Line to Westport, NY. Mirror Lake Inn will arrange shuttle service if a call is placed ahead of time.
Find Hotels near Lake Placid:
3. The Cozy Inn & Cottages | Lake Winnipesaukee, NH
The largest lake in New Hampshire is full of islands (253 to be exact) waiting to be discovered. Access this massive landmark from the adjacent Weirs Beach and tour the shore by walking on the wooden boardwalk and visiting the nearby shopping and attractions.
In the warmer months, head back to the beach for a cooling dip in the water and begin your journey of island-hopping through Lake Winnipesaukee. The nearby Cozy Inn and Cottages has Weirs Beach at its doorstep. Walk out your cabin or hotel room, rent a kayak or canoe from the hotel's rental program.
Rates: From $110 for a one room cottage.
How to get there: Consult oM's guide to renting hybrid cars.
4. The Inn at Cooperstown | Otsego Lake, NY
Cooperstown, home to the Baseball Hall of Fame, has a wide range of attractions to make this a winning destination year-round, with hot spots like the Fenimore Art Museum, Glimmerglass Opera, The Farmers' Museum, and stunning Otsego Lake.
And don't forget to put sipping Belgian beers at Brewery Ommegang on your must-do list. Along with its famed craft breweries, new distilleries and wineries are also popping up throughout the area.
A stay at the Inn at Cooperstown property means wonderful service, classic, chic decor and highly rated accommodations.
Specials: The Inn at Cooperstown offers a variety of packages, ranging from biking to beer to baseball.
Rates: From $135/standard room
How to get there: Adirondack Trailways can get you there in 5.5 hours for $110 roundtrip.
Find Hotels near Otsego Lake:
5. Silver Birches Resort | Lake Wallenpaupack, PA
For a vacation in the Poconos with minimum planning and maximum relaxation, Silver Birches Resort has everything covered, and more. With Lake Wallenpaupack located in its backyard, guests have easy, private access and can lay claim to their own corner of the lake.
Campfire set-ups along the edge of the lake encourage nighttime s'more snacking while watching the sun set. At dawn, come spring, take out a boat on a quest to catch Lake Wallenpaupack's plentiful bass, or for a leisurely row around the lake.
Rates: From $63/weeknight, non lake view and from $105/weekend with lakeview and porch
How to get there: Take a Coach shortline bus from Port Authority heading toward Honesdale and get off in Hawley, PA.
6. Mittersill Alpine Resort | Echo Lake, NH
Set in the White Mountains, a look out the window of your own private chalet will reveal green (or white) as far as the eye can see. The unparalleled peace and privacy are great reasons to visit Franconia Notch, NH. In the winter, enjoy 21 miles of trails and slopes at nearby Cannon's Mittersill Mountain or Cannon Mountain.
In the summer, a less than ten minute bike ride away is Echo Lake Beach, which is open daily, offering a stroll in the sand, a snack bar, and boat rentals to relax with some leisurely laps around the lake. The 28-acre lake provides hours of merriment and a front row seat to the impressive peaks of the Franconia Mountain Range. After an exhausting but entertaining day, return to your chalet and relax with a snack and cold drink at the resort's on-site eatery, Baron's Pub.
Off Season Rates: Private chalets begin at $210 a night
How to get there: Consult oM's guide to renting hybrid cars.
7. Lake Crest Inn | Lake George, NY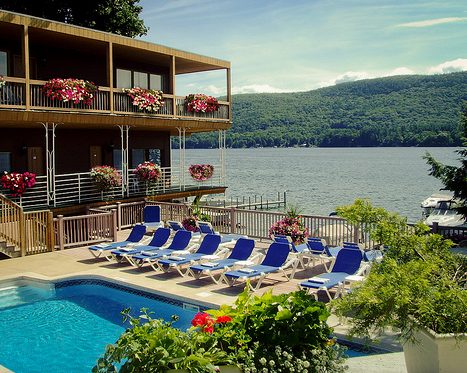 Whitewater rafting, boating, parasailing, picnicking, hot air ballooning and resting on the nearby sandy beaches; visitors to Lake George will run out of time before they run out of things to do.
Lake Crest Inn offers lakeside accommodations and only a 10 minute walk (or a short bike ride) from Lake George Village. The recently remodeled boutique hotel has won the Lake George Village beautification award twice. A private beach and lakefront pool bring relaxation in style without breaking the bank. Lake Crest Inn reopens memorial day weekend.
How to get there: Take Amtrak to Fort Edwards-Glen Falls, NY and then take a waiting taxi 30 minutes to the hotel.
8. The Rocky River Inn | Candlewood Lake, CT
Candlewood Lake is the largest lake in Connecticut, and is a revered place to water ski and swim. A town over in New Milford, For a nominal fee, the Rocky River Inn's car service will transport guests to lakeside fun within 10 miles of the hotel. Once there, marinas will assist in the rental of boats, kayaks and more. A shuttle also provides round-trip transportation from the Metro-North station to Rocky River Inn for $20.
Off Season Rates: From $65/king room any night of the week. Luxury rooms available from $98/night.
How to get there: Take the Metro-North to Bethel, CT. The hotel will arrange for a shuttle to pick you up, for a $20 fee.
Photos: Courtesy of respective properties; top shot by WanderingtheWorld, Lake George photo by reivax