Brewery Ommegang's drafts are likely on tap at your go-to bar in Manhattan, brewed just a few hours North in Cooperstown, an area of New York formerly known for its wide production of hops. 
Established in 1997, Ommegang was the first brewery in America to brew Belgian style beer and sell it. This brewery's reach doesn't just extend across the state and nation, it has also found its way into your favorite HBO show, Game of Thrones. When the producers of the hit show ordered a draft at an NYC bar, they loved the taste so much, they decided Ommegang had to be the official Game of Thrones beer. You can now find seasonal beers inspired by the show, such as the most recent release: "Hand of the Queen," a barley wine style draft with a smoky aftertaste, at a brisk 10.7% ABV.
Visit the Brewery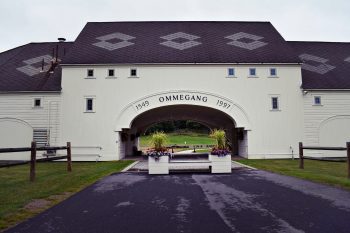 A great way to start your visit to Ommegang is with a walking tour of the brewing facilities. At only $5, this tour will take you through the Malt Handling Facility, where malts are measured and ground for brewing, the very beginning stages of a fine glass of beer!
In the Brew House, witness the mashing of malts with water, and the addition of hops and spices which gives Belgian style beer that unique, unbeatable flavor.
The last stop on the tour is the Bottling and Canning Room, the final piece to the puzzle once a batch of beer is ready for consumption. One fun fact I learned is that as Ommegang beer is more carbonated than your regular beer, bottles are made specially for Ommegang to accommodate this level of carbonation. Finish off your tour with a generous tasting, and taste a wide range of Ommegang's signature and seasonal brews.
The Renovations
Though you may not be a stranger to Brewery Ommegang, your next visit has a pleasant surprise in store for you. With the debut of a new look and much needed expansion this June; long wait times are a thing of the past.
Not only has the dining area expanded by 80 seats, but the interior has been transformed into that of a contemporary, bright and open space, with plenty of natural light throughout. Enjoy your dinner and drinks outside with the cool summer breeze on the brand new patio space.
Beer & Bites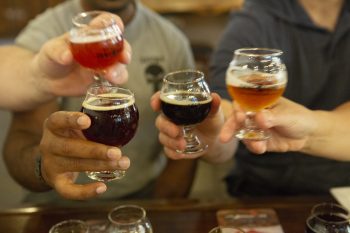 Let's not forget what you came here for! Order a glass of your favorite draft from the tasting, or try the remainder of the beer on tap with a flight. Try the seasonal, "Neon Rainbows," a New England Style IPA with flavors of pineapple and mango, a truly refreshing IPA for the summertime.
Cool off with a glass of the "Saison Rosé," with flavors of hibiscus, and a nice rosy flavor, this saison is so smooth you might even forget you're drinking beer! For a draft completely out of the ordinary, order a glass of "Winter is Here," from the Game of Thrones collaboration series; this Belgian wheat ale is seasoned with white cracked pepper and sea salt. Compliment your ice cold draft with a Belgian favorite such as Chicken and Waffles, or Bratwurst and Sauerkraut.
Events at Ommegang
Come for the beer, but stay for the music. With past acts like Old Crow Medicine Show, CAKE, and Jack White, and a lawn which allows for tent camping, live music at Ommegang is a treat which attracts folks from all over the state.
Another crowd favorite for beer enthusiasts everywhere is the annual "Belgium Comes to Cooperstown" festival, which takes place the first weekend in August. Festival attendees have the opportunity to taste some of the best Belgian beer throughout the course of this weekend, all while enjoying live music, food, and conversation with brewers from all over the country.
Getting There
Adirondack Trailways can get you to Cooperstown in 5.5 hours for $110 roundtrip. Once you're there, the Cooperstown Trolley will take you to Brewery Ommegang. You can also make a weekend out of it by Drinking Your Way Through Cooperstown.
Regina Baker is an active long distance running and outdoor adventure enthusiast based in the Adirondack Mountains of Upstate New York. When she is not running, Regina spends her time making the most of what the great outdoors has to offer, whether it be open water swimming, cycling, skiing, hiking, skating, or kayaking.