Pack a swimsuit, hiking boots, and some bug spray; we're heading to the Lake George Region in the Adirondacks. Lake George is the original all-American Summer vacation and classic Upstate New York getaway. It's the Queen of American Lakes, where countless families arrive on any given weekend in the hot summer months. The place where cars with a week's worth of luggage bound to the roof, and boats trailing off the hitch, dogs with their head out the window, and the cooler stacked full abound.
Lodging in Lake George
The many folks that return year after year to Trout Lake Club are in on a little secret. This gem of an Adirondack resort, situated on picturesque Trout Lake, just minutes from Lake George and Bolton Landing, has it all. The family owned and operated resort has all the beauty of the Southern Adirondacks, and none of the bustle and crowding you'll find at many of the major lakes in the area. The 44 cabins of Trout Lake Club come in many shapes and sizes, all with a private kitchen, bath, and shared fire pit.
Once you park your car upon arrival, you seldom may use it again except for groceries or a night out on the town, as the entire club is walkable. 
Families rush down the unpaved roads to the lifeguarded beach in the morning to spend the day cooling down in the fresh water, taking out a rowboat or kayak, and soaking in the sun among friends they've made, which will likely be friends for a lifetime. The snack bar and community house directly above the beach is the hot spot to order a juicy burger, ice cream cone, borrow a novel, or battle it out on the ping pong tables. Nights in the community house are where you can find activities for all ages such as: square dancing, ping pong tournaments, bingo, movie night, and even paint & sips. Not much has changed since the club opened almost a century ago, and that is part of what makes it so special. The simplicity and rustic nature of the club takes you back to a time where we didn't have the distractions of smartphones, and enjoyed the great outdoors and good company. One week here, and I promise you'll keep coming back for years to come.    
To Do
It wouldn't be an Adirondack vacation if there wasn't a hike involved. Just minutes away from Trout Lake is the entrance to The Pinnacle, which offers a stunning panoramic view of Lake George. At just over .5 miles to the summit, this is the type of hike that can be done with all members of the family, and still leaves you the rest of the day to enjoy! To embark on a more difficult hike, head over to Cat and Thomas Mountains for double the summit, and expansive views of the region.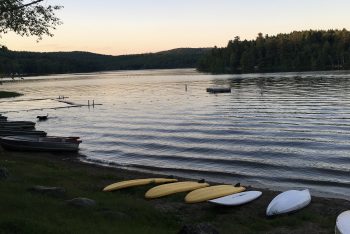 From the top of The Pinnacle or Cat and Thomas Mountains, you'll likely see kayakers and paddle boarders making their way around Lake George and its many islands. This could be you! Tucked away in the Sawmill Bay of Lake George is the Lake George Kayak Company, a local favorite for kayak, canoe, and paddleboard rentals. Rent by the hour, or for the entire day, and Lake George Kayak Company will not only fit you for a life jacket and paddle, but will teach you the basics of paddling, and how to handle equipment before you set off on the water. With certified paddle instructors onsight, you're in great hands. Choose to paddle through the no-wake zone of Sawmill Bay, perfect for beginners, or make a day out of it and paddle to a lakefront restaurant, such as The Algonquin.
Shopping in Bolton Landing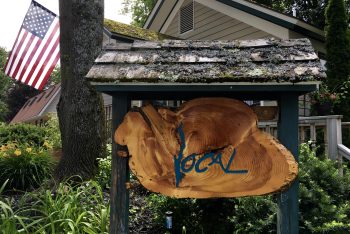 When you make your way into the lovely town of Bolton Landing, you're bound to see decals with the outline of Lake George on just about every other car. Wondering where you can pick up one of these popular decals for yourself? Head over to Bolton Landing's very own, Local. Opened in 2014 by two, yup you guessed it, locals, Matt Peterson and Domenick Pfau, this shop has become a staple in the community. The screen printed tees, distinct koozies, and decals have created a bond with anyone and everyone who has come to love the Lake George Region. Whether you've lived here your entire life, or it's your very first visit, Local never goes out of style.
Another soon to be staple in Bolton Landing, is the newly opened, Blue Line Barn. Filled with locally handmade crafts and forest goods, this shop is a must for a unique souvenir true to the Adirondack lifestyle. Maple syrup, ceramics, artwork, jewelry, and fresh coffee (the best in town, I might add), Blue Line Barn has it all.
Eats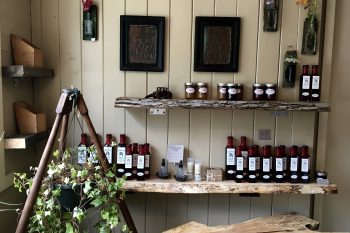 Bolton Beans, a cozy train car style diner, is the hot spot for a delicious breakfast. For dinner, you can't go wrong at Lakeside Lodge and Grill, home to a variety of Adirondack fare and local craft beers, sure to satisfy any craving. And for a little something extra, take your pick from one of the many soft serve flavors at Bob's Homemade Ice Cream, conveniently located next door to the Adirondack Winery  where you can pick up a bottle of rosé to enjoy back at the cabin under those bright North Country stars.
See our guide to renting a hybrid car. Get oM Adirondack getaway motivation with guides to Long Lake and Lake Placid.
Regina Baker is an active long distance running and outdoor adventure enthusiast based in the Adirondack Mountains of Upstate New York. When she is not running, Regina spends her time making the most of what the great outdoors has to offer, whether it be open water swimming, cycling, skiing, hiking, skating, or kayaking.