Whether you're looking for a fall foliage vacation highlighting history or the great outdoors, the Adirondacks offers both. This classic getaway location is also a few weeks ahead of the fall foliage down "south" in New York City, so grab your sweater and pumpkin spiced latte and head North for fall.
Paddle Through a Gorge
While the summer is usually the go-to time for whitewater rafting, head to the river in the fall for fewer crowds and changing leaves. A recommended stretch for rafting is the Hudson River Gorge which runs 17 miles from Indian Lake New York and has up to Class IV whitewater. Though the rapids can be challenging, Adirondac Rafting Company will guide even a total beginner through with ease. And yes, it is chillier in the fall, so rent a wetsuit ($14) and bring a few layers for a day of extreme leaf peeping.
Meander through History and Foliage
For those looking for more mental than adrenal stimulation, head to the Adirondack Experience. While this facility is labeled a museum it has an open air campus with dozens of galleries, exhibits and experiences to participate in. Learn about the history of logging and then try your hand at a virtual log drive. Or walk past an historic 19th-century buggy and through a multi million dollar (in today's currency) custom train car.  Between exhibits, hike ¾ of a mile to Minnow Pond, explore historic cabins and rustic wood furniture or head out to the back deck of cafe for beautiful views of Blue Mountain Lake.
For those with little ones, plan a visit around Fall Fest (9/29) where the museum will host everything from wagon rides to cider presses, music and games.
Hike to a High Point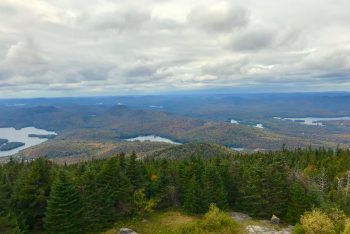 If you're looking to see the expanses of foliage in the Adirondacks, lace up those hiking boots. Across the street from the Adirondack Experience is the trailhead to Blue Mountain. This is a challenging (and somewhat slippery) four-mile hike not recommended for beginners. The hike takes you up to the top of Blue Mountain where you can climb a decommissioned fire tour for sweeping views of the High Peaks and Southern Adirondacks.
Stay in Long Lake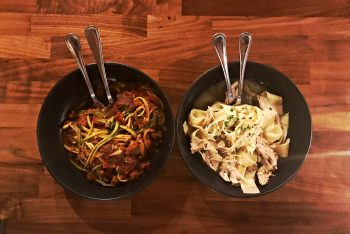 Just north of Blue Mountain and Indian Lake is the small hamlet of Long Lake. On its eastern shore sits the newly renovated and recently reopened Long View Lodge. Here, you can settle in for a comfortable a night or two in between your adventures. Or venture down to their private beach to enjoy the views from the backyard (pictured in the header photo of this article). The lodge is also open for lunch and dinner, serving up delicious fresh and healthy options from a beet, goat cheese and pumpkin seed salad to a vegan Zucchini Bolognese.
Get there from NYC
This pocket of the Adirondacks is not accessible without a car. Check out our guide to renting hybrid cars here. 
We have features for more Adirondack getaways to places like Lake George, the Lake Champlain Region, and Lake Placid. 
Sarah Knapp is a Brooklyn -based entrepreneur whose love for the outdoors and community building led her to the October 2013 creation of OutdoorFest. She has a BA in History, is a Wilderness First Responder and a NY state hiking, camp and boating guide. Her proudest achievement to date is reading the Aeneid in Latin.