The weather may be getting cooler but don't count out a visit to Long Island just yet. Measuring in a 118 miles in length, it offers way more than summertime fun at the beach. Parks, historical attractions, performing arts centers and culinary options draw visitors year-round. The colorful foliage, with a its dramatic splashes of scarlet, gold and pumpkin colored leaves, is not to be missed.
Falls' crisp days are some of the best times to explore. Fortunately, getting to many of these scenic spots doesn't require a car. Hop on the Long Island Rail Road and you're in business.
Here are 10 ways to escape to Long Island this fall.
Visit an Arboretum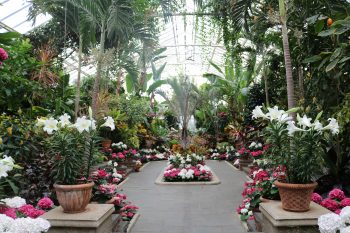 Long Island is full of arboretums and botanical gardens including Great River's Bayard Cutting Arboretum, Brookville's L.I.U. Post Community Arboretum and Oyster Bay's Planting Fields Arboretum. The Planting Fields Arboretum is a quick taxi ride from the Oyster Bay stop on the LIRR. You will be close to the Oyster Bay Brewing Company so indulge with a refreshing beer before catching the train home.
Visit a State Park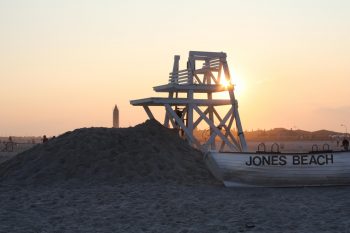 Long Island is home to dozens of state parks, including Farmingdale's Bethpage State Park, Valley Stream's Valley Stream State Park, and Montauk's Hither Hills State Park, where overnight camping is permitted. Wantagh's Jones Beach is also a state park and a great spot for a sandy autumn stroll with the ocean waves as your soundtrack.
Ride the LIRR right to Jones Beach.
Explore Long Island Viticulture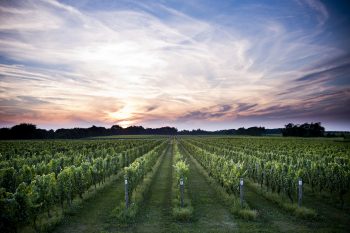 There are over 50 wine producers on Long Island with many clustered on the East End. Coffee Pot Cellars, Macari Vineyards, Bedell Cellars and the Clovis Point Vineyard & Winery are all producing excellent wines. North Fork Wine Tours offers guided tours of the region.
Dine with a Water View
Long Island has no shortage of waterfront restaurants. Cold Spring Harbor's Harbor Mist, Centerport's Mill Pond House and Northport's Whale's Tale are all known for delectable seafood. Enjoy autumn's briny bounty at an island eateries with a view.
Mingle in a Mansion
There are several Gold Coast mansions on Long Island. Fans of The Great Gatsby should enjoy a visit to Cold Spring Harbor's opulent Oheka Castle. Glen Cove's Woolworth Estate and Sands Point's Hempstead House are also worthwhile grand estates.
Ride a Ferry
A ride on an old-fashioned ferry is a quintessential Long Island maritime experience. Catch Fire Island Ferries from Bay Shore for a fall day trip to Fire Island. If you've never visited this car-free barrier island, you're in for a treat.
Indulge In Farm Fresh Flavors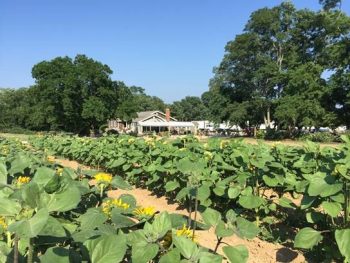 No matter your favorite fruit or vegetable, Long Island has a farm where you can pick it yourself. Jamesport's Golden Earthworm Organic Farm is popular for its wide variety of produce, including heirloom tomatoes, melons and garlic.  Riverhead's W. Zilnicki Pumpkins has a corn maze in the fall and is just a short cab from Riverhead's LIRR station.
Climb To The Top of a Lighthouse
Long Island is loaded with lighthouses, especially as you travel east. The Fire Island Lighthouse, Southold's Horton Point Lighthouse, the Huntington Harbor Lighthouse and the Montauk Point Lighthouse offer tours. The Montauk Point Lighthouse is a quick cab ride from the Montauk LIRR station.
Take a Hike
Nassau and Suffolk County have plenty of fine hiking trails. For suggestions, read all about the 10 best hiking trails on Long Island. 
Spend a Weekend in a Former Whaling Village
Sag Harbor is a haven in fall. The crowds have gone home, restaurants are less crowded, hotel prices are lower and the Long Island Sound sparkles in the midday sun. The Jitney runs from NYC right to the center of the village. Read why Sag Harbor is a top weekend getaway for car-free New Yorkers.
For more to hep you plan your next Long Island getaway, visit Discoverlongisland.com.
Images courtesy of Discover Long Island
Darren Paltrowitz is a New York resident (and Long Island native) with over 15 years of entertainment industry experience. He began working around the music business as a teenager, interning for the manager of his favorite band Superdrag. In the years following, he has worked with a wide array of artists including OK Go, They Might Be Giants, Mike Viola, Tracy Bonham, Loudness, Rachael Yamagata, and Amanda Palmer. Darren's writing has appeared in dozens of outlets including the Los Angeles Times, New York Daily News, Inquisitr, The Daily Meal, The Hype Magazine, All Music Guide, Guitar World, TheStreet.com, and the Jewish Journal.