What:
Open House New York Weekend
When:
Friday, Saturday and Sunday, October 12-14, 2018
Why:
Open House New York Weekend is a citywide celebration of architecture and urban design. Now in its sixteenth year, it presents a deep dive into more than 250 buildings across the five boroughs, from historic to contemporary. Tours and talks with leading architects, urban planners, historians and preservationists are at the core of this three-day event.  You'll get a privileged look at New York City's extraordinary architectural gems typically not accessible to the general public.
New For 2018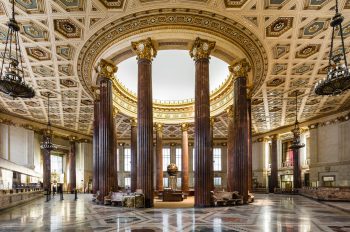 Even if you've participated in OHNY before, 2018 presents new opportunities loaded with visual appeal.
Checkout the Brooklyn Navy Yard's Building 77, where a top-to-bottom rehabilitation has transformed a WWII US Navy warehouse into a 21st-century industrial hub.
The Dime Savings Bank of Brooklyn is a pristinely preserved Gilded Age landmark with an opulent domed rotunda.
oM readers won't want to miss snooping around the Mother Clara Hale Bus Depot in Harlem. This LEED Gold-certified transit hub features a green roof and solar heating wall.
Bring the Kids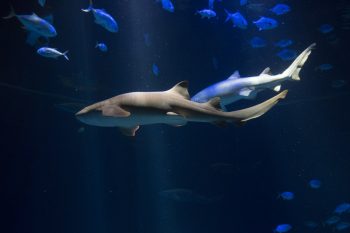 If you've got kids, Ocean Wonders: Sharks! at the New York Aquarium is a new exhibition by Edelman Sultan Knox Wood that lets visitors go nose-to-nose with eighteen kinds of sharks and rays, with daytime tours of the building and evening tours of the lighting.
Factory Friday
Open House New York Weekend expands to three days this year, with Factory Friday opening up manufacturing spaces across the city for rarely offered factory tours. Organized in partnership with Made in NYC, an initiative of the Pratt Center for Community Development, this series illustrates how 21st-century manufacturing contributes to a vibrant and diverse urban economy. More than a dozen factories are participating. See how the confections are made at Roni-Sue's Chocolates on the Lower East Side or sample the whiskey and gin to Breuckelen Distilling in South Slope, Brooklyn.
Girl Power
In 2018, Open House New York Weekend celebrates the contributions that women are making to shape the contemporary city, highlighting a range of architecture, landscape architecture and urban design projects that all have a woman as one the principal designers. From libraries and high-rise residential buildings to parks and public spaces, the nearly two-dozen projects featured in Works by Women promote and publicize what women are designing throughout New York. Participating female-driven projects include Domino Park in Williamsburg, and Hunter's Point South Waterfront Park in Hunter's Point, Queens.
Additional Info
The majority of OHNY Weekend sites can be visited at no cost during open hours.
Some sites and tours require reservations for a $5 per person fee. Reservations begin on Tuesday, September 25 at 11am.
The full lineup of OHNY Weekend sites and complete reservation information can be found at ohny.org
Featured image: Courtesy of The Howard Hughes Corporation
Photo credits: Pavel Bendov, Julie Maher, Daniel Byrne, Sue Chin
Allison is a native New Yorker, who has lived in Rome, Tuscany, Melbourne, Toronto and Los Angeles. She frequently contributes travel pieces to Family Travel Forum, using her own children as guinea pigs as they travel the globe. She is fluent in Italian and Spanish and laughably adequate in French. Her background as an Early Childhood Educator gives her an added understanding of what it takes to travel with kids in tow. She firmly believes that the most important part of education takes place outside of the classroom, on the road, around the world. She never misses a chance to sample local delicacies, as her love for travel goes hand-in-hand with her love for food and wine. Follow Allison at @gourmetrav.