New York City offers endless family activities. Whether flying on a trapeze, being stimulated by interactive exhibits at a children's museum or playing pinball, NYC is paradise for kids. With so many indoor activities, there is plenty to do on a rainy afternoon too.
There are many good options in and around town but we've narrowed it down and curated a list of five great things to do with kids.
Stepping Stones Museum for Children in Norwalk, Connecticut
Stepping Stones Museum is a children's museum in Norwalk, Connecticut that is devoted to early childhood education. Its exhibits inspire and stimulate young minds.  Interactive exhibits, an exploration area for toddlers, and a family and teacher resource center make for a full day out.
Where: Stepping Stones is located at 303 West Avenue in Norwalk.
Get there: Ride Metro-North to South Norwalk Station followed by a quick cab ride to the museum. Taxis wait at the station.
Join the Circus in Brooklyn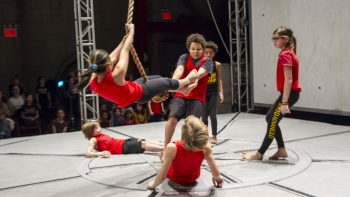 In the heart of Williamsburg, Brooklyn, is SLAM (STREB Lab for Action Mechanics), the home of the STREB EXTREME ACTION Company and the POPACTION School. The school offers classes for children and adults in STREB's signature technique POPACTION, which intertwines dance, athletics, boxing, rodeo, the circus and Hollywood stunt work into bristling muscle-and-motion vocabulary. STREB's work appeals to kids and adults who enjoy testing the limits of their physical universe. SLAM also offers classes in flying trapeze and various other circus arts. 
Where: 51 N 1st St, Brooklyn.
Get there: L train to Bedford Avenue.
Head to The New York Hall of Science in Queens
The New York Hall of Science is a science museum occupying the few remaining structures from the 1964 New York World's Fair. It has more than 400 hands-on exhibits that focus on biology, chemistry and physics. Kids will love the life-sized rockets outside the museum. A visit is worth the trip for science lovers and non-lovers alike.
Where: The New York Hall of Science is located at 47-01 111th Street in Queens.
Get there: Take the 7 train to the 111thStreet Station and walk three blocks south.
Play Pinball in Manhattan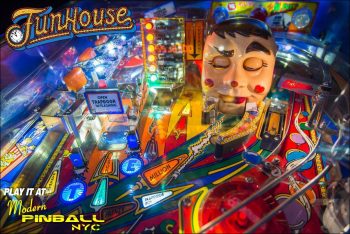 At Modern Pinball, there are two rows of pinball machines and a selection of pinball games from the 1970s and 1980s. Unlimited play costs $15. Kids will seriously love this place…so will adults, who can read descriptions of the machines and learn more about their history. A trip to Modern Pinball is fun for kids and nostalgic for their parents.
Where: Modern Pinball is located at 362 3rd Avenue in Manhattan.
Get there: 4 ,5 or 6 to 23rd Street, R or N to 28th Street.
Explore Sea Life at the New York Aquarium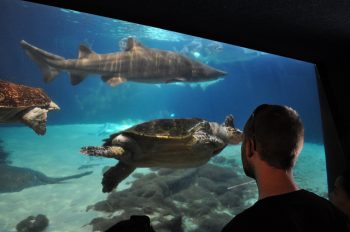 There are so many fun reasons to head to Coney Island and the New York Aquarium is one of the best. Watch an interactive shows starring sea lions, go below the surface and see the sharks, stingrays and sea turtles that live right below off the Coney Island Boardwalk and view a 4-D film before you call it a day and ride the subway home.
Where: Surf Ave. and West 8th St., Brooklyn.
Get there: Ride the F or Q to 8th Street Station in Coney Island or the N or D line to Coney Island-Stillwell Avenue Station.
Featured image: Dakota Ray Photography
Additional images: The New York Hall of Science, Modern Pinball and Kai Brinker
Holly Rosen Fink is a marketing consultant and culture and travel writer living in Larchmont, New York