Lake Champlain, a robust 163 miles long, flows between the Adirondack Mountains of New York and the Green Mountains of Vermont. Known for its military significance in the 18th and 19th centuries, the Lake Champlain Region is rich in history, as well as lakefront activities, and outdoor adventure. Running along the Eastern edge of Upstate New York, at just an hour north of Lake George, and about 4.5 hours North of New York City, Lake Champlain should be on the top of your list for a weekend getaway.
Get Outdoors:
It's time for a hike up the local favorite, Coon Mountain. Coon, one of the many trails which makes up Champlain Area Trails (CATS), is a short hike which can be conquered by both experienced and beginner hikers. That is part of the reason why CATS came to be, and has become so popular. The wide range of trails which makes up CATS are of a much more moderate breed, ideal for someone who is itching to hike, but may not be quite ready for the Adirondack High Peaks.
After descending Coon, continue to travel north, along Lake Champlain to the lovely town of Essex. I recommend taking a walking tour of the town to enjoy its rich, historical, pre-Civil War architecture, inviting boutiques, and delightful eateries. The Pink Pig Cafe, is one of those delightful eateries, doubling as an inviting boutique full of chic home decor, exquisite accessories, and a cafe serving baked goods, sandwiches, coffee, and more. Order a coffee and explore the many treasures which line the shelves.
Continue your walking tour by heading down to Lake Champlain, only a few steps from The Pink Pig, to catch the ferry, and soak in the breeze and views. A ride on the ferry is a great alternative to dishing out cash for a rental boat, is just as comfortable and scenic, at a fraction of the cost.
Next stop, The Ausable Chasm, otherwise known as: the "Grand Canyon of the Adirondacks." A popular attraction since 1870, this landmark is known for it's unique rock formations, and cascading waterfalls. I choose to embark on a self-guided tour, weaving in and out of the trail to catch glimpses of the stunning views.
Stay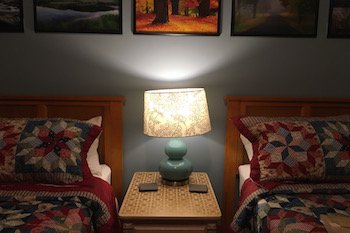 A great starting point for your weekend in Lake Champlain begins at the Village Inn and Red Brick Cafe in Port Henry. Newly opened this past January, this hot spot right in the middle of downtown Port Henry, is the ideal home base for a weekend of exploration. Newly renovated rooms with tall ceilings, which sit right above the Red Brick Cafe, are both convenient and affordable. This genius combination of Inn and Cafe, is all you need to cap off the day, and rest your head.
Eat & Drink
After dropping your bags off at the Village Inn, how about a beer? Head over to the newest brewery in the area, located in the neighboring town of Westport,  Ledge Hill Brewing Company. Ledge Hill is fairly new to town, but already a local favorite. Bustling on a Friday night, with a fire roaring outside, homemade BBQ, and fresh pours, you'll be more than happy to kick off your weekend here. Owned and run by a local couple, sipping a Ledge Hill beer is just as they describe it to be; beer that is "approachable, delicious and unpretentious."
Rise early for a hometown, diner breakfast at Foote's Diner, just a quick walk up the road from the Inn. Not only are the eggs, toast, and bottomless coffee, reason enough to stop for a breakfast at Foote's, but the atmosphere will draw you in all on it's own. The Diner is run out of a Ward Dining Car, built in 1927. One of the first in the country, this car was originally used as a mobile lunch car, serving factory workers.
Insider Tip: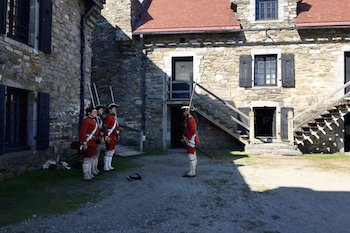 It just wouldn't feel right to travel to Lake Champlain without indulging in a bit of history, now would it? So before heading back home, be sure to visit Fort Ticonderoga. From the Musket Firing Demonstrations, to the Historic Garden Tour, there is a way for everyone to digest a part of history at the Fort. What's sure to be the most memorable part of your visit to the Fort is relaxing aboard the Carillon Boat Tour. This 90 minute boat tour recaps the history of the region, all while enjoying the sights on a replica of a late 19th-century touring boat.
Getting There from NYC:
Car, train, bike, plane, boat? There is a way for everyone to travel to the Lake Champlain Region. Whatever your travel method may be, follow the link to find the best way for you to enjoy a slice of Adirondack goodness this Fall. You can also consult oM's guide to renting hybrid cars.
For additional trip planning information, visit  www.lakechamplainregion.com
Regina Baker is an active long distance running and outdoor adventure enthusiast based in the Adirondack Mountains of Upstate New York. When she is not running, Regina spends her time making the most of what the great outdoors has to offer, whether it be open water swimming, cycling, skiing, hiking, skating, or kayaking.