I'm a seasoned traveler and no stranger to adventure. Still, alarm bells went off when I was asked to participate in a fitness retreat on assignment. "Are we gonna eat, though?" I wondered, as I believe food is essential to travel. "Am I going to embarrass myself?" I cringed, rereading the itinerary with a creeping sense I was in over my head.
Thankfully, Ketanga Fitness Retreats are not about tiny food and grueling workouts. The company was started by Stacy Schwartz in 2014 with the goal of seamlessly incorporating a variety of fitness activities with an exploratory travel itinerary. Stacy is a great travel companion, she loves to eat and drink with the best of us—in fact, the group was in awe to hear she went out drinking one night on the retreat only to emerge bright-eyed for kickboxing at 7am the next morning! Her presence throughout the retreat is a reminder of Ketanga's greater mission, to get out there and see the world, and she's living proof that entrepreneurship is one way to do that. Ketanga means "away-sick" or the opposite of homesick in Maori, a language of the indigenous population of New Zealand, and it's a feeling Stacy embraces fully.
Day 1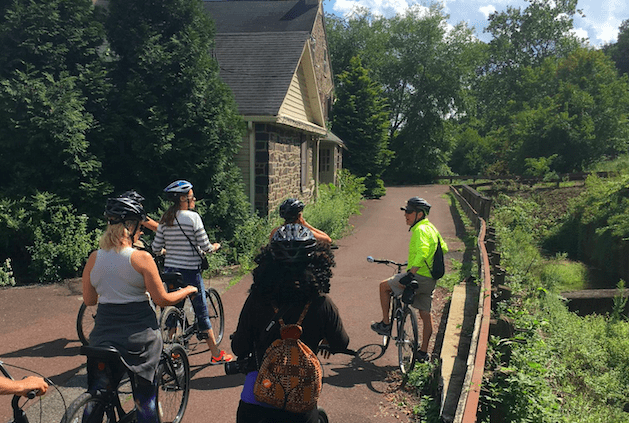 I arrived on the "Seek and Sweat" retreat hoping to do a little more seeking than sweating, but I was instantly buttered up by a hearty lunch at Sprig and Vine, a stylish vegetarian restaurant in New Hope. New Hope was the first in a series of adorable Bucks County, Pennsylvania towns we were going to hit on our long weekend. We feasted on cauliflower banh mi and forbidden rice breakfast burritos in prep for a 14-mile bike ride along the Delaware River with Encore Rides Bike Tours, a local tour company that offers a ton of historic facts to punctuate the journey.
We got our first fitness fix in the middle of the ride when we stopped to stretch with Steve Feinberg, one of the fitness instructors traveling with Ketanga for the weekend. On a Ketanga Retreat, the instructors travel with the group, so in a sense, your teachers become your friends. Steve's specialty is group fitness and he is humorous and upbeat creating a supportive environment. He was available for nutrition tips when prompted, but he was also just a great bike ride chat partner.
Day 2
The next day we rallied early to "Hip Hop Box" with Steve, a program he recently launched with playlists perfectly timed to boxing moves—a surprising coffee alternative! Then we set out for Peace Valley Park in Doylestown, where we did a pilates class on the grass with another Ketanga instructor, Jenna Muller, of Barre3. We lifted and squatted in the sunshine, and it was divine.
Midday we lunched at Genevieve's Kitchen, a tiny spot serving a seasonal menu. The short rib tacos and rapini and white bean ragu were fantastic, and everything tastes even better after two workouts.
While in Doylestown, we had to visit Henry Chapman Mercer' Fonthill Castle. This concrete masterpiece sits on an expansive piece of land and holds the late renaissance man's art and tile collection. It's a wonder to wander through, there's so much to see.
The day wrapped up with a chill yoga session with Jenna in the garden at Buckingham Valley Vineyards followed by a tasting in the cozy indoor space.
Day 3
Our final day found us lakeside gearing up for a Paddlefit class with Driftwood Water Adventures in Levittown. For many in the group, including me, standing on a paddleboard was a first. Paddleboard yoga was amazing—the water rippling really transports you, and on this morning, we had an unusually hot autumn sun on us. We stripped down to our bathing suits, feeling confident. Then, during a particularly peaceful downward dog, we all heard a big splash. It wasn't me. I survived the Ketanga Fitness Retreat, pride intact!
With names like "Pilates and Pinot" anyone can handle a Ketanga Fitness Retreat. Each trip is tailor made, and they've happened in destinations such as Puerto Rico, Tulum, Arizona and Upstate New York. Where to next?
Carly Pifer is a freelance writer who has been known to follow whims inspired by romantic movie scenes or colorful street style shots to India, Japan, Tunisia and Argentina. After stints living in Seoul, Boston, Paris and Los Angeles, writing and searching for something intangible, she landed somewhat steadily in Brooklyn and has begun to find inspiration in her more immediate surroundings (and also the permanence of her bookshelf). She writes about fashion for Refinery29 and has been known to pack an outfit per day on backpacking trips. Please visit her website to read her travel diaries and other writing on the web at www.carlypifer.com or follow her on instagram .