Doylestown's tree-lined streets and stone farmhouses paint a Norman Rockwell portrait of small town, U.S.A. It's no wonder that this button-cute Bucks County village is a favorite with urban Philadelphians, who regularly make the 45-minute pilgrimage when they crave an afternoon of laidback charm.
Sophisticated New Yorkers will find cultural satisfaction combined with buckets of quaint only two hours from the city. The human-scale dimensions include an established arts and culture scene that is invigorating without being overwhelming. After you're saturated with the civilized, stroll downtown Doylestown's inviting shopping streets, a patchwork of specialty stores and tempting restaurants. For a short and sweet getaway that is accessible without a car, catch the next bus to Doylestown.
The Must-Do Experiences
The Mercer Mile is the leafy stretch where you'll find several worthy attractions. Named for Henry Chapman Mercer, a hometown eccentric born in 1856, this illusive millionaire continues to enjoy a Howard Hughes-like reputation. His current influence can be seen in the cultural contributions that are the cornerstone of present-day Doylestown. Get a glimpse of Mercer's unusual aesthetic sense when you visit his self-designed home, Fonthill Castle.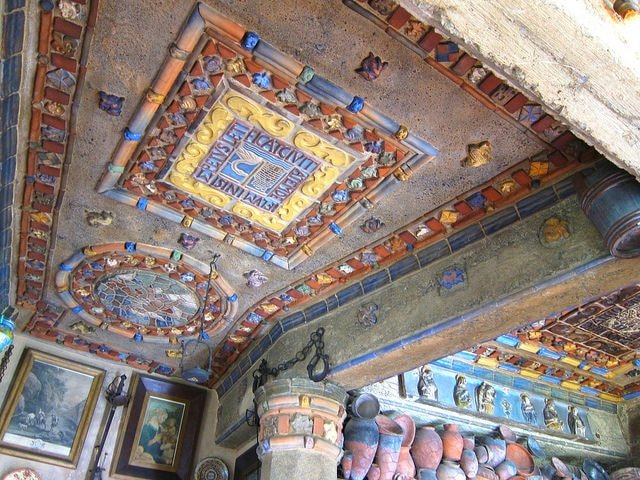 The 44 rooms are a mix of Gothic, Medieval and Byzantine architectural influences. If that isn't style-heavy enough, the entire building is made of poured concrete and the interior walls, ceilings and floors are adorned with a global array of handcrafted tiles. As you explore the castle, you'll be grateful for the 200 windows that allow light to stream in, adding gorgeous contrast with the color-saturated tiles that cover every nook and cranny.
After your one-hour guided tour of Fonthill, mosey next door to Moravian Pottery and Tile Works. This working history museum continues to produce, just as it did when tile-obsessed Henry Mercer built the factory more than a century ago. You will observe an artisanal ceramic process that has changed little over the years. The exquisite tiles are sold and shipped all over the world (Pope Francis is said to have been gifted a set), but visitors may purchase them at the gift shop.
The Mercer legacy continues at his namesake Mercer Museum. A fastidious collector, Mercer donated over 40,000 pre-industrial tools and artifacts amassed over a lifetime. The extensive holdings include a Conestoga wagon and a fire engine. Obsolete tools representing trades like woodworking and agriculture are plentiful. It all adds up to a provocative collection that may get you thinking about the integrity of old-fashioned craftsmanship.
Doylestown's literary ties are plentiful and resident wordsmiths included luminaries like Pearl S. Buck and James Michener. The James A. Michener Art Museum is named for the Pulitzer Prize-winning author of "Hawaii" and "Tales of the South Pacific".
Formerly the austere Bucks County Jail, what was once punitive has been transformed into sublime. The museum's esteemed collection of Pennsylvania Impressionist paintings is the largest in the world. Literati won't want to miss the illuminating exhibit on Michener. As expected, it delves into his prolific writing career, but it also paints a multi-faceted picture as it examines his philanthropic work and his lifelong commitment to racial equality.
The Insider Tips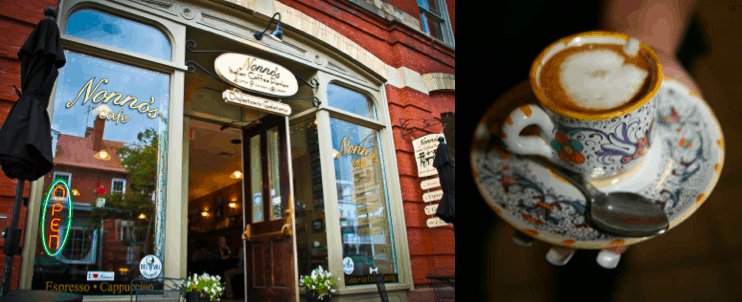 Locals, including several who seem grounded and realistic, believe that Doylestown is haunted. Landmark buildings are loaded with tales of ghoulish lore, but Historic Doylestown Cemetery is ground zero for ghost busters. Walk over to the cemetery and ramble the 33 acres or, if the spirit moves you, take a spooky guided tour. They are offered Saturday mornings and evenings, except in winter, when it's too cold for even the ghosts to show up.
Cineastes from around the Northeast go bonkers for the County Theater. This art deco movie house screens a broad array of foreign, documentary and classic flicks all year. When the film lets out, moviegoers head next door to Nonno's for an authentic espresso or a refreshing gelato.
The Eats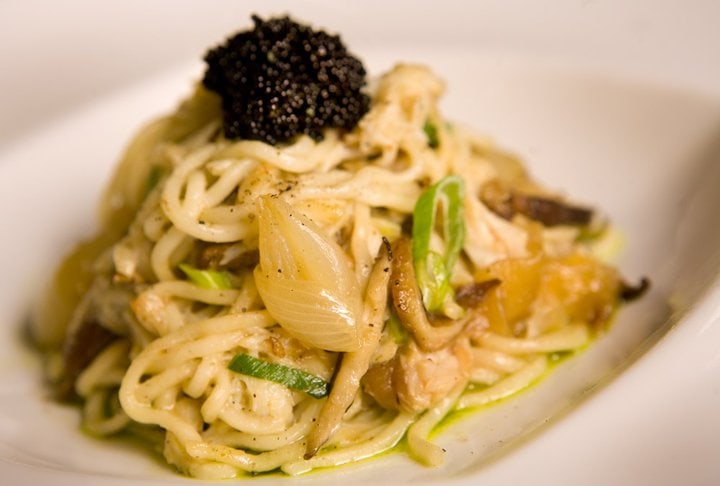 One glance at a local menu and you know you're not in NYC anymore. In this neck of the Pennsylvania woods, sandwiches are called hoagies and your morning eggs are likely to be accompanied with scrapple.
Hickory Kitchen's reputation was built on its award-winning barbecue served with unbeatable sides, but the menu has grown to include burgers, veggie specialties and a decadently meaty weekend breakfast. The setting is finger-licking casual, so step right in.
Honey is a major-league dining experience. The menu offers small plates in an intimate setting, so be sure and make reservations. Seasonally inspired cuisine is served by soft candlelight, making Honey the right spot for a romantic tête-à-tête. The all-American boutique wine list is exceptional.
The Drinks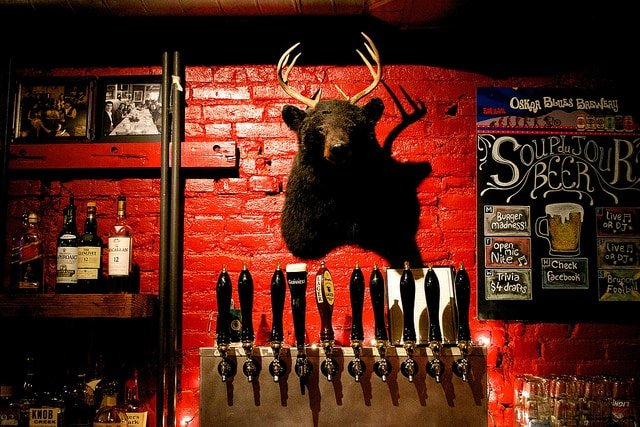 Maxwell's on Main (called Mom's by locals) is a gastro pub with a dynamite selection of craft beer served in cans, bottles, on draught and from two British-style hand-pumps. There's a sizable selection of Pennsylvania beverages, but the extensive list includes many states and countries. Start the evening off right when you score a bargain at the daily happy hour from 5-7 pm. Tasty bar snacks and light meals have a Southern twang, so don't hesitate to order the fried pickles or mini corn dogs.
The Shops
This pint-sized village stays true to its lettered roots, supporting three indie bookstores. The inviting Doylestown Bookshop offers snug seating, coffee and the latest titles. Central Books is packed with used treasures, some costing only pennies. Bucks County Bookshop focuses on first editions and used literary finds.
No need to head to Paris for the latest Gallic trends. Très Bien Boutique sells a curated collection of home décor and accessories straight from France for a soupçon of chic.
Busy Bee Toys specializes in unique playthings for the tiny people in your life. They sell simple, colorful toys made of durable materials to inspire creative play.
In the locavore race for freshest produce, The Doylestown Food Co-Op runs a neck-and-neck with the Saturday Farmers' Market.  The surrounding fertile farmland supplies glorious fruits and veggies for much of the year, so plan on bringing your reusable bag and lugging a sack of goodies home.
The Digs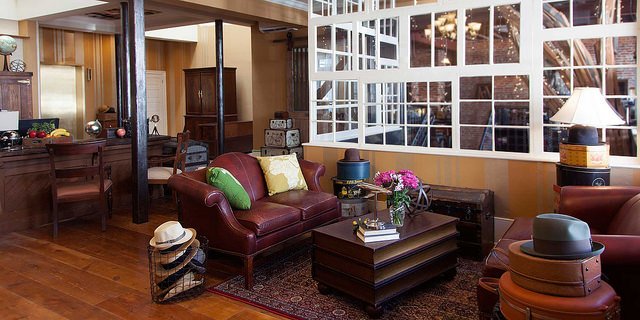 The 11-room Doylestown Inn was once a hat shop and a shoe store, and public spaces pay homage to its past incarnations with appropriate vintage bric-a-brac adorably displayed. Service is super friendly, but if you're looking for upscale, make sure to reserve one of the newly renovated rooms, some with fireplaces. Otherwise you'll have to make do with floral wallpaper that looks resuscitated from your granny's bedroom.  In spite of the throwback quality of some rooms, everything is clean and cozy, with a fab location that is walking distance from all attractions.
Getting to Doylestown from NYC
Trans-Bridge Bus Lines takes two hours from Port Authority. The bus drops you off in the very center of town, just two blocks from the Doylestown Inn. A comfy pair of walking shoes is your best in-town transportation bet, but there is a free trolley that scurries around Doylestown all weekend.
For more information, go to Visitbuckscounty.com or visitphilly.com/towns/doylestown.
Allison is a native New Yorker, who has lived in Rome, Tuscany, Melbourne, Toronto and Los Angeles. She frequently contributes travel pieces to Family Travel Forum, using her own children as guinea pigs as they travel the globe. She is fluent in Italian and Spanish and laughably adequate in French. Her background as an Early Childhood Educator gives her an added understanding of what it takes to travel with kids in tow. She firmly believes that the most important part of education takes place outside of the classroom, on the road, around the world. She never misses a chance to sample local delicacies, as her love for travel goes hand-in-hand with her love for food and wine. Follow Allison at @gourmetrav.