When you step inside Brooklyn Boulders Queensbridge, you're welcomed by the echo of climbers ascending to the top of the climbing gym's 30-foot walls. Polite staff welcome you and scan your pass, "have a good climb," they'll say as they send you down the stairs to the expansive 25,000 square foot facility. Yet, before heading to climb, you'll see an array of different people sitting along wooden tables and metal high tops with their laptops open and papers scattered about. The line between corporate life and fitness is meshed together at this new mix of climbing gym and co-working space.
Brooklyn Boulders is known for being a climbing gym first and foremost. Founded in Gowanus in 2009,  the gym was one of the first options for indoor rock climbing in New York City, even serving as the home training facility of now famous climber Ashima Shiraishi. Since then, they've expanded to Queens, Boston, and Chicago, expanding their offerings to include everything from fitness classes to cardio equipment to saunas. Yet, interspersed between the sweaty climbers and flying acro yogis,  you might stumble upon a conference room or a coffee guzzling freelancer.  
Brooklyn Boulders introduced co-working spaces with the goal of  bringing employees with the same work values together. Often these people work for different companies and organizations, but are looking for a place to do their work outside of the traditional office setting. These spaces are usually used by freelancers, people with remote jobs, or even writers from offMetro.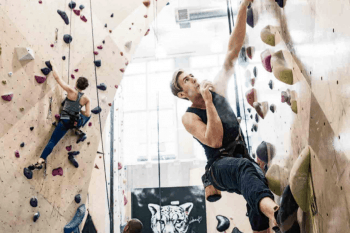 One of the major downsides to working in a traditional office is how difficult it can be to find the time to step away from your desk and get exercise. When you're working in a co-working space at Brooklyn Boulders, closing your laptop, putting on your climbing shoes, and chalking-up your hands is easy. You can go and climb for an hour, then get right back to what you were doing before. The endorphins are flowing, you've completed both your daily exercise regimen and (some) of your work, without having to get on a subway or even leave the building.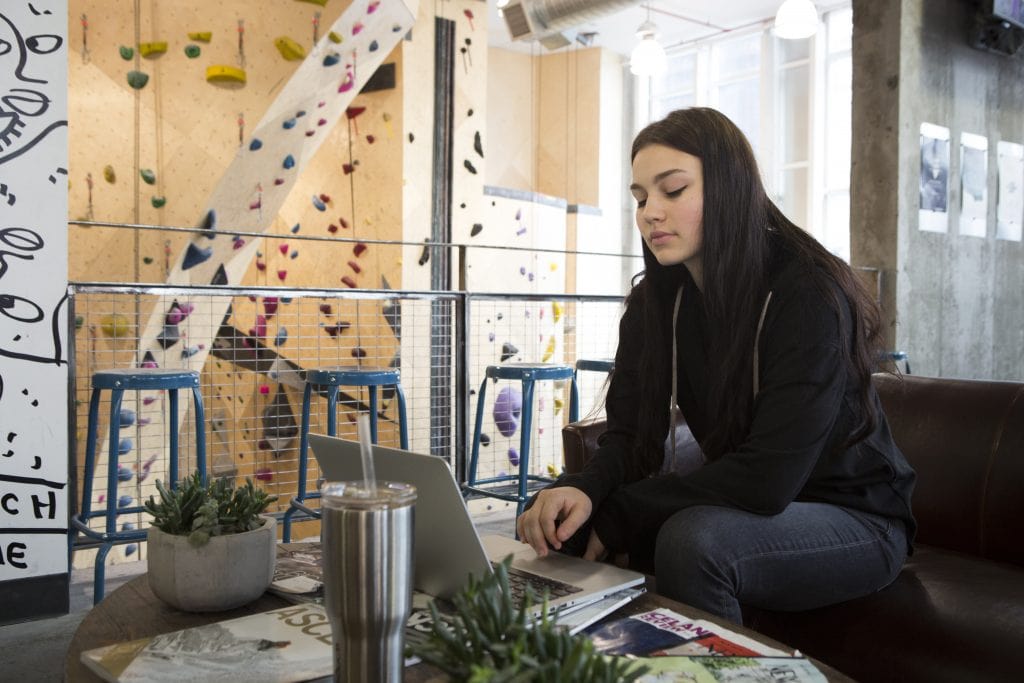 After two months of working at Brooklyn Boulders Queensbridge I discovered that working in a climbing gym made it harder to skip the gym, and helped me commit to an active lifestyle. And, with graffiti inspired artwork covering the walls, music playing throughout the gym, and the constant energy of excited climbers, I noticed my creative side really being pushed to come out. I even made a few new laptop carrying rock climbing friends to boot.
Welcome to the newest way to find work-life balance: working (out) at the gym.
Photos by Natasha Shapiro and Brooklyn Boulders
Katie Machia is a freelance writer who recently moved to New York City. She writes about everything from the outdoors to fashion. In her free time, she enjoys exploring the Adirondacks and searching through racks of clothes at thrift stores around the city.