Whether your apartment is freezing or your boss doesn't seem to realize that you can see your breath in the office, it's hard to stay warm during New York's long winters. This past snow day, we laced up our boots, pulled our hoods down and checked out the Long Island City outpost of Brooklyn Boulders (originally from Gowanus). As it turns out, this indoor climbing gym is full of ways to keep you warm.
Climber or not, Brooklyn Boulders (BKB) is our new go-to spot to escape the winter weather.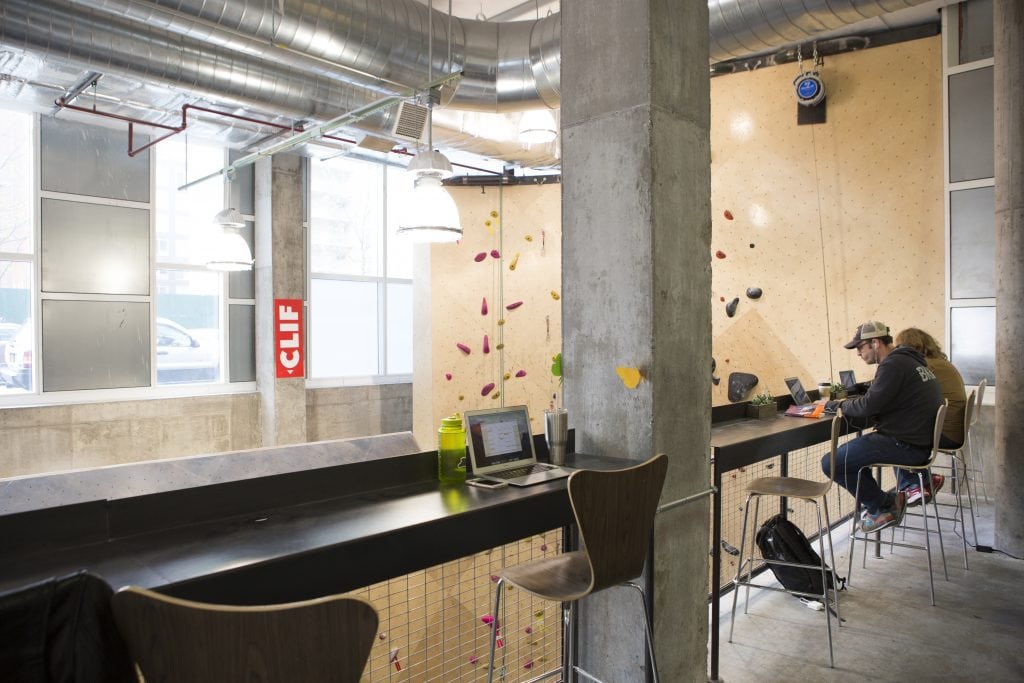 Co-work before your workout
Tired of never being able to find a place to sit at the same old coffee shop? BKB has the answer to that. I showed up early and found the perfect area with wifi to sit down and work. With an assortment of tables, their work space is bright, the wifi is fast and there's space to spread out.
Start from Scratch: Indoor Climbing Classes
As someone who has never climbed before, discovering Brooklyn Boulders was a bit scary for me. But after one class at BKB, I learned that a climbing gym can be both fun and inviting to newcomers. For those with more experience, the gym offers skills and strength classes. So harness your inner athlete and try a completely new type of workout.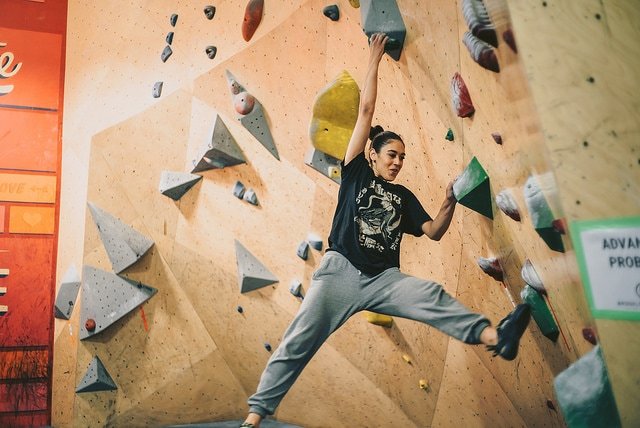 Keep Moving
After sweating it out climbing, I decided to try one of BKB's Yoga for Climbers class, which was challenging and relaxing at the same time. The gym has a variety of daily classes like capoeira and boot camp for the athlete that wants to mix it up.
Build a new Belayshionship
New York is teeming with so many people that sometimes it can feel challenging to meet someone new. Brooklyn Boulders hosts groups or "crews" that meet-up weekly along with monthly competitions and events that are all about bringing people together. Feel empowered by a group of all-female climbers or meet a belay partner at the Belaytionship Meetup. It's a great place to find a diverse group of people who all have a passion for climbing — or simply learning something new!
Insider Tip
You can even sit and sweat it out at the gym thanks to the men's and women's saunas in the basement locker rooms.
Get there:
Brooklyn Boulders' Queensbridge location is conveniently located in Long Island City close to the F, E, N, W, and 7 trains.
Casey studies Comparative Literature and Mathematics at NYU. In her free time, she is typically figure skating, hiking, trying new eclectic NYC foods, hanging out with her roommates or snuggling with her cat Aya.