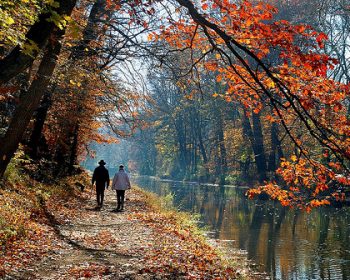 My friend Koryn and I were in a borough of Bucks County and the owner of the make-your-own-scent shop Bath Junkie had just announced to us, "There's a lady with a monkey." We shared a confused glance, but later decided that though we were really in New Hope, Pennsylvania to do some premature leaf peeping, it wouldn't hurt to do a little simian searching on the side. Like most teensy towns, New Hope (population 2,300) is characterized by friendly locals with a handful of amusingly nutty ones (monkey lady included) thrown in for good measure.
Among the unconventional, yet wholly endearing aspects of New Hope is Fred's (13 E Randolph St., 215.862.7024), a true testament to small town spirit. Fred's is a friendly old-fashioned breakfast counter—with membership requirement. The walls are papered with applications, among them a pleading letter from a dog and the threat of sending a teenage daughter if admission is denied. Members pay $10 a year, which includes admission to the 31-stool breakfast counter and free daily coffee. The club is at capacity, but if you catch them on a slow morning, you may just be able to join up.
The real life breakfast club was indeed unique but showed no signs of monkey business. On the streets, not a single person seemed surprised when we asked about the lady and her monkey. One even added a man/monkey pair to the mix.
Spooks and Spirits
If small towns foster quirks, old ones invite lore, and since New Hope is both small and old (settled around 1700), a multitude of ghosts keeps its monkeys company.
Our search for the former began in a 150-year-old church. It retains stained glass windows and a choir, but where altars and pews once stood now well-heeled foodies nibble on steaks and raw bar delicacies at Marsha Brown (15 South Main St., 215.862.7044), the latest in fine eating establishments from the maven behind Ruth's Chris Steakhouse.
Despite the uncanny atmosphere, all we encountered was some delicious Creole cooking, so what else was there to do but set off on a lantern-led ghost tour. Adele Gamble has witnessed her share of spookiness in her 30 years of leading Ghost Tours of New Hope (215.343.5564, $10). On Friday and Saturday evenings, she tells tales about the town's original eccentric characters and points out former entrance points to the Underground Railroad, a great way to learn about the town's rich history.
Foliage and Feasts
Our tour photos turned out specter-free, but the history lessons continued the next day. The New Hope and Ivyland Railroad (32 W Bridge St., 215.862.2332, $15.50) a vintage steam locomotive, makes hourly excursions through the scenic hills of Bucks County. The trip lasts approximately 45 minutes, during which time passengers learn about the history of Buck County and crane their necks out the windows as they choo choo by the beautiful landscapes.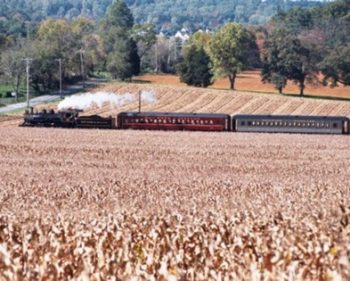 We capped our train ride off with lunch at The Landing (22 N. Main St., 215.862.5711), a hip spot next to Fred's, minus the entrance requirements and plus massive courtyard and panoramic views of the placid Delaware and picturesque Lambertville, NJ—a great place to enjoy the foliage over a hearty meal or a drink or two.
We biked off lunch with a journey just outside town to the 17th Century barn that is today home to the New Hope Winery (6123 Lower York Rd., 215.794.2331). The cavernous space is country-chic, with an eclectic decorating scheme that complements its vast and well-stocked antique store. In the cozy tasting area, guests can sample a variety of wines (tastings are free for up to four wines), the main attractions being the pristine fruit wines for which they are known.
As we headed back into town, Koryn and I stopped to watch a lady several yards away, on a pretty little block lined with tall trees whose color-tipped leaves would soon turn fiery with autumn. She appeared, we thought, to have a monkey on her shoulder. Or perhaps it was a ghost. . .
Where to Stay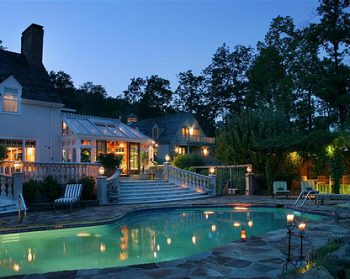 The Mansion Inn (9 South Main St., 215.862.1231) is a true French Baroque manor home, dating back to 1865 and recently renovated. Each of the two rooms and five suites is spacious and opulently decorated in gorgeous antiques. The location, right in the center of town, can't be beat, and breakfast is included in the dining room on the main floor. Evenings often see live music in the lovely back courtyard.
For a more removed stay, the Inn at Bowman's Hill (518 Lurgan Rd., 215.862.8090) is a cozy retreat just off River Road (an easy bike ride away). Breakfast changes daily, but always includes fresh organic eggs from the Inn's flock of free-range chickens (that also roam the grounds). The verdant five-acre estate is a relaxing oasis, from heated pool to long expanses of manicured lawn.
Inside Tips
Autumn is the ideal time to visit New Hope, not only for the endless foliage to be seen, but for the haunts that seem even more haunting during the month of October.
The Logan Inn (10 West Ferry St. loganinn.com) is the oldest and largest inn in town. Enjoy a delicious lunch in a beautiful setting and then head inside to see portions of the original building that are left over from the latest remodel. If you're truly brave, spend the night in room number 6…
The New Hope and Ivyland Railroad (newhoperailroad.com) offers special fall excursions, including a two and a half hour foliage excursion (weekends in October) and Halloween train rides.
The wooded towpath where mules once drew boats along the canal runs parallel to River Road, one of the most photographed routes in the state. Take a hie or rent bikes at the nearby New Hope Cyclery (newhopecyclery.com)
Ride out to Bowman's Hill Wildflower Preserve ($5) home to nearly 1,000 plant specials, all native to Pennsylvania. The daily 2:00pm tour is included in the cost of admission, or you can spend the day hiking on your own.
How to get to New Hope from NYC
Take the Transbridge Bus (Doyleston/Frenchtown/Flemington line) from Penn Station to New Hope. The bus stops at the UPS Store, Logan Square (6542A Lower York Road), and just down the road is the New Hope Cyclery (404 York Road), a short walk to rent bikes and ride into town. Alternately, get off the bus one stop earlier at Lambertville and walk across the bridge (approximately 10 minutes) into New Hope.
New Hope Getaway Featured Locations

View Weekend Getaway to New Hope, PA in a larger map. Header photo Oleg Duran.