Whether you're planning to place a pumpkin in your front window or on your stoop this Halloween, venturing away from the city to find the perfect gourd makes for a more adventurous autumn. And once you've caught a whiff of the crisp autumn air, and felt the crunch of colored leaves beneath your feet, you'll probably be craving sweet pumpkin pie and crispy salted pumpkin seeds to snack on while basking in the glow of your creatively carved jack o'lantern.
Each of the four farms we've chosen for pumpkin picking can be reached via train or bus from New York City, and each one will provide a taste of the country life while reminding you to soak up all that is autumn.
1. Queens County Farm Museum | Queens | queensfarm.org
Why the picking's good: Dating back to 1967, this is New York City's biggest swatch of peaceful farmland, covering 47-acres. Before you scramble to find a pumpkin, check out the charming old farm buildings.
The Pumpkins: According to staffer Kristin Allocco, the farm grows some of its own pumpkins and supplements with some from other farms. To keep the pumpkins pretty, Allocco said they were picked early and brought into the greenhouse to mature. She offered an essential tip for keeping a pumpkin fresh once you've carved it: smooth Vaseline over the cuts.
Special Events: The farm hosts several events throughout the season, including the free-to-attend Apple Festival, when the nation's largest apple cobbler will be baked in a massive pan over a roaring fire, the Children's Fall Festival, and a Haunted House.
When to pick: Visit Saturdays and Sunday in October to enjoy the corn maze, pumpkin patch, hayrides and pumpkin painting from 11:00 a.m. until 4:30 p.m.
How to get there: Take the E or F train to Kew Gardens/Union Turnpike Station, then the Q46 Bus (eastbound) to Little Neck Parkway stop. Cross Union Tpk and walk North 3 blocks on Little Neck Pky to the Farm Museum entrance. Or take the LIRR Port Washington Line to Little Neck Station; there is 24-hour car service located at the station to bring you the 2.5 miles to the farm. (73-50 Little Neck Parkway, 718.347.3276)
2. Greig Farm | Red Hook | greigfarm.com
Why the picking's good: Greig Farm sits amid Red Hook's gorgeous rolling hills and stretches of road-trip-worthy back roads draped in crimson leaves, and is within reach of a hodgepodge of Hudson Valley travel excursions. Plus, you can pick all varieties of apples and red and yellow raspberries after you grab your pumpkin.
When to pick: Every day, 9a.m.-7p.m.
How to get there: Take Amtrak north to Rhinecliff station, where taxis are available to bring you to the farm, located about 5 miles away. Call Red Hook Taxi 845.758.1478 (223 Pitcher Lane, 845.758.1234)
3. Fritz Lewin Farms | Calverton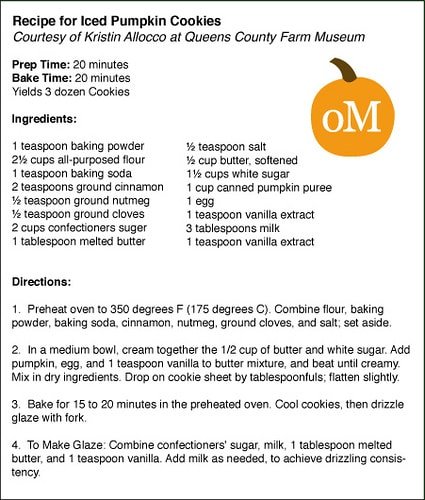 Why the picking's good: No-nonsense and strewn with pumpkin vines, this is the farm to visit if you're in the mood for rural rusticity. Pick your own plump pumpkin from the field, and stock up on vegetables and apples while you're at it.
When to pick: Daily, 9a.m.-4p.m.
How to get there: Take the LIRR to Riverhead and then get a Riverhead Cab to the farm, which is seven miles from the train station (1989 Sound Avenue, 631.727.3346)
Why the picking's good: Kitschy and catering to families, Decker Farm has unusual activities that go beyond basic hayrides—although they offer those, too. "There's always someone dressed in 1810 garb, doing some type of farm chore," explained Felicity Beil, director of education at Historic Richmond Town. Little ones are invited to try their hand at the old-fashioned chores before they pounce on the pumpkins, which include a mix of homegrown and trucked-in purchases from another nearby farm. "The vines get very prickly," which turns off some of the younger guests, Beil said.
Special events: Visitors are invited to walk around the giant cornfield on weekends.
When to pick: Weekends, 11a.m.-4p.m., including Columbus Day.
How to get there: From the Staten Island Ferry terminal, take the S74 bus to Richmond Road and St. Patrick's Place and catch the shuttle (running every 10 minutes and included in the $5 admission fee) to the farm site. (441 Clarke Ave.,  718. 351.1611)
Photo: Movement Six