Summer's here and there's no better time to enjoy a refreshing cocktail paired with savory treats and luscious nibbles. The following bars offer elevated culinary and beverage delights in stunning settings. Get ready to sip the summer away.
GITANO Garden of Love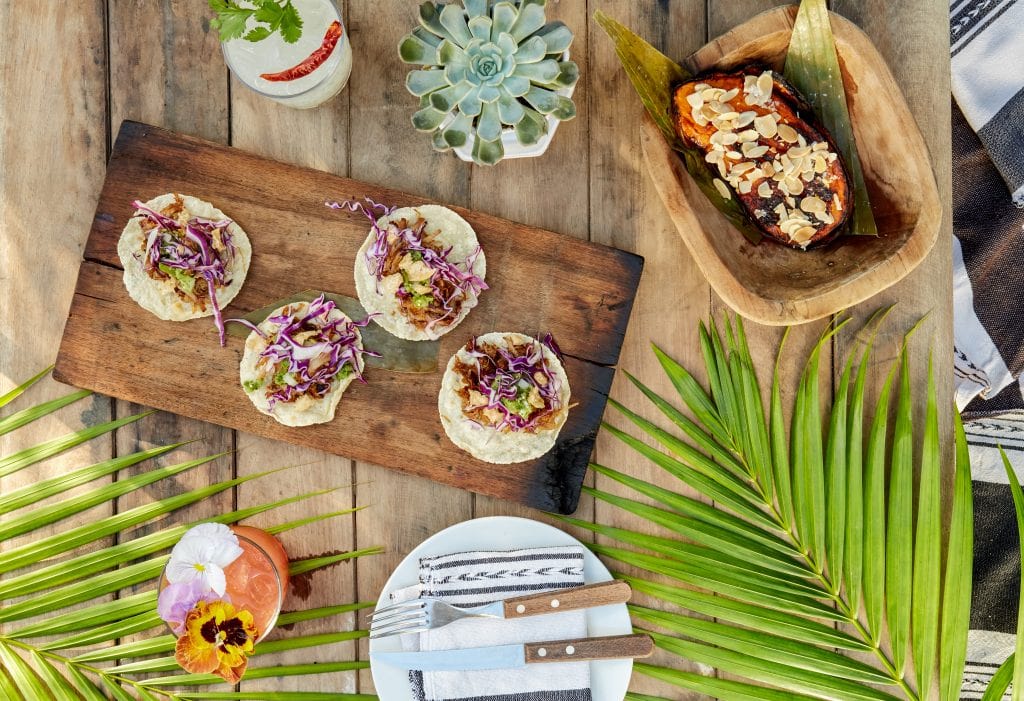 At GITANO Garden of Love, guests are transported to the tropical jungle of Tulum without leaving lower Manhattan. This outdoor restaurant and bar is dynamically framed by the downtown skyline. The festive space is resplendent with 30-foot coconut palms and hundreds of tropical plants, a giant black Bedouin tent, twin wood pergola dining decks and an open fire kitchen.
This season, a star-studded line-up of chefs will be creating special menus and cocktails. Combine this with compelling sustainability and community initiatives including clean energy, urban farming education and mindfulness programming, and you've got a hotspot worth a visit.
The innovative menu concept has been created by five of the world's most impressive international chefs who are united by their shared love for the cuisine of Mexico's Yucatán. This culinary dream team includes Mike Bagale, Michelin-Star Chef of Alinea in Chicago. Chef Bagale's Wild Shrimp Ceviche and Short Rib Pibil Tacos, served on house made tortillas with banana habanero sauce, are mind-blowingly delicious. Sip a Jungle Fever, made with Mezcal, cilantro, chile and lime, for the ultimate food and drink pairing.
There's a distinct focus on sustainability with a percentage of the proceeds supporting environmental initiatives. All single use plastic has been banned and solar power is utilized.
Connecting with and giving back to the community are at the restaurant's core. The onsite urban farm features 20 raised beds with over 50 crops of herbs, vegetables, fruits, and edible flowers. Last year, GITANO Garden of Love hosted nearly 1,000 public school students and the number is expected to more than double this season. The space will also offer guided sunset meditations daily.
GITANO Garden of Love is located at 76 Varick Street. Take the 1 train to Canal Street.
Lemon's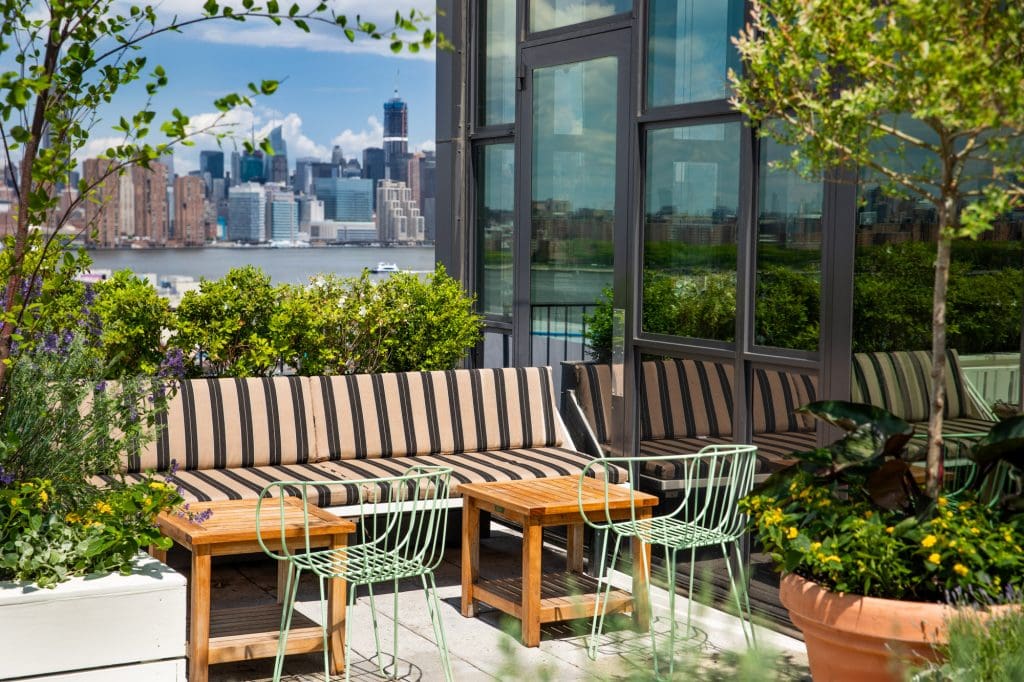 Lemon's is a new summertime rooftop bar at Wythe Hotel in Williamsburg that takes its inspiration from the sun-dappled shores of Italy. Think of it as an alfresco party on the Amalfi Coast- except here a view of the Mediterranean is replaced with the glittering Manhattan skyline.
The cocktail menu focuses on light, bubbly beverages paired with weather-appropriate eats. The vibe captures a dash of the aperitivo culture, a classic Italian custom of sipping a pre-dinner cocktail with light bites. Snacks of salumi and grilled calamari will look familiar to anyone who has lazed away a summer afternoon in the cafes of Capri. Italian-style toasted sandwiches, stuffed with ingredients like ham and tomato, are heartier nibbles.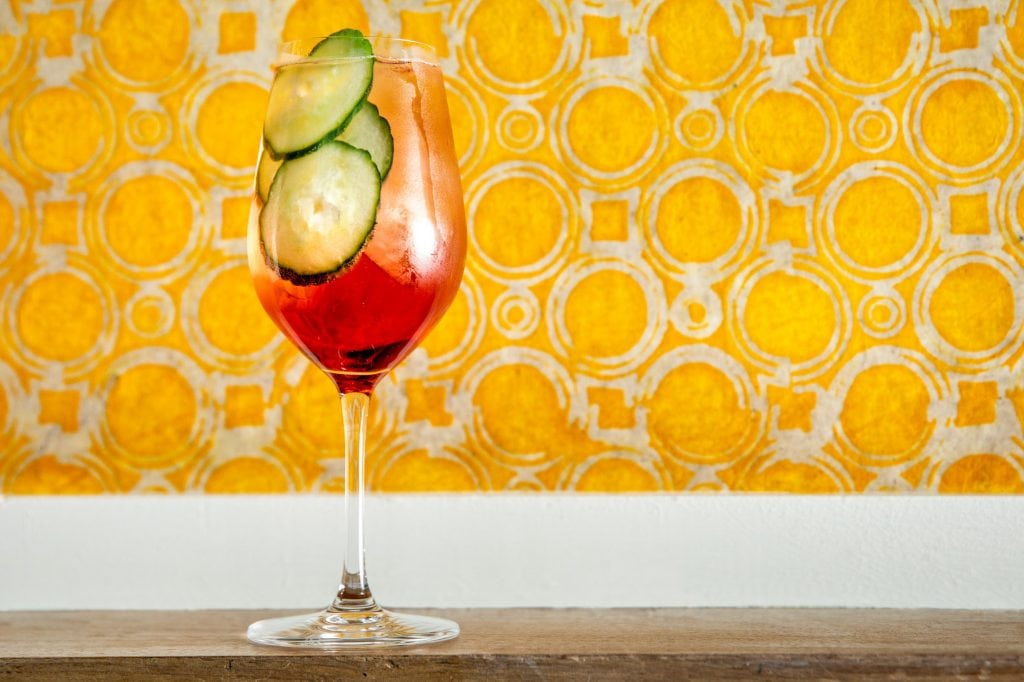 A selection of Low ABV spritz-inspired cocktails allow patrons to experience a tipple or three during the day while still being able to make their evening plans. The venue's namesake citrus is a spiked lemonade served in a vintage pitcher and garnished with lavender.
The design builds off of the vibrant colors found in coastal Italy. Vintage Nectarine-hued damask wallpaper adorns the venue's interior walls, complemented by sunset colored cushions on walnut wooden banquettes. An outdoor bar is nestled under a 40-foot retractable awning, with colorful umbrellas and strings of fairy lights adding a sprinkling of magic and a healthy dose of la dolce vita.
Lemon's is located at 80 Wythe Ave. in Williamsburg. Take the L to Bedford Ave.
Nobody Told Me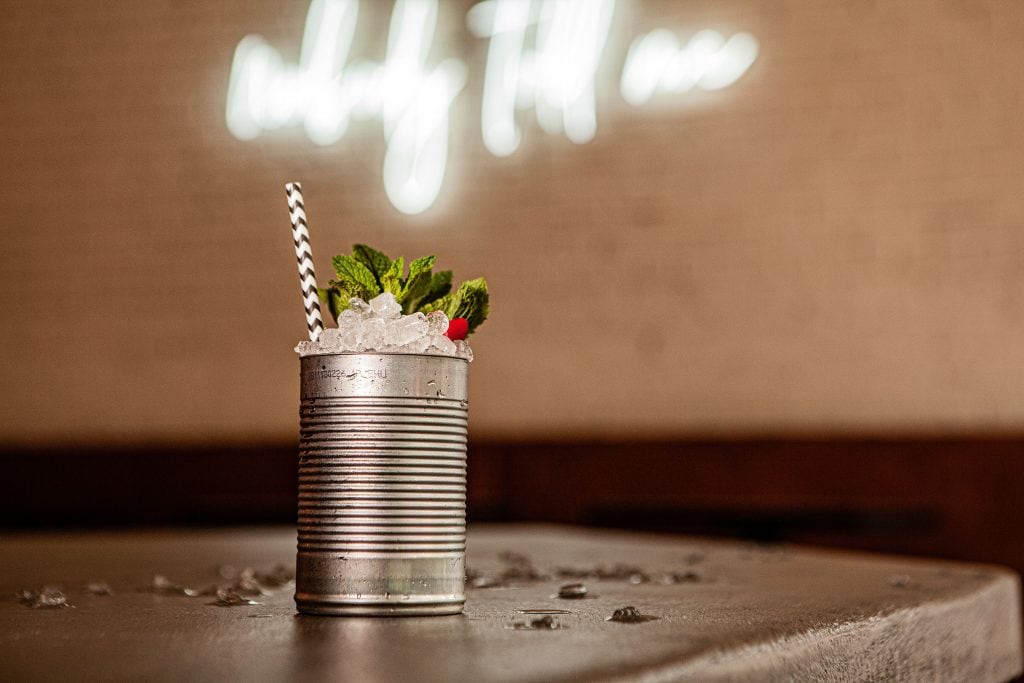 Nobody Told Me is a new cocktail bar on Manhattan's Upper West Side just a few blocks south of Columbia University. It brings tasty cocktails and delectable fare to an area with slim pickings when it comes to drinking and dining options. Co-owners Nick Pfanerstill, former chef de cuisine of Dovetail, and Alberto Miranda, ex beverage director of Belle Shoals, are serving what they refer to as "quality bar bites and cocktails at an affordable price".
Try the $5 Little Shrimp Roll, a plump tiger shrimp topped with spicy remoulade sauce, served on a toasted Hawaiian roll.
For something more substantial, order the 4-Hour BBQ Cabbage. It's prepared by slowly roasting green cabbage until it's sweet before it's charred on the griddle. It's topped with crispy kale chips for added crunch and texture.
The cocktail menu blends creative with classic. The Dia De Los Zombies layers joven and reposado tequilas with aperol, velvet falernum and allspice, served in a skeleton-laden prayer candle. The Pepper Jelly Julep is playfully presented in a frosty tin can, and spiked with house-made pepper jelly syrup and ancho chile liqueur.
Nobody Told Me is located at 951 Amsterdam Ave between 106th and 107th Street. Take the 1 train to 103 and Broadway.
Photo Credits: Nobody Told Me images courtesy of Spilled Milk Cocktails. Additional images courtesy of the venues.
Allison is a native New Yorker, who has lived in Rome, Tuscany, Melbourne, Toronto and Los Angeles. She frequently contributes travel pieces to Family Travel Forum, using her own children as guinea pigs as they travel the globe. She is fluent in Italian and Spanish and laughably adequate in French. Her background as an Early Childhood Educator gives her an added understanding of what it takes to travel with kids in tow. She firmly believes that the most important part of education takes place outside of the classroom, on the road, around the world. She never misses a chance to sample local delicacies, as her love for travel goes hand-in-hand with her love for food and wine. Follow Allison at @gourmetrav.