Mexico's Yucatán Peninsula boasts a coastline of pristine beaches and a lush interior rich in natural beauty. If you're seeking out-of-the box active adventures in the shadows of mystical Mayan ruins, start packing. Mérida, its elegant capital, offers a vibrant culinary scene and energetic street life filled with music, dance and color. Choose one of Merida's unique hacienda accommodations as your base camp and you may never want to say adiós.
Get Outdoors:
Cenotes are freshwater reservoirs unique to the region. These bodies of water can be open, closed, semi-closed or caves. The variations facilitate a variety of aquatic experiences, from a daring swim in dark cave to a dip in a sun-filled pool with water as green as an emerald. Some cenotes retain archeological vestiges from the time they were used as Mayan ceremonial sites, so be ready to snap a photo between strokes.
Cave diving is the adrenaline-pumping activity of choice. For those who enjoy diving into the depths, it provides an incomparable experience. This adventure is available to those with diving certifications at various locations, including X'kekén and Ek Balam.
Explore the lagoons, mangroves and estuaries along the Yucatán's coast in kayak. Spend an afternoon paddling and you'll discover natural scenery not otherwise accessible. Celestún is a laid-back fishing village west of Mérida, home to secluded stretches of beachfront and simple palapas serving up some of the freshest seafood in the area. The Celestún Biosphere Reserve is a coastal wetland reserve and wildlife refuge spanning 146,000 acres. Rent a kayak to explore the lagoons and mangroves that are home to over 300 different wildlife species, including 40,000 flamingos. It's the ideal way to experience the region's unique flora and fauna.
Insider Tip: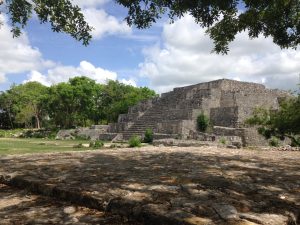 No trip to the area is complete without viewing the famed Mayan archeological ruins. Chichén Itzá and Uxmal are phenomenal day trips, but the Mayan city of Dzibilchaltún is only 12 km north of Merida, accessible via public bus right from the center of town. Stroll the lushly landscaped path flanked by shady trees that leads to the camera-ready Temple of the Seven Dolls. When you've finished contemplating the complexities of this advanced civilization, take an invigorating dip in the on-site cenote and you've combined history and refreshment in perfect proportions.
Stay Here: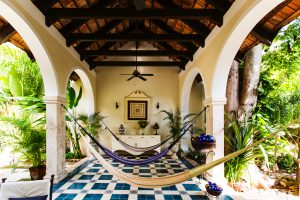 Reserve a room in one of Merida's dozens of restored haciendas and you'll soak in authentic decor and enjoy highly personalized service. The beyond attentive staff will help you book day trips, hire a private guide or direct you to public transportation. Flawless in-town boutique retreats include Casa Lecanda and Hotel Hacienda Merida.
Eats and Drinks: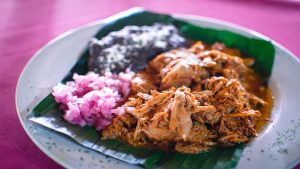 The local cuisine's unique flavor profile derives from a blend of native ingredients mixed with flavors imported by the Spanish during the Colonial era. A smattering of innovative contributions from around the globe including the Caribbean, Europe and the Middle East, add to the mouth-watering melting pot.
To sample traditional versions of regional specialties, head to La Chaya Maya. Order Cochinita Pibil and you'll feast on slow-roasted pork marinated in a savory sauce of annatto and sour orange. The results add up to a dish with soul-satisfying flavor.
How To Get Here:
There are nonstop flights to Merida from several U.S. cities, or connect via Miami or Mexico City.
For additional information, visit gotoyucatan.com.
Photo credits: Yucatan Tourism and the author