Cincinnati presents a healthy dose of urban pleasures yet is light on big city stress. Its residents are proud of their working class traditions, but not bound by them. Locals are loudly supportive of their beloved pro sports teams, but a thriving art scene is equally embraced. If you like your urban centers convenient to nature, Cincinnati is spoiled rotten with a wealth of leafy parks literally just minutes from the city center.
Though the city is forging into the 21st century with plenty of innovation, prices remain modest compared to other big cities. It's compact core makes it pedestrian-perfect and its bike share program is a user-friendly breeze. Big bucks are flowing into its public transportation infrastructure, increasing the options for those who like to travel without a personal vehicle. Here's the scoop.
Get Outdoors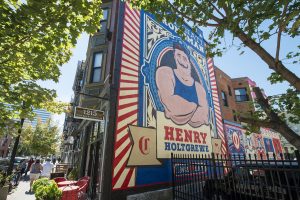 Cincinnati's bike share, Red Bike, works like a charm. Hop on a candy-apple red cruiser and pedal over to lush and lovely Eden Park. This hillside urban oasis is home to the stately Cincinnati Art Museum where admission is always free. If you still crave green, Mt. Airy Forest's multitude of easy hiking trails are verdant gems just begging to be explored. Washington Park's Tuesday night community yoga class is a blend of asana, breath work and meditation. If it's raining, head to The Yoga Bar. In warmer weather, Fountain Square's free events include Salsa on the Square each Thursday, with live music and dance instruction. When the temperature drops, ice skating is the perfect diversion. With over 100 bold and colorful public murals, Cincinnati embraces public art in a big way. Keep your eyes open wide for a visual treat as you walk or pedal around town.
Eats+ Drinks
Mita's dynamic young Chef Jose Salazar is a major player in Cincinnati's blossoming dining scene. Though raised in Queens, this city has adopted him as their culinary poster boy. To get a feel for his pan-Latin menu, order tapas-style and taste a wide variety of small-plate offering. The creative bites pair perfectly with the white, red or rosé sangria.
Feast on a well-rounded smattering of the best edibles in town when you join Cincinnati Food Tours. Founded by Barb Cooper, she is a passionate advocate for all things Cincinnati. Choose one of the itineraries that explore the revitalized Over The Rhine neighborhood and you'll sample this town's most delectable eats.
Stay Here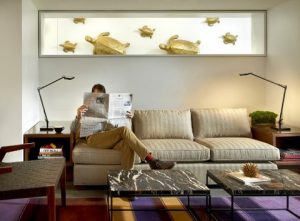 21c Museum Hotel is a downtown hotel that doubles as a public art gallery, epitomizing this city's creative edge. Rotating site-specific installations by living artists make the hotel an epicenter of current culture. Rooms are spacious and include playful touches such as yellow plastic penguins. It is located next door to the Contemporary Arts Center with its funky rotating exhibits and free admission.
Insider Tip
No trip to Cincinnati is complete without spending time in Over-the-Rhine, locally known as OTR. This hipster enclave is on the verge of booming, but it remains true to its modest roots. The neighborhood is anchored by Findlay Market, one of the country's oldest continuously operating public markets, a beacon of fresh food sold at reasonable prices. Browse the independently owned shops, eat an old-fashioned donut at Holtman's and sip a beer at Taft's Ale House, named for hometown boy and 27th U.S. President William Howard Taft. Car-free travelers can finally access this trendy zone with ease, thanks to the spanking new Cincinnati Bell Connector streetcar. It connects OTR with downtown and stops near most major destinations on its 3.6- mile loop, a vital complement to the city's existing public transportation network. At $2 for an all-day pass, it's a steal.
How To Get There
It's a 100-minute nonstop flight from New York's LaGuardia Airport to Cincinnati on Delta, United and American Airlines.
For additional information, go to www.Cincinnatiusa.com.
Photo credits: The Enquirer/ Jeff Swinger, Gina Weathersby, Wendy Pramik and 21cMuseum Hotel