PRINCETON, NJ—Faced with a spring weekend and an urge to get out of town, Princeton may not immediately come to mind as a possible destination. What could a university town in New Jersey offer someone (possibly even a student looking to escape books and teachers) in the way of good food, relaxation, fresh air, and culture? More than you might expect. Here's our short guide of what to do in Princeton.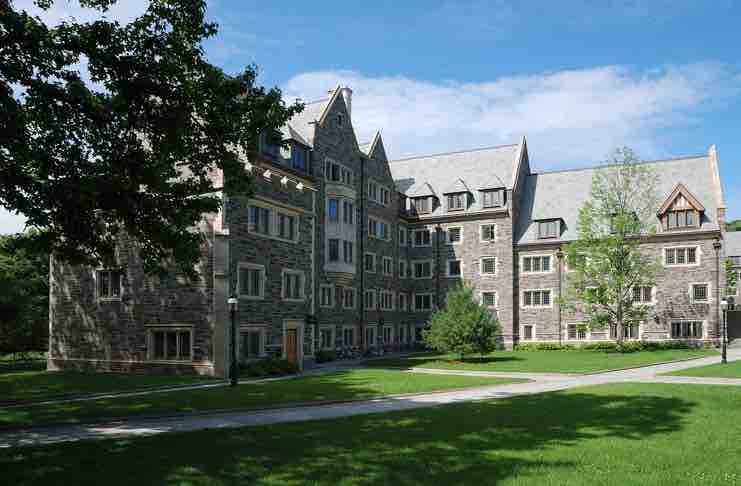 Roughly an hour's trip from Penn Station, the Princeton train depot is conveniently located in the heart of its university campus. Princeton University, founded in 1746 as the College for New Jersey, boasts a bevy of charming architecture styles and a great deal of pleasure can be taken in simply strolling the grounds. One notable stop on campus is McCormick Hall, part of the Princeton University Art Museum.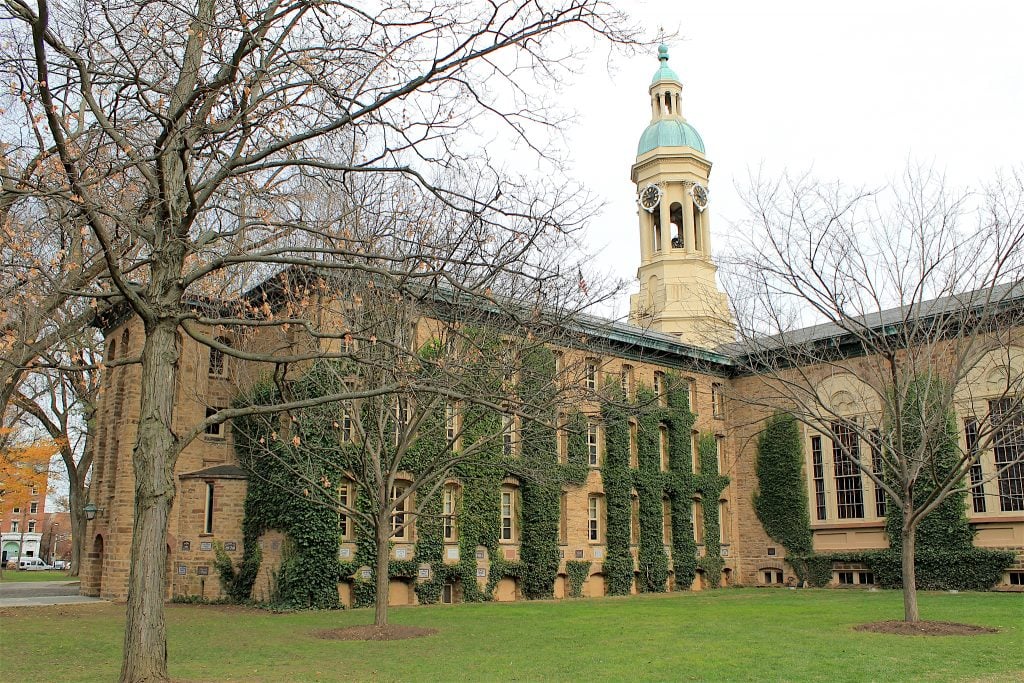 This venue houses an impressive permanent collection (68,000 works exhibited on a rotating basis) including ancient antiquities, and Renaissance, Impressionist, and modern works by the likes of Warhol, Picasso, Monet, and Toulouse-Lautrec. You'd expect to pay a reasonable sum for a ticket, but admission is free.
Should you be looking for evening entertainment, the McCarter Theatre regularly hosts concerts, ballet, orchestra, and ground-breaking theatrical productions including a recent run of Mary Zimmerman's "Argonautika."
Downtown Princeton is easy to explore on foot. Walking north out of campus, you will hit Nassau Street—Princeton's main drag. At its intersection with Washington Road, you will find Bainbridge House, one of the oldest buildings in town on its original foundation.
Bainbridge House functions as the home to the Historical Society of Princeton, hosting exhibits on historic Princeton and acting as a showcase of mid-Georgian architecture. Continuing west on Nassau and onwards to where it merges with Stockton Street (Route 206 South), you will come to the site of several sculptures including the Princeton Battlefield Monument and EMC, a square (herein lies the joke) of granite featuring a bust of Princeton's favorite adopted son, Albert Einstein.
Heading a couple of blocks further down Stockton Street will bring you to the historic mansions Morven and Drumthwacket. Tours of Morven are $5.00 and are purchased at the old wash house (now gift shop) on the grounds; Drumthwacket is the active governor's mansion and tours are available by appointment.
If you're in the mood for a detour, find Mercer Street on a map and look for address 112. The home is a private residence and is not open to the public (as Einstein requested in his will), but in locating it, you can say you've seen where Albert Einstein lived.
In the event all this searching for Einstein has left you wishing for a museum dedicated to the man and his work, you'll find one as unconventional as the man himself in the back of a store on Nassau. Landau has been open for business 53 years and is run by three generations of folks who know their wool.
They stock hats, socks, Princeton University logo clothing, and provide the free mini-museum dedicated to Albert Einstein. A trove well worth the stop.
Once you've worked up an appetite, there are many options for multiple budgets. Zorba's Brother on Nassau serves breakfast, lunch and dinner with a Greek-diner touch. Heading east on Nassau, Hoagie Haven—a favorite with college students—offers good, cheap, and greasy burgers, fries and sandwiches. Teresa Caffé (located on Palmer Square just off Nassau) has a nice wine list and solid northern Italian cuisine with fine flavors.
You can satisfy your caffeine craving at Small World Coffee on Palmer Square and take in the relaxed vibe and local art exhibited on the walls. Ice cream is a popular pastime in Princeton: you can find good, cold doses of dairy at Thomas Sweet Ice Cream on Nassau, and at the Bent Spoon and Halo Pub, both located on Palmer Square. Halo Pub stays open later than many places in town and in warmer months has a line out the door.
If you'd rather do a little picnicking, grab some grub at Olive's on Witherspoon. You can enjoy your meal on one of the benches surrounding Palmer Square or take your bounty and walk over to Princeton Turning Basin Park at Lake Carnegie. Picnic tables are available, hiking and biking trails are to be had, and canoes are available for rental.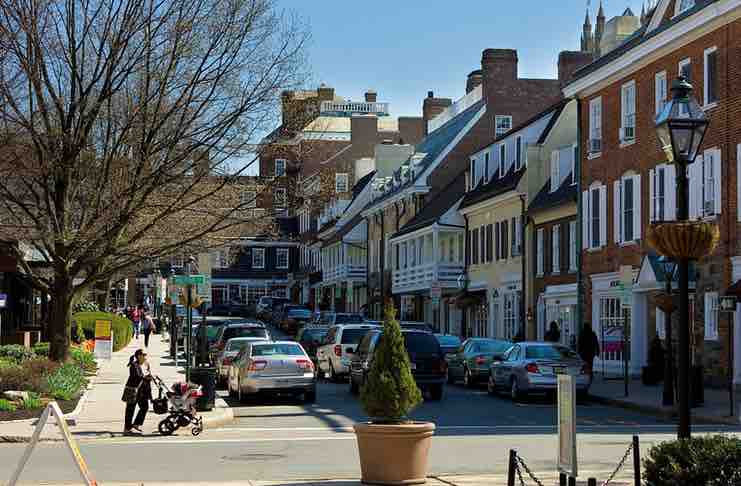 If shopping is more your style and you aren't interested in the little trek over to the Princeton Shopping Center on Harrison Street, there are still wares to be had nearer by. In addition to familiar ivy-league staples like Ann Taylor, J Crew, and Banana Republic, local chocolatiers, lingerie, clothing and home accessory boutiques are plentiful on Palmer Square.
If you're looking for funky local shops, check out Jazams toy shop, pick up some cigars at A Little Taste of Cuba, or find yourself one of those hard-to-find disks at Princeton Record Exchange.
Should all of this sound like a little too much adventure to fit into one day, easily-accessible lodging can be found at Nassau Inn on Palmer Square or The Peacock Inn bed and breakfast, located on Bayard Lane. Stay for a few hours or stay a while longer than that. However long your visit, enjoy Princeton—it does Jersey proud.
How to get there: Princeton is accessible from Penn Station via NJTransit's Northeast Corridor line to Princeton. (You will transfer at Princeton Junction to the shuttle train affectionately known by locals as "the Dinky" to Princeton. Hold onto your ticket for the transfer.) For access to the latest station to station schedule, click here.
Featured Locations

Culture
Princeton University Art Museum | McCormick Hall | 609.258.3788 | princetonartmuseum.org
McCarter Theatre | 91 University Place | 609.258.2787 | mccarter.org
Historical Society of Princeton | 158 Nassau Street | 609.921.6748 | princetonhistory.org
Morven | 55 Stockton Street | 609.924.8144 | morven.org/
Drumthwacket | 354 Stockton Street | 609.683.0057
Landau | 102 Nassau Street | 609.924.3494
Dining
Thomas Sweet Ice Cream | 183 Nassau Street | 609.683.8720
Zorba's Brother | 80 Nassau Street | 609.279.0999
Hoagie Haven | 242 Nassau Street | 609.921.7723
Teresa Caffé | 21 Palmer Square East | 609.921.1974 |
Small World Coffee | 14 Witherspoon Street | 609.924.4377 x2
The Bent Spoon | 35 Palmer Square West | 609.924.2368
Halo Pub | 9 Hulfish Street | 609.921.1710
Olive's Deli & Bakery | 22 Witherspoon Street | 609.921.1569
Shopping
Princeton Shopping Center | 301 N Harrison Street | 609.921.6234 |
Jazams | 15 Hulfish Street | 609.924.8697
A Little Taste of Cuba | 70 Witherspoon Street | 609.683.8988
Princeton Record Exchange | 20 South Tulane Street | 609.921.0881
Lodging
Nassau Inn | 10 Palmer Square | 800.862.7728
The Peacock Inn | 20 Bayard Lane | 609.924.1707
See our guide for getting to Princeton from NYC without a car.
Photos: Courtesy of Amy Lee Pearsall and Patrick Nouhailler.jpg