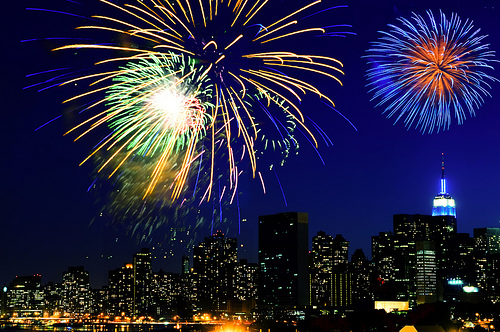 From a family-friendly barbecue on a historic boat ride up the Hudson River to fireworks in the Hamptons, a concert on Governors Island, and a block party in D.C., here are 14 July 4th activities, events, and hotel packages to make your holiday getaway feel complete—even if it just means watching the sparks soar from another borough.

1. See who has the gut to bring home the glory at the annual Nathan's Famous 4th of July International Hot Dog Eating Contest on Coney Island.
How to get there: Take the D, F, N or Q to Stillwell Avenue
2. Teach your family about nature's bounty at the Stone Barns Garlic Weekend July 3-4. Events range from a garlic tasting to story time for the kids to picking eggs from the coop and a picnic on the hill. Remember to pack mints in your basket.
How to get there: Take the Metro North Hudson line to Tarrytown. For scheduling and additional train information, visit mta.nyc.us. Taxis should be available at the station, which is a quick ride away from the center.
3. Take the water taxi to Governors Island on July 4 to hear indie duo She & Him with your toes in the sand. Doors open at 12pm, concert starts at 4pm, all ages welcome.
How to get there: Take the 1 to South Ferry, the 4/6 to Bowling Green or the R/W to Whitehall Street Station. The water taxi leaves from the Battery Maritime Building at 10 South Street.
4. Visit Philadelphia's Wawa Welcome America Festival and spend your weekend in one of the country's most historic cities. The kids can stuff themselves with all-you-can-eat ice cream for just $5 on July 3. On the big day, the whole family can enjoy the Party on the Parkway, and at 8pm, the Goo-Goo Dolls put on a show, followed by fireworks.
How to get there: Consult offManhattan's Philadelphia Transportation Guide
5. The Hamptons aren't just about posh summer homes. Take the kids to Southampton's 4th of July parade for the day. The festivities begin at Railroad Plaza.
How to get there: Take the Hampton Jitney or LIRR to Southampton
6. Head down to our nation's capital and join a block party hosted by the Willard InterContinental, complete with live rock starting at 5pm. Enjoy barbecue classics as well classics with a twist, like the Café du Parc's Kobe beef hot dogs.
How to get there: Consult offManhattan's D.C. Transportation Guide
7. Update: This promo may no longer be available due to sold out rooms. If you're making a weekend of it in D.C., take advantage of Kimpton's 1776 hotel promo. When you book Friday and Saturday nights at the pet-and-eco-friendly properties—like the Topaz Hotel (from $129), Hotel Helix (from $129), and Hotel Palomar (from $149)—you get to stay Sunday night for free. (Use promo code 1776.)
How to get there: Consult offManhattan's D.C. Transportation Guide
8. You and your little ones might learn a thing or two about our country's independence at Prospect Park's Lefferts Historic House. Get creative while crafting fancy patriotic hats GW would approve of.
How to get there: By subway: 2 or 3 train at Grand Army Plaza station. Q train at Parkside Ave. station and Prospect Park station. By Bus: B41 or B71 along Flatbush Ave. to Grand Army Plaza or Ocean Ave. B69 along Prospect Park West.
9. Atlantic City isn't just for playing the slots. The holiday weekend kicks off with fireworks at 9:30p.m. on Friday night near The Piers at Caesars.
How to get there: Consult offManhattan's new Atlantic City Transportation Guide
10. Swing into the weekend early with a live performance by Joe Battaglia and the New York Big Band with live fireworks on Wednesday, June 30, part of the Central Astoria Waterfront Concert Series. The Department of Parks & Recreation calls this one a must-see.
How to get there: Take the Main St. Flushing-bound 7 line to Queensboro Plaza, then take the N/W to the Ditmars stop, get off at Ditmars Blvd. in Astoria.
11. Nothing says summer like fresh berries. Spend the weekend indulging in red, white and blue berry cocktails and mocktails at Driscoll's Berry Concierge in the lobby of your local Loews Hotel.
12. Some of the best views of the Macy's Fourth of July Fireworks are actually in New Jersey. Head to the swank W hotel in Hoboken and sip cocktails in their velvety Chandelier Room lounge.
How to get there: Take the PATH train to Hoboken Terminal, and walk 2.5 blocks north on River Street to the hotel.
13. Enjoy a lazy ride along the Potomac and watch fireworks from the best spot in D.C.—between the Jefferson Monument and the Lincoln Memorial. The D.C. Cruise serves three kinds of pizza and offers a cash bar. Sail away on July 3.
How to get there: Consult offManhattan's D.C. Transportation Guide
14. Cool off while enjoying a barbecue on a historic riverboat ride up the Hudson River. Purchase tickets at www.fohrp.org. Adults, $25, children,$10
How to get there: Take the 1 to Houston Street