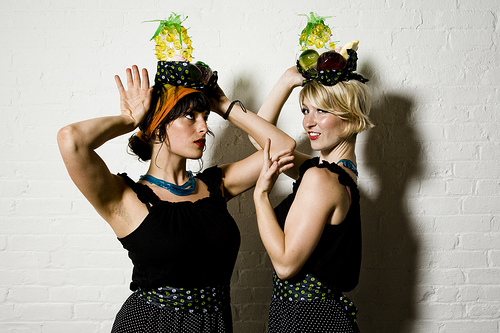 What: Jell-O Mold Design Competition
When: Saturday, June 26, 6-10 p.m.
Where: The Gowanus Studio Space, Brooklyn, NY
Why: Last summer, Nadia Siddiqui and Michelle Zatta were the inaugural wiggle behind Brooklyn's first Jell-O Mold Design Competition. It was a venue for design types to explore their creativity in an economical way despite the economy. This year their eternal love for the dessert coupled with the European revival of a 1939 British poster slogan serves as inspiration for the themed design competition—Keep Calm and Wobble On.
The Jell-O Mold competition allows entrants to explore design on a budget considering the affordability of the medium. Anyone is welcome to watch and sample, but the lid is tight on submission entries, so Zatta advises contestants to keep in mind the resilience of Jell-O's physical properties, to re-contextualize Jell-O, and innovate with its design and culinary uses. "Jell-O is springy, wobbly, durable, and resilient, and at this point in time, it seems a lot of people are too," said Siddiqui. "We are all doing our best to keep calm, but sometimes things get wobbly–and that's okay, wobble on."
Entrants will compete for a grand prize package including $400 in cash, a feature on Make: Online and Craft websites, a spot for their Jell-O creation in the 2010 Last Supper Festival and a slice of pie and coffee from the now Brooklyn-based Four and Twenty Blackbirds bakery. Custom-made jell-o shots will be on hand as well as Keep Calm and Wobble on merchandise.
With molds coming from architects, bakers, chefs, designers, engineers and students, expect Sunday's competition to end in colorful, tasty consumption.
Cost: Free, $5 suggested donation
How to get there: Take the F train to 4th avenue. Exit near 9th and 4th avenue. Head North on 4th towards 8th street. Make a left on 8th street. (Gowanus Stuido Space, 119 8th Street, gowanusstudio.org)