Vacations are meant to be fun and full of adventures. While you're on your next getaway, you can try many new and exciting things with the whole family. This is a great way to make memories that will last for years. From visiting a museum to having a picnic at the beach, these nine family-friendly activities will bring lots of enjoyment and quality bonding time.
1. Road Trips
Road trips can be a great way to spend time with your family while discovering some amazing places. Also, with modern GPS navigators that tell you right away what's up ahead or even plan the whole route, carrying a map is no longer necessary.
Traveling by car offers flexibility, allowing you to make stops whenever and wherever you'd like. Whether it's getting out of the car to take in a view, spotting wildlife from afar, or just finding a new spot for lunch, nothing can compare to being able to explore a region at your own pace.
Remember to pack plenty of snacks, water, games, and a great playlist to enjoy on the way.
Here are some great tips for road trips with kids:
2. Go Camping
Camping is a great way to disconnect from technology and reconnect with nature. It's also an activity that can involve as many people as you like, making it perfect for larger families or groups of friends. You only need a few supplies for the camp; your sleeping bags, a tent, and some firewood to make s'mores.
There are many camping spots worth exploring, so look up local parks and pick the most suitable for your family. If camping with children, consider somewhere with an interesting nature trail they can explore or a lake where they can go fishing.
Here are some great tips on how to camp with kids:
3. Nature Walks
Get outside and explore local nature trails together as a family. Whether bird watching or leaf collecting, nature walks are great ways to bond while learning about the outdoors. You may also even spot some wildlife along the way.
It is best to wear comfortable clothing, hats, and sturdy shoes for your nature walk, as well as bring along a field guide or map to help identify plants, animals, and insects. Walking with your young kid under the sun can be tiring; however, investing in a stroller and accessories like a stroller fan can make your experience more enjoyable. Visit Diono, a leading manufacturer of strollers and other baby accessories, to find the perfect solution for your nature walking needs.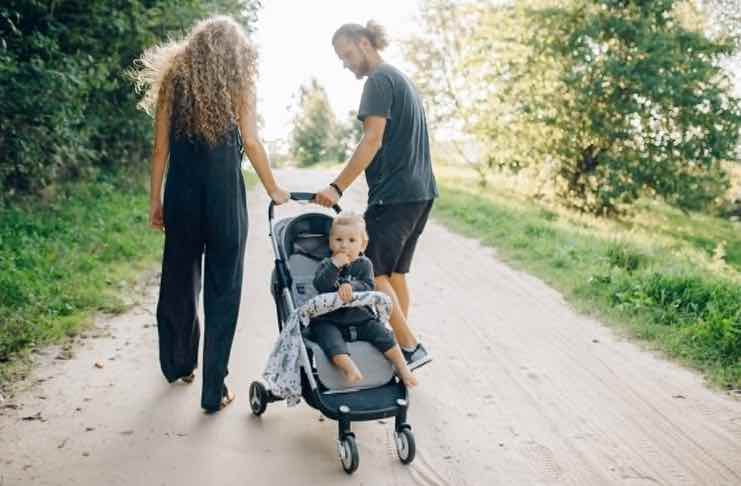 4. Hiking
Hiking is a great way to explore the outdoors and get some physical activity while you're at it. That's why it makes for a perfect family outing. However, you will need comfortable clothing, footwear, water, and snacks to energize everyone throughout the hike.
Depending on how adventurous your family is or their age, you can choose a shorter trail with incredible scenery or a more challenging one that will take all day. Remember to bring a camera to capture some of the beautiful views and create lasting memories.
Watch this to learn a few tips on hiking with kids:
5. Visit a Museum
Museums are great places for learning and discovering new things. Kids love exploring them, and it's a great way to get them interested in history, art, or science. You can find many interesting exhibits that will keep everyone entertained for hours. Also, many museums have interactive displays that allow your kids to get hands-on with history and science.
Whether you're visiting an art museum with paintings from famous artists or a natural history museum with dinosaur skeletons, the possibilities are endless. Be sure to check the time and admission fee for each museum and special events or activities that may be going on during your visit.
6. Skiing
Skiing is the perfect activity for wintertime family fun. With lessons available for all ages, it's easy to get everyone in on the action. Make sure to dress appropriately and always wear a helmet while skiing. Most ski resorts rent gear for children and adults if you don't have your gear. So be sure to fit your family in the correct size.
Look for ski resorts that offer group lessons so you can all learn as a family. It's also good to check out deals on lift tickets and packages before heading out, as many ski resorts offer family discounts. Remember that skiing can be pretty tiring, so plan some breaks during the day, including hot chocolate and snacks.
7. Beach Days
The beach is a classic summer activity that never gets old. Pack snacks and sunscreen and spend quality time building sandcastles or playing volleyball together. Kids love exploring tide pools and collecting shells too. Be sure to check the beach's website for any rules, restrictions, or warnings. Also, bring some chairs and umbrellas if you want to take a break from swimming and sunbathing.
8. Kayaking
Explore a lake or river together on a family kayaking trip. This is a great activity for older kids, and it's also very safe with life jackets and helmets. Kayaking is also excellent for exercising, so you and your kids can get a workout while having fun.
When kayaking with children, it's best to stick to calmer waters, and don't forget to bring snacks, water, and sunscreen for the whole family. Before setting off on your trip, ensure everyone knows how to paddle their kayak and stay safe in the water by taking kayaking classes. You can also rent kayaks from a local company if you don't own one.
Here's a good video to learn how to kayak with kids:
9. Visit an Amusement Park
No family vacation is complete without a visit to an amusement park. This is a great way to have fun, explore new places, and experience thrilling rides. Most amusement parks have kid-friendly rides that are perfect for little ones and more extreme rides for older children and adults. Check out the park's website beforehand to plan your day and know which attractions your family would enjoy the most. Amusement parks can get very crowded, so it's a good idea to arrive early and take advantage of shorter lines.
No matter what activity you decide to do, family vacations should be about making memories and having fun together. With these ideas, your family will enjoy an amazing vacation that everyone will remember for years to come. Carry a camera to capture memories and always check the weather forecast to make sure that you have the perfect day for your family adventures.