Canada is one of the most breathtaking countries in the world. In its vastness, there's no shortage of experiences to encounter. There are rugged coastlines, pristine lakes, towering mountains, and picturesque small towns. And the best way to take them all in is by taking the scenic route via a land trip.
Canada has an extensive road network, which is enough to circle the world 22 times! As such, you have plenty of opportunities for fun and epic road trips at The Great White North. Planning can be intimidating, especially if you're doing it for the first time.
Are you clueless about where to go for a road trip in Canada? Read on and we'll share some of the best experiences you should not miss. As a bonus, we'll also give you some tips on how you can plan your trip.
7 Road Trips at The Great White North
If you want to take a break from the daily hustle and explore Canada through a road trip, below are some of the options that should be on your radar.
1. Sea to Sky Highway in British Columbia
The name itself should already give you a vivid picture of what to expect from this Canadian getaway (see the featured image above). Also called Highway 99, the Sea to Sky Highway has winding roads that pass through five biogeoclimatic zones. It's an intensely scenic route that will take you from coastal areas to rainforests.
With a length of 101.36 miles (163.13 kilometers), a road trip along the Sea to Sky Highway will take one to three days. You can start your drive in downtown Vancouver, then head to North and West Vancouver. The trip can also stop at Horseshoe Bay, wherein a waterfront playground can be a great pitstop. Going further, you might also want to stop at Porteau Cove Provincial Park, Britannia Beach, Squamish, Brackendale, and Whistler.
If you want to go on a hassle-free trip along the Sea to Sky Highway, consider boarding a direct and affordable express bus. Check the schedules online and plan your next getaway now.
2. Cabot Trail in Nova Scotia
Are you looking for things to do in Nova Scotia? You don't have to pick just one. For the ultimate experience, consider going on a road trip at the Cabot Trail and along the stops, you'll have a lot of fun. It's a 186-mile (298-kilometer) highway with stunning coastal and valley views while also offering plenty of activities for everyone to enjoy.
To make the most of your trip, we recommend spending at least three to five days. You'll have a lot of outdoor activities to enjoy, including hiking. Local seafood is not to be missed as well, which will include a feast on lobsters, crabs, clams, and oysters. More so, there are exciting music, sporting, and food events depending on the time of your trip.
If you're an outdoor enthusiast, you'll surely enjoy hiking on one of the many trails, which may sometimes end with a majestic view of the glorious sunset.
Watch this to get a glimpse of what to expect:
3. Fundy Coast in New Brunswick
The Bay of Fundy is one of seven natural wonders of North America. In addition, it's popular for having the world's highest tide, with up to one hundred billion tons of water flowing in and out of the bay two times a day. It's a must-see in New Brunswick, and one of the best ways to experience such is by taking a road trip to the Fundy Coast.
With a length of 286 miles (460 kilometers), the drive at Fundy Coast can take seven to ten days, depending on the stops you plan along the way. Most will start their journey in Moncton. While you can plan many stops, one that you must not miss is The Hopewell Rocks. Nonetheless, it's best to check the tide table to experience this attraction at its best.
Another must-do activity is kayaking in sea caves. After you're done, you can get the most sumptuous and hearty clam chowder in a restaurant by the coastline, or you can also have an enjoyable lunch at a private beach.
Watch this amazing place:
4. Dempster Highway in Yukon
Stretching at a length of 458 miles (740 kilometers), the unpaved route of Dempster Highway is another great addition to your Canadian road trip bucket list. It's perfect for people who are looking for off-the-beaten-track destinations. From abundant wildlife to dramatic landscapes, it has plenty to offer.
During your trip, Tombstone Territorial Park is one of the best stops. Here, you'll enjoy scenic vistas and exciting wildlife sightings. Next, you'll be crossing the Arctic Circle. The best time to be here is during the summer solstice, which is when the sun circles the sky and does not set. You can then continue your drive to Inuvik where you can check the Igloo Church.
One way to make your trip even more fun is to tour the goldfields. You can see for yourself the result of the large-scale mechanized mining at Dredge No. 4. And at one point in your tour, you can even have a first-hand experience with gold-panning. Whatever you find is yours to keep.
5. Icefields Parkway in Alberta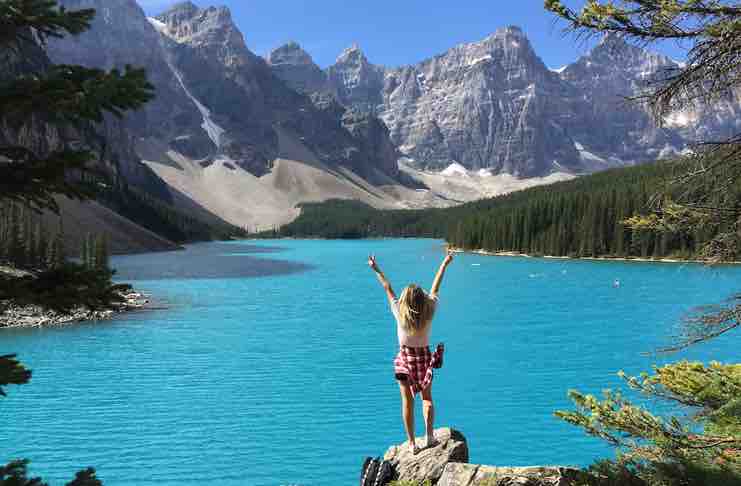 Journeying through the Banff National Park and Jasper National Park, the Icefields parkway is undoubtedly one of the most scenic road trips in the world. It has a length of 144 miles (232 kilometers), which you can easily cover in a day. Nonetheless, with plenty of amazing stops along the way, it's best to have a couple of days.
Among others, here are some of the points of interest you might want to include in your itinerary: Bow Lake, Saskatchewan River Crossing, Weeping Wall, Parker Ridge, Glacier Skywalk, and Athabasca Falls.
6. Le Gaspésie Peninsula in Quebec
If you have seven days to spare exploring Quebec and surrounding areas, you might want to try a road trip to the Le Gaspésie Peninsula one day. It goes beyond Quebec City, so you'll have a lot of things to do aside from exploring French heritage.
One of the highlights of this road trip is a visit to Perce UNESCO Global Geopark. It's a great place to admire stunning rock formations. The Forillon National Park is also popular, which has hiking trails and forests teeming with wildlife. Meanwhile, at the Reford Gardens, you can see over 3,000 varieties of exotic and native plants.
Watch this lovely clip to get excited:
7. Lake Superior Circle Tour in Ontario
Wrapping up our list is the Lake Superior Circle Tour, which has a length of 1,300 miles (2,092 kilometers). You can spend one week here and feel like you still need more time. It goes around the largest natural freshwater lake in the world. It does not only cover Ontario, but the lake also crosses three states in the U.S. – Minnesota, Wisconsin, and Michigan.
Some of the attractions that you can add to this road trip are the Canadian Bushplane Heritage Center, Kakabeka Falls, Thunder Bay, White River, and Batchawana Bay. You can start and end this trip in Sault Ste. Marie.
Tips for Your Canadian Road Trip
Before you head out of the Empire State and jet off on a road trip to the Great White North, here are some tips to have the best experience.
You'll be driving for a long time, so your vehicle should be in perfect condition. This way, you can stay safe and sound. Whether you're bringing an RV or sedan, you should always check the brake pads. In addition, you must inspect the tires, making sure they have the right pressure and you have a spare. Check the levels of all liquids as well, and gas up.
Think About Your Vehicle Choices
If you only have a sedan, you might want to consider other vehicle options, especially if you're traveling as a group. Comfort and safety should be your priority. You might want to consider renting a motorhome or RV instead if it makes sense. Meanwhile, if you're going solo and you want more adventure, you might want to go on a motorbike.
While Canada is a great destination year-round, it can get extremely cold in some areas. Time your road trip perfectly. Aside from the weather, consider peak times as well, which you might want to avoid if you hate the crowd.
Before leaving for a road trip, make sure to inspect your documents. From your driver's license to vehicle registration, everything must be in order to avoid trouble. It's also best if you can keep a copy of your car insurance.
Create a checklist days before you leave. See to it that you have everything you need in your vehicle. Bring clothes that match the weather in your destination. Don't forget the food. If you're traveling with kids, bring toys and books to keep them entertained. Most importantly, your first aid or emergency kit is a must-have.