When you are traveling you might feel like walking into a shop and grabbing a cup of coffee and maybe a pastry or two. At 2pm or 3pm it is normal to go in and have a cup after lunch or before the afternoon. This is normal if you are in Europe. And it is especially true if you are in Paris. That is a place to have a coffee and a pastry.
Here in New York we know the places to get the cup. There is a chain, or two, of coffee shops on every block. We do know these by heart. It never changes. But sometimes you wish for something different if you have an extra moment or two.
I did this the other day. But instead of the usual chain of shops, I found something a little different. I did see the name and decided to walk inside. It was just before lunch so it was a good time to visit. I walked into PAVÉ Bakery and stepped into Paris.
VISIT SOMETHING OLD THAT IS NEW AGAIN, HERE.
Having worked in Paris I do remember where to get my coffee every day. I can still see it in my mind of the flavor, the taste, the enjoyment of having a coffee from Paris. It could be an Americano, which is a stronger version of the regular coffee we are used to here in the US.
Or it might be an espresso, which is a smaller yet even stronger coffee to enjoy. Naturally, you can have a ??cappuccino which is an espresso-based coffee drink that is prepared with steamed milk foam. It is all good.
For me, I decided to go with an Espresso. A double. That is normal to have for me. I can also have a triple espresso, but with a meeting in an hour this seemed fine to do. We also had the Cappuccino as it was a nice cool day and this is ideal to have before or after lunch.
We waited in line for our turn. There was a small crowd while we waited. The team was busy as they helped the people online. In the back, you can see that the fresh bread was being made. Then it was our turn.
We placed our order and saw that they made our requests fresh. There was nothing out of the normal for this. It was not from a box or from a large coffee stand. This was made as you would expect if you were back in Paris.
While we waited they asked if we would like anything else. Being typical of Europe we had to think about what else we could try.
FOOD FOR THOUGHT.
As we were heading to a meeting we had to have something we could take with us. This was easy enough.
Naturally, we had to have a piece of fresh bread. Our choice was a Baguette. This is what you expect to have when you are over in Europe. It has a firm crust and a softer inside. If it is made properly you do not need to have butter or jam with it. The freshness is ideal to enjoy. The portion is just the right size for a person who has bread in one hand and coffee in the other hand. It is what you enjoy if you are walking in Paris, or even in New York.
Of course, having worked in Paris I did have to try the Croque Monsieur. This is very typical over there. You can stop in any coffee shop or a small cafe and sit to enjoy this while there. It is not what we normally have in New York.
And it is not normal in our chain of coffee shops on every corner. You have to be open-minded to want to explore and try what it is all about. For that, A Croque (as we call it) is melted gruyere with béchamel and a thin slice of ham.
This is coated with some dijon mustard on sourdough bread. The bread sandwich is then topped with cheese that is then roasted for a few minutes so that the cheese melts and covers the sandwich with the ham inside the slices of bread. It is a meal to itself.
The baguette was easily wrapped and presented to go. It took a few minutes to put the Croque together and roast to melt the cheese. Once that was done it was wrapped up to keep it warm. When I received the package it was the right temperature for a sandwich I wanted to try.
TASTE THE DIFFERENCE
In the end, we had what we expected. We had two coffees, the baguette and the croque. The price was reasonable. The service was very good. The portion of each item was perfect.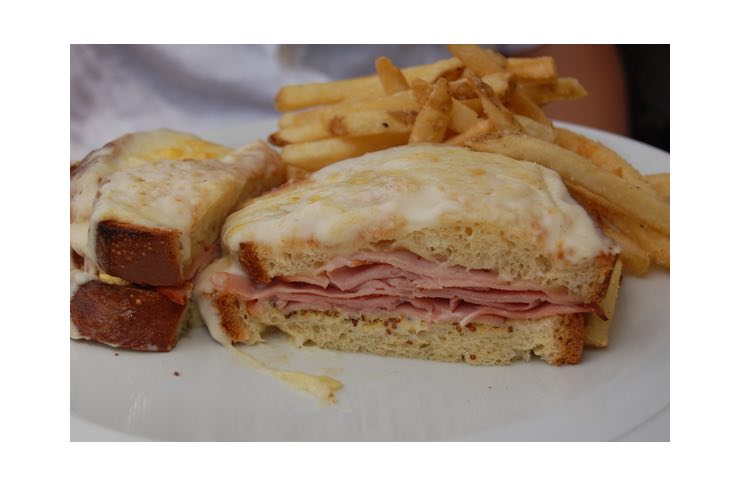 We then left for our meeting and tried what we ordered before going in. This was surprising.
The cappuccino was good. It was nice and warm. The cream made it a little sweet. It had a touch of what seemed like cinnamon. Perfect for the holidays ahead. As for my double espresso it was warm. Not too hot. It was strong. The proportion was correct. As for the richness and flavor it was fine. I prefer stronger. Maybe because I do drink a triple. But here in the US we do not make it that strong. In Europe, you receive what is normally made there. Here we do not have it that way.
As for the food, the baguette was a fresh loaf of bread. It was crisp. You could taste that with each bite. No butter is needed. Just enjoy a real piece of bread. The croque was fresh and warm.
The cheese had melted properly. With the first bite you could taste the difference. It was just made for you. It had a crispness as you enjoyed it. It is something I expected when I have it for lunch in Paris. It had some of the touches I would expect.
PARIS IN NEW YORK
Pave Bakery is better than expected. It is something different than what you imagine when you grab a coffee from a chain of places we have in the City. Those all taste the same as you wait online, get what you ordered, and then leave once you paid the bill. It is nothing different.
Here, at Pave, things have changed. The team is very nice. The food is very good. The pastries are probably good too. The Croque Monsieur reminded me of what I would normally have when sitting in Paris.
Pave Bakery is in a good location. The hours are limited, however. It is open only Tuesday through Friday from 8am through 3pm. This is easy to remember and easy to visit. It is better than when you walk down the street and need to cet a cup of coffee. You can always get the one you would go and get.
It is the one that everyone goes to and waits in a long line to order a coffee with five or more different combinations, including one for each holiday. It is a concept and not a coffee. But when you walk into Pave Bakery you are walking to a shop that can give you a good cup of coffee, a nice piece of bread. And a little touch of Paris.
Bon Appetit!
Read more reviews here on Yelp.
LOCATION:
Pave NYC Bakery
20 W 46th Street
New York, New York 10036
NOTE: HOURS: 8AM TO 3PM on Tuesday through Friday
Closed: Saturday through Monday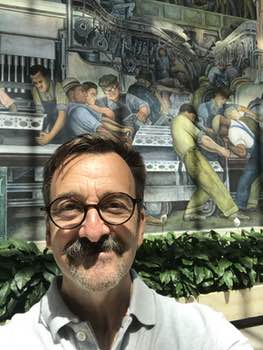 "The Jaded Traveler". Ron Rossi was born and raised in New York. A globalist at heart, Ron is a marketing director by trade, and has lived and worked around the world including Asia, Europe, Africa, and South America. Food is one of the best ways to learn about a country, a people and a culture. So, Ron is always looking for the best in mid-range to budget and street food. He is always on the hunt for a good meal anyone can afford. It is the food of the average citizen that excites him. And with having visited close to 100 countries on 6 continents so far, there have been some pretty good meals.