Israel is a country with a rich culture and history, and there are countless activities to enjoy during the summer months, and things to take back home. Here are a few ideas for things to do in Israel during the summer. Whether you are a beach lover, a trek aficionado, or even a scuba diving enthusiast, this tiny list has you covered.
Apart from these summer-specific activities, you will, of course, have plenty of opportunities to visit heritage sites and places with breathtaking natural beauty whenever you visit Israel.
1. Visit the Beach
Israel has a long Mediterranean coastline, which means that there are plenty of beautiful beaches to visit. Some popular options include the beaches in Tel Aviv, Haifa, and Eilat.
Tel Aviv is known for its beautiful beaches, which are popular with both locals and tourists alike. Some of the most popular beaches in Tel Aviv include Gordon Beach, Hilton Beach, and Frishman Beach. Since prices could go higher as the date comes closer to your holiday, we suggest you book your summer vacation now, during the winter months, without much ado – as you may get better deals.
Tel Aviv has many properties where you can have a memorable stay and enjoy your vacation. However, Haifa and Eilat are other cities in Israel known for beautiful beaches. Some popular options include Bat Galim Beach and Dado Beach in Haifa and North Beach, South Beach, and Dolphin Beach in Eilat. Here's a good list of some of Israel's most beautiful beaches.
Whether you are looking to relax on the sand, swim in the Mediterranean Sea, or participate in water sports, you will find something to suit your interests at these beaches. All these beaches offer a variety of amenities, such as restrooms, showers, and lifeguards, and are also generally clean and well-maintained.
Summer is the right season to visit the beaches, as in the winter of 2022, some of the beaches in Tel Aviv and Herzliya were closed due to heavy rains, as per the Jerusalem Post.
Watch this clip to see some of the most popular beaches in Israel:
2. Go Hiking
Israel has a variety of landscapes, from mountains to deserts, which makes it a great destination for hikers.
There are many trails to choose from, ranging from easy to challenging, and you can find trails suitable for all skill levels.
a) The Jesus Trail
This is a shorter trail that runs from Nazareth to Capernaum, passing through some of the places where Jesus is believed to have lived and preached. It offers a mix of urban and rural landscapes and is suitable for hikers of all skill levels.
A burial cave dedicated to Salome, the woman who is believed to have delivered Jesus, has opened for public viewing recently. More such unique Judaen treasures should be slowly opened on a trail dedicated to the Judaean kings. If you are fascinated by ancient history, this trail is a must-do for you.
b) The Masada Trail
This trail takes you to the ancient fortress of Masada, which is located on a plateau overlooking the Dead Sea. The trail offers stunning views of the surrounding area and is suitable for hikers of all skill levels.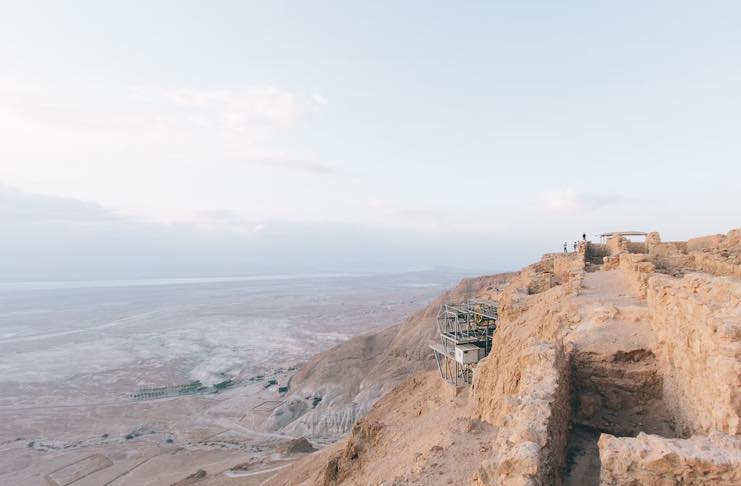 c) The Golan Heights
The Golan Heights is a region in northern Israel that is known for its rugged beauty and offers many hiking trails to choose from. Some popular options include the Banias Nature Reserve and the Gamla Nature Reserve.
d) The Israel National Trail
This is a long-distance trail that runs the length of the country, from the southern tip of Israel to the northern border with Lebanon. It offers a variety of landscapes and passes through many of Israel's national parks and nature reserves.
Overall, these are just a few of the many hiking trails that are available in Israel. No matter what your skill level is, you will be able to find a trail that is suitable for you. Here's our post about hiking in Israel – for more tips and ideas.
3. Go Scuba Diving
Scuba diving in Israel is a great way to explore the underwater world and see some of the amazing marine life that lives in the Red Sea.
The Red Sea is particularly popular for diving, as it is home to a rich variety of marine life, including colorful coral reefs, schools of fish, and many species of dolphins and whales. The coral reef in the Red Sea is more than 5000 years old and extends along 2000 km or 1240 miles of shoreline.
Watch this to get a glimpse of what it looks like to scuba dive in the Red Sea:
There are several dive sites to choose from, ranging from shallow reefs to deeper shipwrecks. Some popular options include the Coral Beach Nature Reserve, the Eilat Ashkelon Pipeline, and the Palmachim Seamount.
There are many activities to enjoy in Israel during the summer months. Whether you are interested in spending time at the beach, hiking, visiting historical sites, or scuba diving, there is something for everyone in Israel.