Practical people bring something useful from trips. But in fact, the meaning of travel is in emotions and impressions. Can this goodness be preserved? Can!
Method 1: Coins
In this article, we are talking about unusual ways. Buying a special coin in a country to travel in tops our list. Some avid travelers have dozens of coins from dozens of countries they traveled to. Most have some unfamiliar face of a historic king or queen. These coins provide nice memories of each place you visited, but a bit more than that.
Although it may not be true for every coin you collect, most coins will gain value over time, especially due to the demand coming from coin collectors.
If you are a budget tourist, then be careful not to stumble upon scammers who, under the guise of an expensive coin, will sell you a piece of metal for thousands of dollars.
For non-budget travelers and those who like to collect something, we advise finding a local gold dealer who will help find a real coin that is a complete reflection of the country you are in and the people who live there.
This method is better because, in the long run, collectible coins can be sold at a good price.
Method 2: Postcards
A popular hobby is buying postcards in every new city you visit. And to turn the search into an exciting quest set a single style for your collection. On the back of the card, write the cherished words about your journey.
Or describe what you see and feel at that moment. A hobby can be complicated – send a postcard to your address to meet her at home. A beautifully designed handmade album with postcards is an excellent souvenir, and for yourself personally.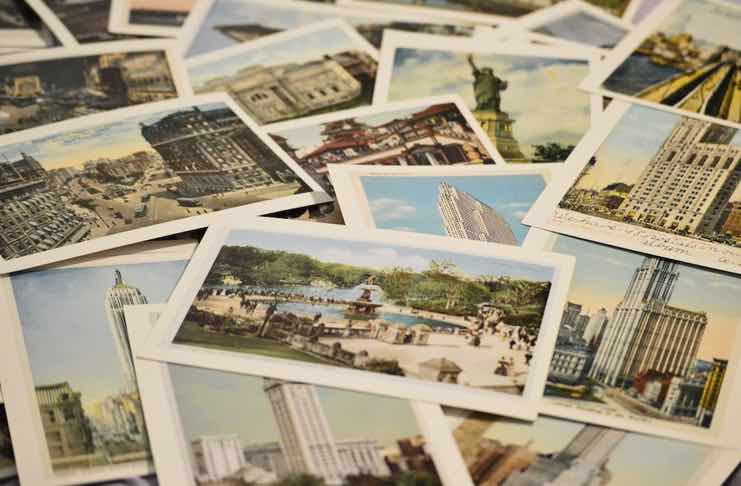 Method 3: Scrapbooking
We warn you that this hobby is addictive for a long time – for example, Americans do not part with scissors, constantly making handmade albums.
The photos will be taken by plane tickets, maps, booklets, tickets to museums and exhibitions, and other simple things that will help sum up the trip. Scrapbooking gives great freedom of creativity – it's a real ocean of fantasy.
Preparing for hand-made will take up part of the time of your trip: after all, for the future album, you will want to buy something unusual in a designer store or at a flea market.
Method 4: Collage
Another way to preserve travel memories is a collage. Tickets, photos, checks, coins, key chains, and more can be part of a collage. Particular attention deserves the name of the country and city, which are cut out of photographs. Here are some lovely travel collage ideas on Pinterest.
Method 5: Stones with memories
Take a stone from every city you visit and write your own little story or emotion from what you see.
You can use unusual stones that you can look for throughout your journey.
This method can be used, for example, at a wedding or birthday: stones and a marker can be laid out on the table, on which guests can write their wishes to you.
Visiting new places divides our life into "before" and "after". Traveling always has bright emotions that you want to keep as long as possible. Memories in the form of photographs allow you to return again and again to an extraordinary time.
The moments that are dear to the heart, captured in the pictures, only become more valuable over time. Handmade things will take you on this journey and fill your memories with new colors over many years.
Want to read more of our latest posts? Check out our post about planning your summer vacation in Israel.