When you're young, all you want to do is experience life by traveling and taking risks, and the Cayman Islands is the perfect starting location to do exactly that. In this article, we're going to talk about the five opportunities for young travelers in the Cayman Islands.
The Cayman Islands is a British Overseas Territory made up of three small islands, which are Grand Cayman, Cayman Brac, and Little Cayman, situated in the Caribbean. Despite its small size, there are lots to see and do, with the exotic landscape, clear blue waters, and pristine sand beaches. Young travelers need to be faced with experiences they'll remember forever, and the Cayman Islands are the perfect country to create some.
If you're perhaps on a gap year before going off to university or you're enjoying what our wonderful world has to offer by traveling, and the Cayman Islands is your chosen destination, there is always the possibility of staying longer term and obtaining a visa. Immigration attorneys will be able to help you with the process, including choosing the right visa type for you and ensuring the process runs smoothly to avoid mistakes and delays.
So, to learn more about the opportunities available for young travelers in the Cayman Islands, keep reading…
1. Visiting Unforgettable Beaches
There's no doubt that the UK or US is a beautiful place, with plenty of sights to see nationally, including the wonderful coastline that's on offer up and down the country. But each beach across the planet is different; it has a different story, different grains of sand, sea life to see, sunsets to experience, and more. The Cayman Islands can honestly be considered one of the best in the entire world.
The Cayman Islands is an unforgettable place with incredible beaches. A once-in-a-lifetime opportunity to see an array of beaches, unlike anything you've seen before, starting with Seven Mile Beach in Grand Cayman. This is known as one of the most famous beaches in the Caribbean, with beach bars dotted across the 5.6-mile-long sands, along with shops, restaurants, and more.
2. Experiencing Recreational Diving
Being a young person fresh out of school means that you may not have experienced a lot of what life has to offer. This includes diving in the beautiful oceans and seeing corals and an array of sea life.
Diving isn't always something that everyone wants to experience, but if you enjoy the deep blue ocean and want to see more of it, the Cayman Islands is the ideal place to do so. This is especially so as it's been rated one of the best places to dive out of all the Caribbean islands.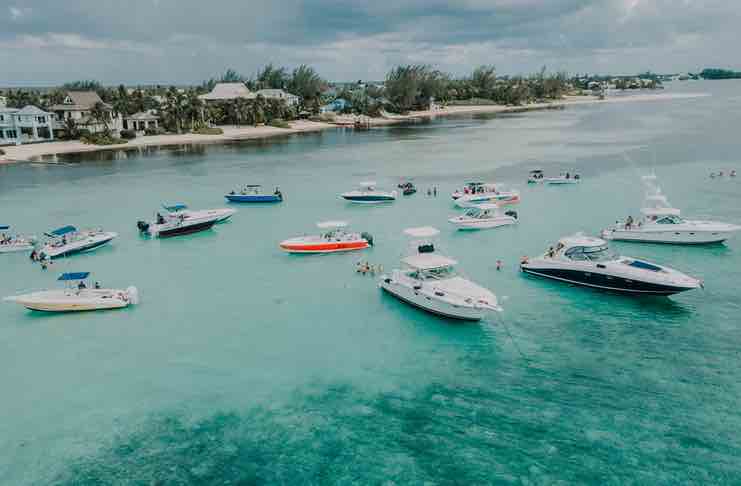 While each person will have their own favorite spots, some of the well-known diving spots across the three islands include:
Bloody Bay Marine Park

– Little Cayman Island

Devil's Grotto – Grand Caymans Island

Eden Rock – Grand Caymans Island

Sunset Reef – Grand Caymans Island

MV Captain Keith Tibbetts – Cayman Brac Island
3. Experience Nature Like You Never Have
It's easy to only think about going to the beach when you are in a wonderful place like the Cayman Islands. That said, there is so much more to offer, including seeing a bunch of species you've never seen before, especially if you're from the UK or US.
The Cayman Bruc, specifically, is the ideal island out of the three to visit for nature purposes, with a nature reserve dedicated to parrots of all colors.
4. The Ability to Stay Longer Term
It is possible to stay on the Cayman Islands for up to 6 months without needing a visa if you are from the UK, EU, Japan, Australia, South Africa or New Zealand. For those from America and Canada, you are only able to spend 30 days in the country visa-free.
It's quick to presume that moving abroad is a difficult thing to do, but you might be surprised to learn that finding work and moving to the Cayman Islands for a longer period is possible through a short-term visitor work visa. Immigration attorneys will be able to assist with arranging this for you.
To obtain a short-term work visa you will need to have your employment already in place and must have the visa 24 hours prior to your arrival.
Finding Work in the Cayman Islands
When looking for work in the Cayman Islands, you will need to obtain a Temporary Work Permit. The permit will allow you to work in the Cayman Islands for up to six months.
If you desire to stay for a longer period than 6 months, it's possible to acquire an Annual Work Permit. To find a temporary job in the Cayman Islands, you can use Working Traveller, which has many different volunteers and paid job opportunities.
Finding Housing in the Cayman Islands
When finding employment in the Cayman Islands, you'll often find that many employers are able to offer you temporary housing while you settle into the country. This is usually to assist with relocation.
There is a tourist tax when staying at hotel accommodation, but you can avoid paying this by displaying your work permit.
5. Take Advantage of the Tax Friendliness Opportunities
Alongside all the amazing perks we've spoken about above, the Cayman Islands offer many tax-free perks, too, including tax-free income, tax-free property, and no business tax.
What this means for young people is that moving to the Cayman Islands can save you a considerable amount of money, which you can then use to invest in business ideas or do more traveling. However, it is worth noting that you will only be paying zero tax if you have no tax obligations in any other country.
So, for a young traveler who might make their income online, like the trendy Digital Nomads, or just someone who wants to experience working abroad, the Cayman Islands might be the perfect place to settle, find temporary work, and expand your entrepreneurial business.
The Cayman Islands Offer So Many Opportunities
We hope that, after you have read the entirety of this Cayman Islands article, you're thinking about all the wonderful benefits and opportunities it has to offer young travelers. This is especially the case for those who are self-employed or are interested in temporarily working while traveling.
There are many other amazing things we haven't spoken about here, including the food, the lifestyle, culture and so much more. Why not go for it? There's nothing better for a young person than experiencing the world, so if you haven't found your ideal destination yet, the Cayman Islands could be the one.
Are you thinking about moving or traveling to the Cayman Islands? Let us know in the comment box down below.
Please be advised that this article is for general informational purposes only, and should not be used as a substitute for advice from a trained legal professional. Be sure to consult a legal or immigration professional if you're seeking advice about moving to the Cayman Islands. We are not liable for risks or issues associated with using or acting upon the information on this site.
Want to read more of our latest posts? Check out our visit to the Concorde Hotel and the Bonsaii Cafe in New York.