If you are at Disney Springs, near Disney World here in Florida, and decide you want to try something different to eat – there are many places available to you. From fast food to a place for a real meal. It is from around the world. You can have American Seafood, Bar-B-Q, Burgers, Japanese, and Asian, and visit an Irish Pub. It is all here. You can walk in, or you need a reservation. Some places are booked for months. It is your choice.
But sometimes you want something different. You want to try something new that you rarely have. You might think of Mexican food as Spanish food. And it is to a point. It is what we usually eat. But to go that step further, to have real food that is from Spain and cooked as if you are in a Spanish restaurant, then you need to find a special place.
That is what we decided to do. It was different from what we had since we were last in Barcelona years ago. And this time it was here in Disney Springs.
Welcome to JALEO by Chef José Andrés. This is the establishment that will serve you authentic Spanish cuisine including tapas, paella, sangria, and more.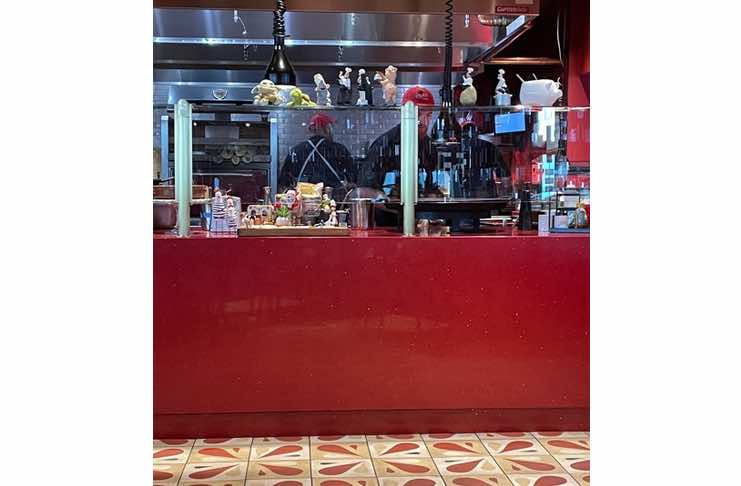 JALEO: ENTER SPAIN FOR A NEW EXPERIENCE
Walk into Jaleo and you can tell you are not at Disney. Having made a reservation we went to our table which was ideal. We were right next to the kitchen area where the chefs are making the paella. This is what we always think of when we think of Spain. Paella.
But there is more. The menu features an extensive variety of tapas reflecting the rich regional diversity of traditional and contemporary Spanish cuisine in addition to a variety of authentic paellas cooked over a wood fire in the restaurant.
Jaleo brings you the spirit and flavors of Spain. The menu reflects the rich regional diversity of classical and contemporary Spanish cuisine, under the direction of renowned Chef José Andrés.
Jaleo offers an impressive assortment of tapas, the traditional small dishes of Spain, as well as savory paellas, superb sangrias, and a fine selection of Spanish wines and cocktails in a festive, casual atmosphere. They even have special beers from Spain.
Our waitress, Loranne, was there to help us start. We had not been in a true Spanish restaurant in years, so she was there to guide us in the process. She went quickly, but with our questions, she did provide the time to consider what we want, how we want it, and what it might be like. Naturally, the way we like to try something new, we had to take out time.
As we went through the menu to decide, we saw that there were offerings that included 17 different tapas dishes that we could try and consider. This is a process. And with the right wine, it is special. We also noticed the variety of tapas being offered. That was extensive. There were many that looked wonderful. You would want all of them.
Then there was the paella itself. We were lucky there were only two choices when we were there. We had a wonderful combination of seafood with monkfish, shrimp, mussels, and squid.
The other choice was chicken with mushrooms, onions, and peppers. Both choices were served with rice and spices. And to watch it in the cooking area near us we could watch how the chef cook and what it takes to make a rich paella.
We thought some more when Juan Carlos came over to discuss the process. The Manager of Jaleo, Juan Carlos was patient as we talked. It was like being with a teacher who would discuss each collection.
How it is made. Where it is made (including in Spain), how long it takes and what it will taste like. He took his time and we did learn. It actually was helpful as we made our selections.
THE FOOD BEGINS
When you are in the tapas environment you learn to take your time and enjoy each bite of the items you wanted to try. This is what it is all about.
First we started with Jamón Serrano. This is a selection of 24-month cured Serrano ham that is served with small crackers. The ham is fresh. It has a flavor that is enjoyed with each bite you take. You simply take a piece in your mouth and take a bite. You can wrap it around the cracker or eat the Serrano alone. It is lite. It is tasteful.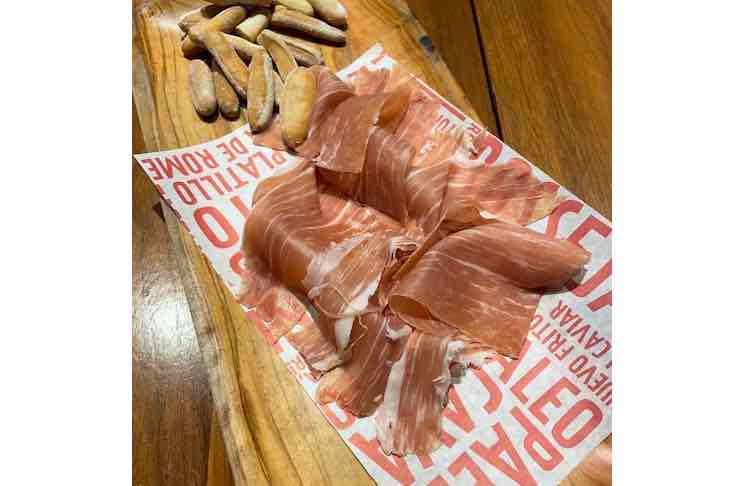 Next, we have Jose's Tacos. This is a Jamón ibérico de bellota with a scoop of Royal Ossetra caviar. You just wrap the Jamón around the caviar and take a bite. This is delightful and different. You would not expect it. But when you take a bite it is wonderful. Fresh. Tasty. Not heavy.
This was followed by what we have never had.It is the Cono de queso de cabra con membrillo y nueces. It is the combination of quince marmalade and goat cheese all within a walnut dust cone. It is not huge, but the taste is ideal. You can swallow the entire item at once as many do.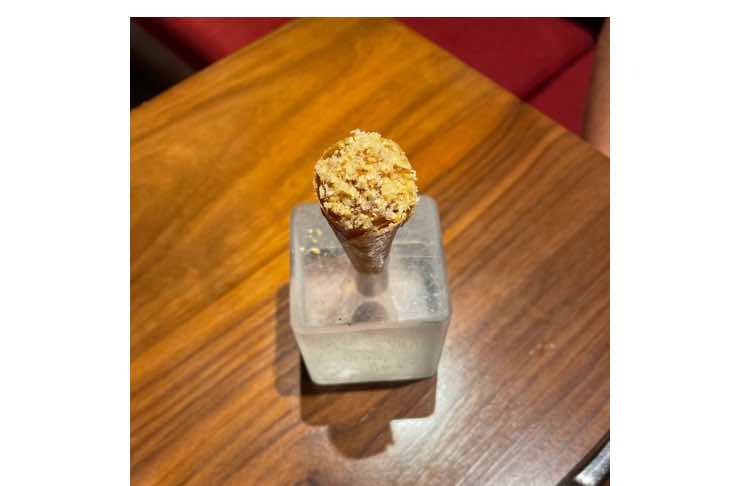 Or you can take a bite and share the taste with a few. We took a bite and have never had anything like this. The flavors complement each other. When finished, you wished you had more. Just ask. It is that savory.
Naturally, we had to try the Croquetas de pollo. It is traditional chicken fritters. But not the type you get in a fast-food location (see the first image at the top). This was handmade and crisp. Take a bite and the inside is warm and creamy and filled with the flavor you have never had before. It can be a meal itself.
Of course, we then needed to have a salad. This time it was something you do not always see. This was a beet salad. Ensalada de remolacha con queso. It includes a fresh beet salad with Valdeón blue cheese, pistachios, and citrus with a sherry dressing. The portion was ideal for three people to share.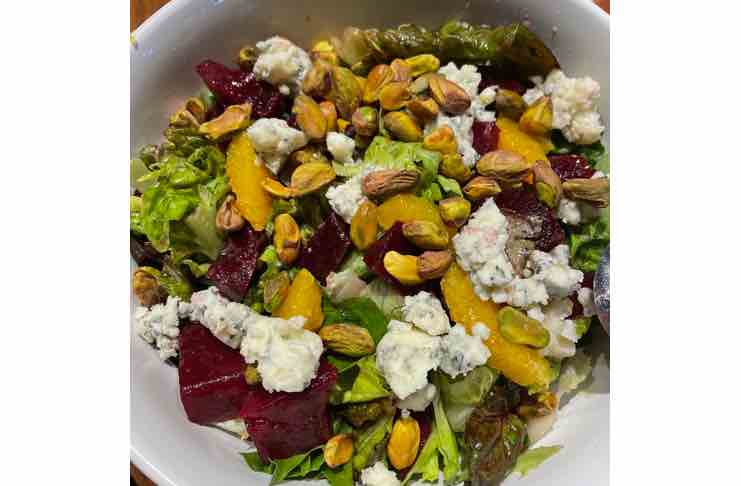 You can even make this a meal unto itself. Fresh. Tasty. A few spices. The beets were new and ripe. Fresh out of the garden. It was delightful to have.
THE MAIN COURSE AT JALEO
After having this variety to start, it is now time for the main menu. The previous courses are to give you a hint and prepare you for the heavier, richer, and warmer meals you will have now.
With this, we started with Butifarra casera con mongetes. This is a Josper-grilled pork sausage served with sauteéd white beans. Heaven. This is homemade and fresh sausage. It was filled with meat and some spices that were light enough to enjoy.
It is topped with some oil and spice over a course of white beans. These are traditional in Spain. And to have them here is excellent. It is a good combination of richness and lightness.
Next, we have a service of Espinacas a la Catalana. Sautéed spinach with pine nuts, raisins, and apples. You might never think of it at home. But when you are here at Jaleo it is something to expect. It is flavorful and light. Not heavy. And it is different than the course of meat or fish you might have.
Finally, it is time for the Paella. But this time it is not what you normally have in the US. This is the paella you receive in Spain. I remember it in Barcelona. And to have it here brought me back to Spain and the evening I had this. It does take time to make the paella and it is worth the wait.
Every day they have different varieties. One of our selections was Chicken with Mushrooms Paella served over rice. It is all made in the traditional paella way. It is a large pan over a flame. It is stirred and mixed. It has a variety of spices and flavors that are added slowly. A touch of garlic goes in that gives it a richness you would like.
The other paella was a Mixture of Seafood Paella. This, too, is served over rice that it is cooked with. The variety of spices is different from what is made with the chicken. It was a more seafood flavor and moistness that compliments the selection of monkfish, shrimp, squid, mussels, and more.
All paella is served with garlic aioli which gives it an extra touch. The portion is large. It can be shared by two people with no problem. Of course, if you have had a variety of tapas you have eaten a great deal. So take your time and enjoy the meals.
A TIME TO RELAX WITH A DESSERT. OR TWO
After the meal, you have had it takes some time to think if you want dessert. As we took a moment, Juan Carlos came over to talk to us about our meals and our thoughts. It is a great way to talk about your meal with the team and listen to what they say, and what I should try the next time.
We decided on the Flan. Known as Flan al estilo tradicional de mamá Marisa con espuma de crema catalana, it is a classic Spanish custard with 'espuma' of Catalan cream and oranges. It is lighter than air when you have your first bite. It is amazing.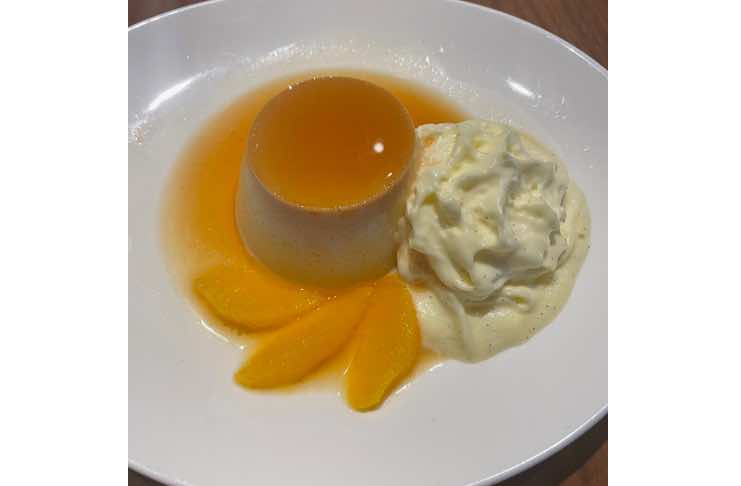 Not too sweet. Not heavy. Not over-flavored. It is natural and the way you should have a flan. The Catalan cream is very special as we do not have it here. This is how they make it at home, and that is worth it.
Juan Carlos recommended a coffee or after drink. As a coffee drinker, I asked for an espresso. He said that would be made with no problem. So, off he went I waited. It was not done in one minute. It took time.
And it was served in a big cup but as a small portion. It came with whipped milk on the side if I wanted. But, as a person who likes traditional espresso I wanted the coffee. The first sip told me I was back in Europe. This is the way to drink it. It is not the way from a chain store. This is the way you have it at home overseas. Each sip was perfect. It was a compliment to the flan.
WELCOME TO TRADITIONAL SPANISH COOKING
You do not walk into Jaleo for a quick "Mexican" meal. You come here for the experience of a traditional Spanish meal that is fresh, different, and with every bite you take. Imagined through the guidance of Chef José Andrés and the team, Jaleo brings the spirit and flavors of Spain by introducing the rich regional diversity of Spanish cuisine. Celebrating the traditional menu, Jaleo offers a taste of Spain in a festive, stylish, and casual atmosphere.
The menu is ideal. It has a variety of styles, selections, and tastes. You can have one or two items, or you can have the experience with a selection of 17 items that are provided for you. It is your choice. You can taste something to eat.
Or you can learn something that is new and exciting. Something that will make you come back to Jaleo. Or it might be something that will make you want to go to Spain (one day) and try it firsthand in the country.
The team was wonderful and helpful. They were there to talk to you, answer questions and guide you through the process. I do want to thank Loranne for helping us through the process. Juan Carlos Quinones, the Manager of Jaleo, was wonderful. He was patient to help us. He was a teacher to make us learn about the meal, the location and about Spain.
And thank you Chef José Andrés. You have done so much to offer an excellent meal here in Disney. It was totally unexpected. But I will go back to having something new when I am there. I am already thinking of that new menu and what I want besides the paella. We also know what you are doing to help other families around the world. Gracias señor.
It is wonderful to see the magic here at Disney World. But to taste a new experience thanks to Jaleo is what we should do once. Or maybe twice or more.
¡Mucho Gracias Señor!
For more reviews check their page on Yelp.
Location:
Jaleo by José Andrés
Disney Springs, 1482 East Buena Vista Drive
Lake Buena Vista, Fl 32830, Phone: 321-348-3211, Website