Welcome to Jamaica! If you're planning a trip to Jamaica, knowing that many cities offer a unique and exciting experience is essential. In this article, we'll show you Jamaica's 5 best places to stay and visit, each with its personality and tourist attractions. From the vibrant city of Kingston to the dreamy beaches in Negril, our journey will take you through Jamaica's best places.
Whether looking for a romantic getaway or a fun-filled family vacation, these cities will captivate you with their beauty and charm. Pack your bags and discover Jamaica's 5 Best Places to Stay!
Montego Bay, the must-visit destination in Jamaica's 5 Best Places to Stay
If you're looking for a vibrant and lovely place to stay in Jamaica, Montego Bay is the option you're looking for. This coastal city is the most popular among tourists and offers various accommodation options, from luxury hotels to budget hostels.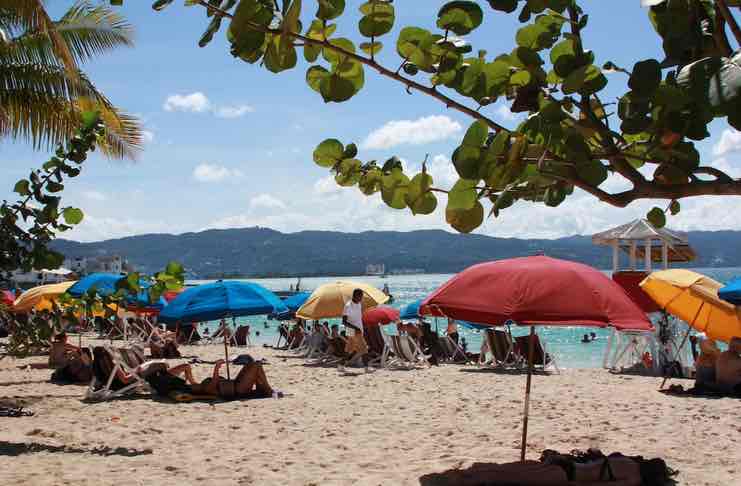 In addition to accommodation, Montego Bay has a lot to offer. If you're a lover of culture, you can visit the Montego Bay Heritage Museum, which provides a look at the history and culture of the city and the country. If you prefer adventure, you can explore the surrounding rainforest and participate in activities such as rafting and ziplining.
This Jamaican bay is also known for its delicious cuisine, which combines African, European, and Caribbean flavors. The city has various restaurants and street food stalls, where you can try dishes such as jerk chicken, ackee and saltfish, and curry goat.
Of course, Montego Bay is also famous for its white sandy beaches and crystal clear waters. From Doctor's Cave Beach to Cornwall Beach, many options exist for relaxing and enjoying the sun and sea.
Watch this video for some more tips:
Negril perfect for partying
Jamaica's 5 Best Places to Stay must include Negril. It is located on the island's west coast and has white sandy beaches and crystal clear waters. In addition to enjoying the beaches, there are many activities to do in Negril, such as diving and snorkeling in nearby coral reefs.
Negril is known for having a diverse nightlife scene. There are many places to drink and listen to live music, from beach bars to nightclubs.
Watch this video for some more tips:
In addition, Negril is home to the famous annual Reggae Sumfest, which attracts tourists and locals from all over the world. The festival takes place in July and features some of the best reggae artists in the industry. You will want to attend this festival if you're a music lover.
Ocho Rios is ideal for families and couples
Ocho Rios is a popular destination in Jamaica for families and couples looking for a relaxing and adventure-filled vacation. With stunning white sandy beaches, crystal clear waters, and a wide variety of outdoor activities, it's no wonder it's one of Jamaica's 5 Best Places to Stay.
One of the main attractions of Ocho Rios is the famous Dunn's River Falls, an impressive 180-meter waterfall that visitors can climb with a guide who helps. In addition, nature lovers can enjoy hikes in the rainforest, explore the Fern Gully nature reserve, or take a boat excursion to spot dolphins and whales.
Ocho Rios has some of Jamaica's most luxurious resorts for those looking for a bit more tranquillity. If you're looking for all inclusive hotels in Jamaica, you can find lovely options like Bahia Principe with quality accommodations and all-inclusive budgets. Watch this video to get a glimpse:
Kingston, Jamaica's capital
It's only possible to make this list of Jamaica's 5 Best Places to Stay by talking about Jamaica's capital city. Kingston is a must-visit for those interested in Jamaica's history, culture, and architecture.
The city is located on the southeast coast of the island. It has various tourist attractions, such as the Bob Marley Museum, the National Museum of Jamaica, and the historic Ward Theatre.
Tourists can also enjoy delicious Jamaican cuisine at local restaurants and lively nightlife at the city's nightclubs and bars. Kingston is also an important commercial and financial centre on the island, with many shopping malls and office buildings.
Watch this video for some more tips:
For those interested in adventure tourism, Kingston offers many exciting options, such as boat trips on the bay, hiking in the nearby mountains, and one-day visits to stunning places like Dunn's River Falls.
Treasure Beach, paradise transformed into beaches
Within Jamaica's 5 Best Places to Stay, we must mention Treasure Beach. It is a small coastal town located on the Jamaican south coast, known for its peaceful and relaxed atmosphere.
Unlike more popular tourist destinations like Montego Bay or Negril, Treasure Beach still maintains its authenticity and rustic charm. The area boasts four stunning beaches: Billy's Bay, Calabash Bay, Frenchman's Bay, and Great Bay.
Watch this to get a glimpse:
What makes Treasure Beach unique is its natural surroundings. The area is known for its limestone cliffs, turquoise waters, and stunning landscapes. Visitors can enjoy a peaceful and relaxed atmosphere, perfect for those looking to escape the more crowded tourist areas.
Conclusion
So there you have it, dear adventurers – Jamaica's 5 Best Places to Stay, each a treasure trove of unique experiences. Whether you're seeking romance, family fun, or a party under the stars, Jamaica's got your ticket to paradise. So pack those bags, wear your sunniest smile, and embark on an unforgettable journey through the magic of Jamaica's best places. Happy travels!