Traveling by ship is one thing we can all try to do. But to travel on a ship that is above the rest is different. And exciting. It is a way we all wish to travel if we could. Even in the years (of pandemic), we have been living for the past two years or more.
We all know we can sail on a ship that has casinos and bars. The ship is cheaper than most. And has more people than in some towns we might even know. These ships are fun and fine and you can have a good time. However, there comes a time we wish we could be on a ship that is above the ordinary.
That has fewer passengers than you can imagine. That offers the best when it comes to dining in fine restaurants on board. That has a fine offering of wine and drinks that might not be here in the US but at another place overseas. Even the room you are in is exceptional. The room is bigger than a Studio apartment in the city.
Welcome to The Oceania Cruise line. This ship is called the RIVIERA. It is an elegant ship that holds up to 1200 passengers. This time, because of the way we now live, the ship had about 700 people. It was like being on a private yacht. This is the way to go.
WE STARTED IN MIAMI
We entered via the port in Miami. Everything was secure. They even tested us to make sure we were all safe and healthy. Yes, we even wore a mask. It did not hurt. We gave the stewards our bags, did the test, and walked on the ship within 30 minutes. That was it.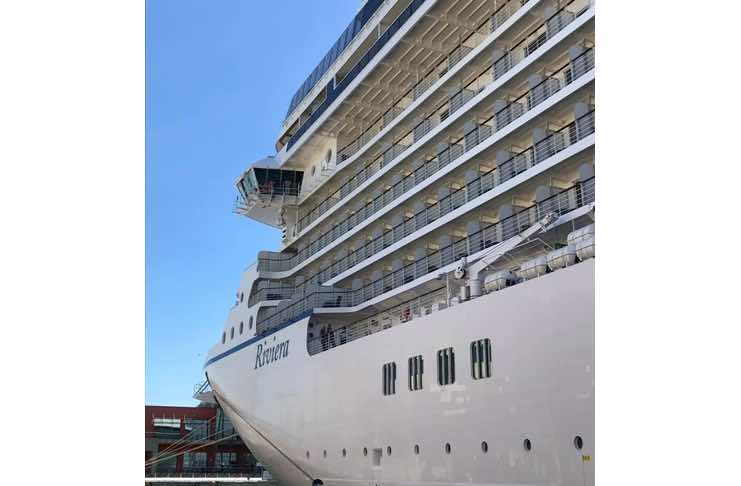 As our room was being prepared we were able to take a walk and see what the ship was all about. It was our first time here so we wanted to make sure we could find everything that we could do for the week on board.
The first stop was up to the Terrace Cafe. This is an open restaurant that anyone can go to and see what is available. The waiters will help you with the selection. They will put it on a plate with each item you might want. It is simple and easy. And there is so much to choose from.
Overlooking Downtown Miami
We made our selection and sat outside on the deck overlooking downtown Miami. This is not a bad way to eat in Miami. The food is fresh and tasty. There is a great assortment for you to have. You can also have as much as you want. The waiters help you with what you may want to drink. Water. Soda. Even a cocktail or wine. It is your choice.
Once we finished we knew our room was ready for us, so we walked downstairs to our room. Walking inside was amazing. It was a good size room. It had a king-size bed. It had cabinets and a closet. There was even a terrace with two chairs and a table to sit in as the ship sailed from port to port on this trip. Every day you can sit outside whenever you want to.
There was also a bathroom. This was a good size. Bigger than one of my bathrooms at home. There was both a shower and a separate tub with a shower in it also. The sink and cabinets were perfect for us. It was spacious to be in and convenient for you.
Once our bags arrived we unpacked and put the empty bags under the bed. Time to explore. And that we did.
THINGS TO IMAGINE AND SEE WHILE ONBOARD.
Take a walk around and you will be amazed. There were wonderful bars and restaurants. There were cafes to go to and get a fresh cup of coffee, espresso, cappuccino, Americano, or latte. There is also a little area for pastries and snacks to enjoy. And it is here every day starting at 6 AM. A good place to stop after taking your morning walk on the track above.
The next stop was right next to it. It was the library. The library was classic. As if you were in someone's home. The chairs were leather. There was even a (fake) fireplace and cabinets filled with books you could take out and read. Also, you could keep the book and even drop one you brought with you for the next guest. This was a place you would find in the morning resting and reading.
The Game Room
There was also a game room where you could enjoy puzzles, games, card games like Klondike Solitaire or Spades, and more. There was even a bar to have a drink or a soda while you are in here enjoying.
Next, we stopped at the culinary institute. This was not being at a place to just cook. This was a place to learn and see what you could make that was new to have. They even gave you a book on recipes you might be making. Something to take home and enjoy. This class is also directed by the Chef who had worked with Julia Child for 15 years. She learned from the master of cooking at home. Now you can learn as well.
The Art Studio
One last thing we found was the art studio. Many ships sell art. It is like going to any retail shop that has art to sell. But not here. This is an art studio with an artist who will give lessons for the next week. You will even have an opportunity to paint and draw during this lesson.
They will supply you with pencils, acrylics, canvas and paper. You have 2 hours every day to practice your own art and learn from the teacher. Only 24 people are allowed to enter to take the course. I am glad I did. At the end of the week, I had my own painting that we did exhibit in a show before we could take it home with us. This is different and fun to do for a difference.
Again, there is much to do on a cruise ship. And on this cruise ship, you do have all the choices. Unless you prefer to sit at the pool and relax. It is your choice to come and go as you want.
OFF WE GO TO SEE SOMETHING DIFFERENT
When the ship was filled with all visitors it was time for us to leave. The anchor is up. The horn is blown. The captain prepares for us to leave the port and start our trip. In this case, we are heading to the Western Caribbean for four ports to call in seven days.
That is not too bad. Each sailing can be different. We plan on the visit to take, but the captain can always change that depending on the ship and the place we are to visit. Especially now.
We left on time and went to our room to get ready for dinner in the main dining room. This is typical on a ship. You enter a grand restaurant room with a good number of passengers who are ready to eat. You receive a menu and can make your selection.
There are lobsters and steaks. There is pasta and soups. There are even vegan dishes to have. It is your choice. And if you have special requests, or can eat only select items, the waiters take notes and will serve you.
Even the main receptionists on the ship will know and ensure that each time you eat your requests will be noted prior to dinner.
First Stop: Costa Maya
Each cruise can be different. On this trip, we took the Western Caribbean. For this, we made the stop in only 4 locations, and that was fine. This trip is half about the ship and half about the areas we visit.
On the list was Costa Maya. A pretty area in Mexico where we could go to the beach. Maybe take a tour and see some ruins. Maybe go to the area to shop. And definitely, a place to eat and have a drink if we wish.
Costa Maya is a stretch of the Caribbean coast on Mexico's eastern Yucatán Peninsula. Offshore, the reefs and mangroves of Banco Chinchorro Biosphere Reserve are inhabited by sharks, dolphins, and turtles. To the north, Sian Ka'an Biosphere Reserve is home to jaguars, monkeys, and hundreds of bird species.
Belize
Then we went to Belize. This was a new stop for us. Belize is a nation on the eastern coast of Central America, with Caribbean Sea shorelines to the east and dense jungle to the west. Offshore, the massive Belize Barrier Reef, dotted with hundreds of low-lying islands called cayes, hosts rich marine life.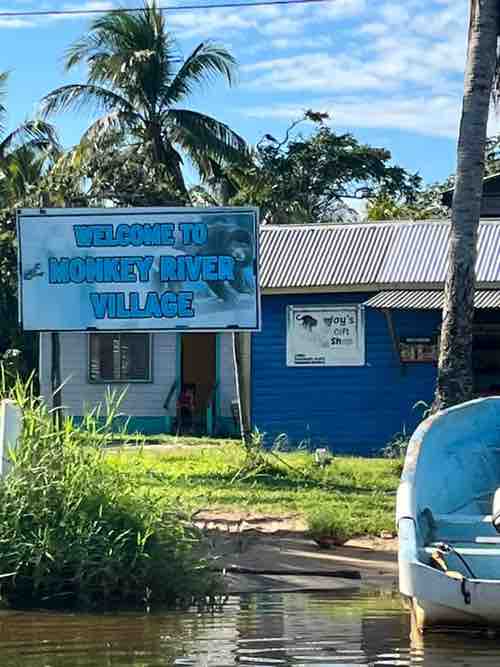 Belize's jungle areas are home to Mayan ruins like Caracol. We actually went on a tour of the Monkey River where you can see the special monkeys and birds that are unique to the region. It is also a part of UNESCO. It is an interesting trip to take. It is also sad as the guide does tell you how the ocean and climate change are taking part of the land away.
Roatan
The next stop is Roatán, an island in the Caribbean, about 65 kilometers off the northern coast of Honduras. Years ago it was a quiet island with great people and beautiful beaches. It was not a tourist place.
Now it is. Walk off to the ship and you walk into a shopping mall. Everything is for sale at a price you can find cheaper at home. The big savings is heading to the beach or taking a prearranged tour. That can work. Drinks are cheap too. I have done this for 20 years. Now I might just stay on the ship.
Last Stop: Cozumel
The final stop is Cozumel. Always a great place to visit when in Mexico. It is for tourists and those who live to go to the beach. That is perfect. Everything you can imagine is here. It is up to you what to visit while you spend the day here. It is your choice. Give it a try and then head back to the ship. You might even stay late enough to have dinner here on the island before the ship leaves.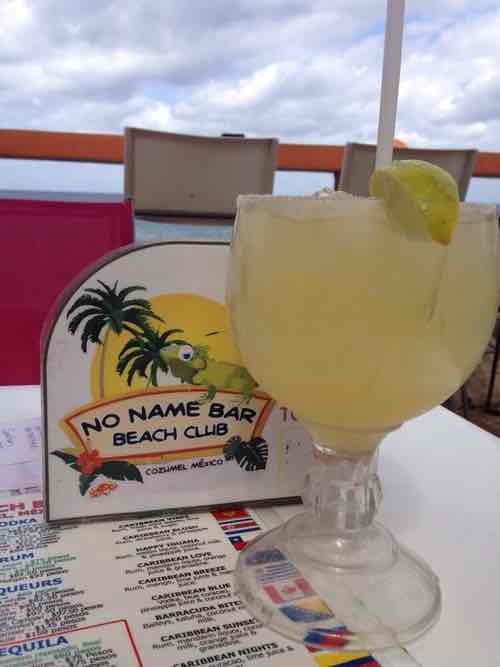 WHERE TO EAT
On the Riviera, there are many places to eat. Whether it is for breakfast, lunch, or dinner, it is your choice here. Every day can be different.
You can eat in the Grand Dining Hall. This is open to everyone. You can have whatever you may want. Lunch is always special as each day they have a unique selection of food from specific countries. There was a day from India. A day from Morocco. A day from Mexico and more. Dinner is also ideal for whatever you may want.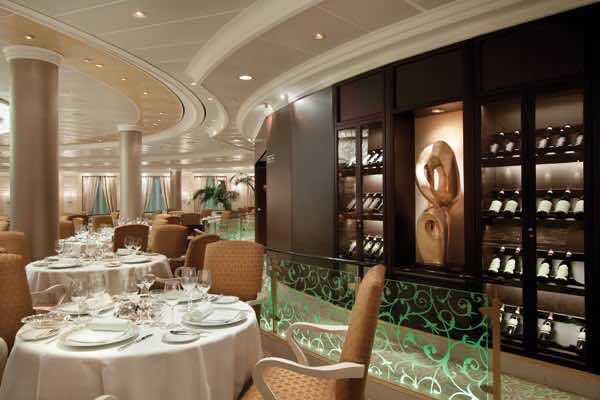 There was the Terrace Cafe, which is the open dining space where you walk from counter to counter and decide what you might want to enjoy while you are eating. It is your choice and a good way to decide. And you can keep going back for more if you want.
Toscana
Naturally, there are many restaurants on the ship to enjoy as well. There is Toscana for Italian. Then there is the Polo Grill for steak and seafood. Red Ginger is a mix of Asian fusion styles of eating. Think of Japanese, Thai, Chinese, or Korean. It is a good selection.
There is Jacque which is very special. You need a reservation for this one. It is a restaurant of Jacque Pepin and is truly French. It is like eating in Paris and having a wonderful dinner you might want to have.
La Reserve
There is a very special private place to eat. It has only 20 guests that are enjoying the dinner that night. It is cooked by the chef and a small group of the crew who will answer questions and help you enjoy the meal.
It is in La Reserve, a unique place that overlooks the sea as you have a meal that is different and special for one night. We were lucky to have our meal here. Each course was served with a glass of wine that was complementary to the course you had. This is a way to dine when you can. Even if it is once.
THE CRUISE TO SAIL INTO
The Riviera is a wonderful trip to take on the Oceania cruises. You can do so much. You can see what you want. You can get on and off the ship when you are in port. You can eat when you want and have what you want.
You can learn, see, do and wonder. It is the choice to take and consider. Or better yet you can grab a lounge by the pool and just think about the next trip you might want to take. It is here for everyone. Or for those who want to take a seat and see the world go by them.
"Sea. Travel. Enjoy."